It's a great time to be a gamer and we're here to show you the best PS4 game deals of the week on the most popular games in the charts.
David Cage's Quantic Dream is back in action after a long wait with Detroit: Become Human providing another interactive narrative to enjoy, this time in a sci-fi setting. Kratos is still thrashing around the checkouts putting two PS4 exclusives at the top of the charts. And if you're tired of trying to track down a cheap SNES Mini, may we tempt you over to the cool kids gang with the release of Mega Drive Classics? It's chock full of pure gold.
It's a varied bunch to choose from to be sure. Both Detroit and God of War are still quite pricey with a triple threat factor of Sony-exclusive, great reviews and high demand keeping those prices high so soon after release. Whereas the Mega Drive collection is a budget title, so prices are low all-round. If you're also in the market for a PS4 Pro, we've found a deal you might like too.
#1: Detroit: Become Human deals
If you enjoyed playing through the likes of Heavy Rain, Beyond: Two Souls, Until Dawn or even any of Telltale's games, then we'd seriously recommend taking a look at these Detroit: Become Human deals.
Remember the Kara tech demo from years back? This is the game that grew from that gorgeous little acorn. If you've been watching the Humans series on Channel 4, this'll be right up your alley too as it shares similar themes of human-like robots becoming self aware and rising up. This interactive playable narrative adventure allows you to influence vital elements of the story with your choices. We're talking high-pressure decisions that will have lasting consequences for yourself and the game's other characters. So it offers fantastic replay value too. Check out our full Detroit: Become Human review.
#2: God of War deals
God of War has been a smash hit with players and critics alike and well worth the long wait. It's arguably the best looking game on the PS4 too and it only gets better when played on a PS4 Pro through a HDR 4K TV. It's not just the visuals though, everything has seen a dramatic redesign. The game has gone semi-open world and combat has been made more personal and considered instead of just mashing buttons against waves of enemies. The introduction of Kratos' son though that really blew us away as it allowed the writers to give Kratos some much-needed depth and show his human side in a way the old games never quite managed. Watching the pair grow throughout the adventure has really taken the series to new heights.
#3: Sega Mega Drive Classics deals
Just look at that image above! If you don't feel chills as you remember the likes of (good) Sonic, Streets of Rage 2, Golden Axe, Altered Beast or Revenge of Shinobi then you clearly missed out back in the 90s (or you were a Nintendon't). The PS4 remaster is even worth a look if you picked up the similar collection on PS3 as there seems to be even more games included on this version. I assume I'll be buying this on the PS5 too.
PS4 Pro bundles of the week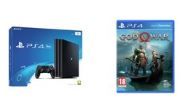 PS4 Pro | God of War | + free PlayLink game | £349.99 at Argos
PS4 Pro deals are in high demand right now in the UK, with many retailers selling out or taking advantage and pushing up prices. So it's great to see Argos going rogue with this bundle. You're getting the excellent God of War for free, along with any PlayLink title that allows you to play the game on your TV, but with your smartphone as a controller. This offer is set to expire July 28th, if stock lasts that long that is.
View Deal
White PS4 Pro $399.99 at GameStop
The white PS4 Pro is a GameStop exclusive in the USA. And seeing as many stores are sold out of the black one too this is actually one of the best PS4 Pro deals around this week. We're hoping some better deals will arrive soon though to be honest. Where are the bundles, Sony! If you don't like the white PS4 Pro you can get the black one for $399 at Walmart.
View Deal