Amazon is always incredibly competitive in terms of price on tech and gadgets, and it is also very much in the habit of doing discount promotions on its Amazon Fire and Amazon Echo families of tech.
Here at T3 we've personally perused Amazon's deals to curate the best in each category, just for you. Okay, that's a lie, a clever bit of bespoke software does it for us. Same end result, though.
February 7 2018 from 9am: get £££s off Amazon Fire tablets and Fire TV sticks
Fire HD 8 Kids' Edition Tablet including 1-year sub to Amazon Kids' channel. Was £129.99 now £99.99, save £30
Kindle Paperwhite ebook reader. Was £109.99 now £89.99, save £20
Fire 7 Kids' Edition Tablet including 1-year sub to Amazon Kids' channel. Was £99.99 now £79.99, save £20.00
Fire TV (box). Was £69.99 now £59.99, save £10
Fire HD 8 tablet. Was £79.99 now £59.99, save £20.00
Fire 7 tablet. Was £49.99 now £34.99, save £15
Fire TV Stick. Was £39.99 now £34.99, save £5
The best Amazon Lightning Deals on right now
These are great deals on the latest Amazon gadgets
Amazon Echo deals
When Amazon released its smart speaker, Echo, over a year ago, we were excited to meet Alexa, Amazon very own Siri, but also how the speaker would develop. Fast forward to now and it's gone and spawned a large and growing family of devices.
These are the best current prices on the whole line, from the ultra-cheap smart home hockey puck that is the Echo Dot to the 'video phone from the future'-looking Echo Show to the Echo Plus with its Zigbee smart home hub and our new favourite, the circular screened Echo Spot – a sort of smart alarm clock that can make video calls and show you the weather.
All of them have smart home controls, news and weather, music via their own speakers or ones connected by Bluetooth or, in the case of Dot and Spot, a 3.5mm cable.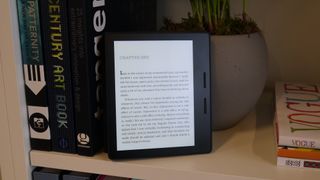 Kindle Oasis deals
This extremely lightweight Kindle brings comfort to one-handed reading. So, if like me, you usually wake up to your book smashing you in the face, fear no more my friend.
Its clever ergonomic grip shifts the centre of gravity to the palm of your hand, allowing comfortable one handed reading for hours. Left handed? No problem, it works for both left and right handed people.
Amazon Fire TV deals
The Amazon Fire TV set-top box is compact to the point of invisibility. At 115m-square, 17.5mm deep only the tiny white LED light gives it away. The top box boast some game changing features from, a microphone remote with voice search recognition, accelerated streaming and an App store populated with games, real games!
The Amazon Fire is an attractive and affordable alternative to the Apple TV. The interface is intuitive and simple, that even your gran would be comfortable using it.
Amazon Fire TV Stick deals
If you weren't quite sold on Amazon's Fire TV or you don't have a 4K TV, then the USB sized Amazon Fire Stick could be the gadget for you.
Though it is not essential that you have Amazon Prime, you can get a lot more fire from the TV stick if you have an account. Like access to Amazon Prime Videos, a rival to Netflix.
Better still, Alexa can now help you find your favourite shows as the stick has been recently updated using the same voice-activated remote that's used with the bigger Fire TV.
Looking for the best phone deals?
iPhone 7 deals | Google Pixel deals | iPhone 6S deals | iPhone 6S Plus deals | iPhone SE deals | iPhone 6 deals |Galaxy S7 deals | S7 edge deals | Nexus 6P deals