Tech's Grand Designs: The world's most futuristic buildings
Earthquake-proof skyscrapers and Apple's new HQ revealed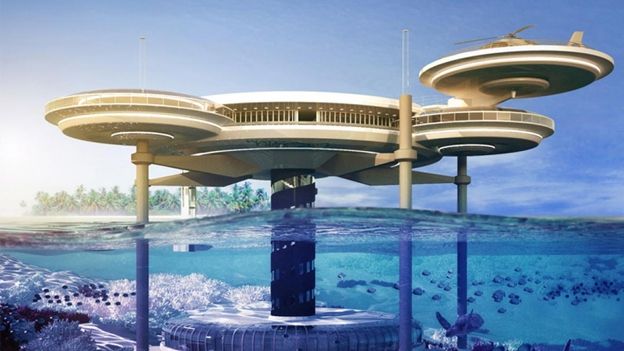 1/12
The Water Discus Hotel
Dubai is already the home of the world's most luxurious hotel, the Burj Al Arab, and if Polish company Deep Ocean Technology has its way it will be the location of the world's first underwater hotel, too. The Water Discus looks like Stromberg's Spy Who Loved Me lair, minus the shark tank, with two giant discs – one above and one below the waves – supported by legs drilled into the seabed. The submerged disc contains 22 sound-proofed rooms with ocean views at 10m deep (light doesn't penetrate below 15m deep), plus an underwater bar and dive centre. Global holding company Dubai World has set its shipbuilding arm the task of making this hotel reality.
Location: Dubai
2/12
Taipei 101
Simply being the former tallest building (it was replaced by the Burj Khalifa in 2010) is not the only headline feature of this 101 floor giant. In fact, it has been given the top award for Leadership in Energy and Industrial Design, making it the tallest, and largest, environmentally-friendly building in the world. Double pane windows block external heat by 50%, while around 30% of the water needs for the building is covered by recycling.
Fiber-optic and satellite internet has been a mainstay in the building since it opened, constantly being updated and the lift was one of the world's fastest, even employing a specialised braking system for emergencies.
Location: Taiwan
3/12
Apple Campus 2
Currently running over budget, Apple's tech city will eventually save money, with enough solar panelling to make it almost entirely self-sufficient. Cold-bent glass walls surround the building, with curved, concrete ceilings completing the expensive donut look. Replete with R&D labs, testing chambers and a 2,000-seat auditorium, this is not so much a building as a corporate citadel.
Location: Cupertino, USA
4/12
The Kingdom Tower
Currently under construction in Jeddah, Saudi Arabia, the Kingdom Tower will be, if completed to current plans, the tallest building in the world and the first to reach one km in height - not one for those with vertigo then. A lot of thought has gone into the design, especially the triangular and sloped exterior which combines to reduce wind loads. Inside you'll find 59 elevators, which will travel at 10m a second and specially designed sky lobbies – so can catch even more lifts.
Location: Jeddah, Saudi Arabia
5/12
Sky City One
How long do you think it would take to builld the biggest skyscraper ever? Ten months? A few years? Well, in fact, if Sky City all goes to plan, it'll actually only take 90 days, well along with a 120 days of pre-building to get this structure poking 2,749 ft into the sky. The reason it would be built so quickly is down the use of pre-fabricated units, so around 95% of it would be built in a factory and then transported over to the site. The fact that this pre-fabrication will take around six months slightly takes the sheen of the whole 'built in 90 days' angle, but it's still pretty impressive.
Location: China
6/12
Yokohama Landmark Tower
Sitting underneath this 900 ft building are rollers, which act as a safeguard against earthquakes by allowing the earth under to move, without shaking the structure. That's not all though, as it also employs a mass damper system that weighs everything down, stopping it from swinging during exceedingly high winds, further helped by the flexible materials used in construction.
Location: Yokohama, Japan
7/12
BSkyB Harlequin 1
Sky's new broadcasting house opened its doors in 2011, bringing with it a really industrial design and a whole boat of technical advances. The majority of these revolve around how the building ventilates, along with how it's lit. Massive vents snake there way up the side, enabling 'natural ventilation', keeping the air in, but the noise out. A rainwater tank provides 100% of the required water for the 1,300 building staff, while a biomass system has been put in place to take care of the heating. So, what's the result of all this tech? A 67% reduction in energy consumption, that's what.
Location: London
8/12
Samsung HQ
For budding inventors, this ten-storey r&d centre brings the wonders of Mother Nature inside. Three garden floors sport trees, running paths and recreational facilities for up to 2,500Samsung scientists. Generous parking facilities double up as a source of energy, with the entire roof of the vehicle-storing structure made of solar panelling. Giant glass windows provide panoramic views and natural light for numerous office spaces.
Location: San Jose, USA
9/12
Torre Agbar
Marking the start of Barcelona's technological district, the Torre Agbar boasts a clever lighting system called nocturnal illumination. Basically, 4,500 LED bulbs, douse the building in colourful light, creating a rather brilliant after-dark look. Even more ingenious is the myriad of temperature sensors, dotted all over the structure that monitors the outside weather, opening and closing the blinds when it sees fit. Futuristic or what?
Location: Barcelona, Spain
10/12
Hearst Tower
Another building that has been hit by the green bug, the Hearst Tower was the first 'green' office building to be opened in New York City. So, what makes it so environmentally friendly? First off there's the heat conductive limestone flooring that covers the lower atrium, then there's the Polyethylene tubing, embedded in the walls, that helps circulate water for cooling. In fact, the water itself it collected from rain and stored in the basement.
Location: New York City, USA
11/12
Leslie Dan Faculty of Pharmacy
Far from your average school building, the Leslie Dan features two suspended lecture hall 'pods' that are lit up at night in a colour co-ordinated pattern, giving it a really sci-fi feel. Unlike a lot of buildings on this list, this is not highly environmentally friendly, in-fact it's quite the opposite, using twice as much energy per floor as a run-of-the-mill building.
Location: Toronto, Canada
12/12
Cheyenne Mountain Bunker
Not necessarily a building, more of a mountain 'hideout' really, but Cheyenne has got to be included due to its mind-blowing security regime. Home to the NORAD (North American Aerospace Defense Command) centers, along with a Missile Warning Center, this 5.1 acre tunnel gets its protection from the futuristic sounding Air Force Space Command and the 21st Space Wing. It can also withstand a multi-megaton nuclear explosion – which is always handy.
Location: Colorado, USA