How to customise the Windows 10 Start menu
Customise and prune the Start menu to your liking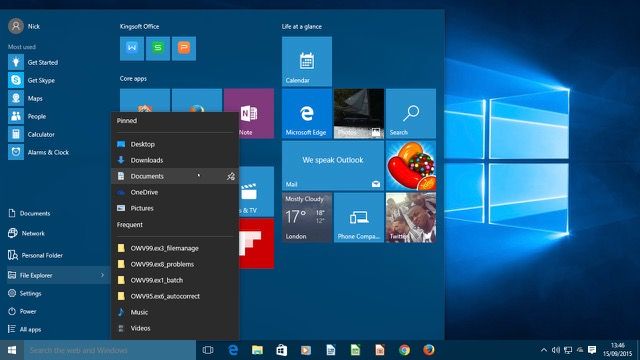 1/9
Beef up the Windows 10 Start menu
The return of the Start menu in Windows 10 will have provoked one of two responses: welcome relief if you've upgraded from Windows 8.1, or 'meh' if you stuck with Windows 7. There's no doubt Microsoft made a big mistake dropping it from Windows 8, and its return is long overdue, but that doesn't mean it's perfectly set up for your personal tastes.
The Start menu is effectively split into two, with the right-hand pane's tile-based layout effectively replacing the old Windows 8 Start screen. It can start to look ugly as you pin program shortcuts to it, but there are plenty of ways in which you can tweak its look and functionality to better suit your needs.
In this tutorial we'll reveal what those options are, plus reveal how to customise the lesser known 'Quick Access' menu that appears when you right-click the Start button.
2/9
Resize the Start menu
Click Start to reveal the two-paned Start menu. You can make the menu shorter or taller by clicking and dragging its top edge up or down. The left-hand pane can't be resized, but the right-hand pane containing your shortcut tiles can.
Click the right-hand edge of the menu and drag to the right to add additional columns to the tile view (up to a maximum of four).
3/9
Go full-screen
If you're pining for the old Windows 8 Start screen, then it's possible to make the Start menu open full-screen.To do this, click Start > Settings > Personalisation. Select Start from the left-hand menu and flick the 'Use Start full screen' switch to 'On'.
In this view, the left-hand pane containing handy shortcuts is minimised – click the menu button in the top-left corner of the screen to reveal it.
4/9
Customise left-hand pane
There are three other switches under Personalisation > Start, which allow you to hide the 'Most used' and 'Recently added' lists from view, plus remove recently opened items from a program's Jump List, which appears when you click the > next to its name.
Finally, click 'Choose which folders appear on Start' to add more useful folders – including Homegroup, Documents and Network – to the list.
5/9
Pin to Start
The tiles portion of the Start menu is where 'pinned' apps reside for easy access. You can add non-pinned apps here from the left-hand side of the Start menu so they're easily accessible.
Locate the app under 'Most used', 'Recently added' or 'All apps', right-click it and choose 'Pin to Start'. It'll be added to a new group in the right-hand pane.
6/9
Organise pinned apps
Apps – including the default ones – can be removed from the right-hand pane by right-clicking and choosing 'Unpin from Start'.
Some apps are also grouped together – click and drag a tile to move it or place the mouse above a group of apps to reveal an option for naming the group as well as a hamburger-like icon – click and drag this to rearrange the entire group as opposed to a single app.
7/9
Customise tiles
Normal program icons look a little ugly as full size tiles, so shrink them by right-clicking and choosing Resize > Small – an upshot of this is that you can fit more apps into less space.
If you've pinned an app from the Microsoft Store here, right-click it and choose 'Turn live tile off' to stop it showing updates, or 'Turn live tile on' to see if it supports them.
8/9
Change colour scheme
By default your Start menu uses a black colour scheme, but you can change this by selecting Start > Settings > Personalisation > Colours.
Flick the 'Show colour on Start, taskbar and action centre' to 'On' to match the current desktop theme, or switch 'Automatically pick an accent colour from my background' to 'Off' to choose a colour of your choice, which affects other parts of Windows too.
9/9
Customise the hidden menu
Right-click the Start button or press [Win] + [X] to reveal a hidden 'Quick Access' menu, with shortcuts to handy system tools.
This menu can be customised too – the simplest way to do so is with the help of Win+X Menu Editor, which lets you add all kinds of useful shortcuts, remove unwanted ones and rearrange the running order.