Home automation is no longer something coming in the future, it's here right now in for form of smart home devices. Spearheaded by Nest, Philips Hue, Samsung and loads more, these products let you add a bit of science-fiction to your home.
These are the best pieces of smart home tech you can buy in 2018.
Whether it's turning your lights on from a smartwatch, automatically unlocking your door as you approach, checking what caused your washing machine to suddenly stop (from your phone), smart home tech not only makes basic things easier, but it also massively improves functionality (when it works).
While turning your lights off with an app is cool, the real killer feature about this next wave of home-based tech will automatically do things for you.
Nest are real front-runners here, with its 'Works with Nest' programme that combines multiple products to create a truly automated home.
For instance, when you wake up your Jawbone Up fitness band will ping your Nest Learning Thermostat to heat up your room.
It's nifty, very clever and actually useful, something which older smart home products never really were.
Apple has also entered to smart home invasion, unleashing its HomeKit at the tail end of 2014. This is similar to what Nest has done, though, for example, you'll be able tell Siri to turn your lights and heating on. Natty.
So, read on and learn about everything you need in order to turn your regular home into the house of the future...
Best smart home hub: Amazon Echo
Control EVERYTHING with your voice
Reasons to buy
+Ultimate smart home AI, for now+Compatibility+Great voice recognition
Google Home isn't as good at smart home, and HomePod will be with us shortly, but for now there's only one game in town when it comes to smart home control.
Alexa, the digital assistant found in Amazon Echo and the smaller Echo Dot, allows simplistic but reliable voice control. What's more useful, however, is that it works across previously disparate gizmos.
The crappiest element of the supposedly 'connected' home is that products from rival brands all required their own apps. No longer: Alexa is uniting them.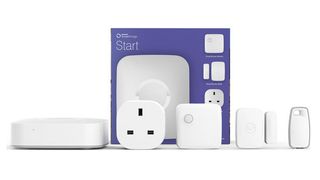 Best one-box kit - Samsung SmartThings Starter Kit
A great smart home starter kit
Reasons to buy
+All in one box+Compatibility +Reasonably attractive
If you're looking to 'get into smart home', there are worse places to start than Samsung SmartThings.
This starter kit includes a Hub that connects not only to Samsung-made smart home products together – you get two multipurpose sensors, one motion sensor and one smart plug in the box – but also to a wealth of third-party products, including LIFX bulbs, Sonos, Philips Hue, D-Link, Aeon and Bose.
You also get compatibility with Alexa voice control.
It's then easy to create automated recipes in the SmartThings app, which is available on both Android and iOS.
Best smart thermostat - Nest 3.0
Super sexy smart thermostat
Reasons to buy
+Attractive+Compatibility+Really attractive
Nest is the first smart thermostat that people got really excited about, mainly due to its looks.
Smart thermostats allow you to set the temperature and schedules from an app on your smartphone, making thermostat control easier.
However, the potentially really clever bit is that Nest learns your routines so as to set itself to use energy more efficiently, saving you more money. It'll also do things like switch off when it knows you're out, thanks to geofencing.
The latest generation of Nest (3.0) is capable of hot water control as well, and all Nest devices are compatible with 'Works with Nest' third-party products, including everything from Hue bulbs to electric car chargers.
Runner up: Hive is just as good at temperature control as Nest, and matches it for smarts as well. We just prefer the modern look of Nest more.
Best colour bulb - Philips Hue
The King of colour changing bulbs
Reasons to buy
+Vibrant colours+Multiple designs+Voice control
Mention smart colour changing smart bulbs and one name comes to mind - Philips Hue. It kickstarted the segment in 2012, with premium bulbs, dimmable and colour-controllable via a smartphone app.
There are competitors now, but it's still ahead of the curve with Alexa voice control and a number of different bulb styles and compatible products including the excellent Hue Lightstrips.
Runner up: Another strong contender in the smart bulb segment is LIFX (pronounced Life-X), which, unlike Hue, doesn't require a hub plugged into your router. There's also voice control via Google Now, so these may be a better choice for Android owners.
Best white bulb - Osram Lightify
From the people who light Eurovision
Reasons to buy
+Bright+From Eurovision lighters+No hub
Osram may be unknown in the tech world, but it's a major player in lighting. That means these may not be the 'smartest' bulbs - there's no voice control - but they are the brightest lights we've tested, and give off a good 'quality' light.
They do require a small hub to be plugged into a wall socket (but not your router).
Price: £60
Runner up: Philips Hue also does some excellent white bulbs, including ones tuneable to the blue or yellow ends of the white light spectrum.
Best multi-room audio - Sonos
Multi-room audio OGs
Reasons to buy
+Multi-room OGs+Understated design+Solid app
When it comes to multi-room audio there is hardly a lack of choice, but Sonos still shades the competition, as an overall system.
The range starts at the compact Play: 1, and include larger speakers such as the Play:5.
It can also act as a home cinema system, with the Playbar soundbar and the Sub which is, surprise surprise, a subwoofer. Further Sonos speakers can be added to take it up to 5.1 surround.
The app is well designed, and allows you to play music from a number of sources, including Sonos, Deezer, Apple and Google Music.
Showing even greater connected home prowess, Samsung SmartThings integration lets you turn your speaker system into an intruder or wake-up alarm. Alexa integration is 'coming soon', as is .
Best connected vacuum cleaner - Neato Botvac Connected
Clean the carpet, with your voice
Reasons to buy
+Alexa control+Slim design
Robot vacs are all very well, but having to go to all the effort of walking over to them and turning them on if only about 3 steps removed from having to do the cleaning yourself.
The Dyson 360 Eye lets you control via your phone but Neato's Botvac Connected range goes one better, adding Alexa and Google Assistant support as well, so you can have your whole house cleaned, just by flapping your mouth hole.
The Botvac has cleaning power that isn't too far below Dyson's more expensive vac-droid, and finds its way around a bit better, and somewhat faster. It's not as attractive, but there we go.
Best smart plug - TP-Link Wi-Fi Smart Plug
Not too ugly
Reasons to buy
+Not the ugliest+Alexa integration+Socket
Smart plugs may not seem like the sexiest smart home devices, and that's because they're not. But they are useful, allowing you to turn regular, dumb gadgets into intelligent connected tech.
Classic uses include hair straighteners, slow cookers, lamps, and that 96-socket multi-plug behind your TV.
Some, including this Alexa-compatible one, also tell you how much money you're spending on electricity for whatever's plugged into it. Prepare to wince.
Best multi-remote - Logitech Harmony Elite Remote
Who thought a remote could be sexy?
Reasons to buy
+Sleek remote+Screen+Compatibility
Sometimes your smartphone doesn't have battery, or you can't find it - how do you control your smart home then?
Hopefully you'll have the Harmony Elite remote from Logitech at hand. Not only does it handle your infrared and Bluetooth-controlled TV and media systems, but your wi-fi smart home kit as well.
It works with SmartThings, Insteon, IFTTT, LIFX lights, Nest, Sonos, Apple TV, Xbox One. The list is endless.
You can create 'scenes' on the companion app, meaning you can control several devices from the single press on the touch screen. For example tap the 'Good Night' scene and it'll turn your lights off and arm the security system. The interface is not great and there are issues with macros, but it's a powerful device.
Best temperature sensor - Netatmo Weather Station
Monitor air quality inside and out
Reasons to buy
+Battery powered+Sleek design+Optional wind and rain sensors
If you're looking for a top of the line Wi-Fi weather monitoring kit, you should get the Netatmo Weather Station.
The starter set includes an indoor and outdoor unit, both capable of monitoring temperature, relative humidity, air quality (including CO2 reading), sound pollution, barometric pressure, and general weather type stuff.
You can analyse all the data on Netatmo's app (available on iOS, Android and Windows) in the form of graphs. If that's not enough for you, Netatmo offer a rain gauge, and wind gauge, for COMPLETE weather domination.
Runner up: Elgato Eve Room and Weather measure air quality, temperature, air pressure, and humidity, and are Apple Home compatible.
Best sleep tech - Withings Aura
You can't escape tech, even when you sleep
Reasons to buy
+Sleek design+Light alarm+Ambient sounds
If you're into sleep monitoring, this is the Rolls Royce of that particular, rather specialist, area.
Slide the sensor mat - an unpleasant thing that looks like it's probably something to do with incontinence - under the mattress and it, quite impressively, tracks not just your nocturnal movement but also your heartbeat. As a result it can give presumably more accurate readings of how long you were restless, asleep or deeply asleep each night.
Further sensors measure the room temperature and decibel count, in case you have something wrong with you and can't tell that it's too hot or too noisy for restful sleep. As you can't check either of those things while asleep, we debate the usefulness of this. Maybe in future it'll link to your smart thermostat and crank the heating or air con when the temperature's wrong. Or use robo-cannons to machine gun noisy neighbours and copulating foxes.
The Withings app lets you view your sleep stats, and Withings will also send you an irritatingly perky email every week, congratulating you for being good at sleeping.
By far the most useful part of the Aura is its curiously ship's-funnel-shaped alarm. Because the sensor knows you're coming out of deep sleep, it can wake you gently with its simulated (blue) sunrise and warbling, Brian Eno-style ambient music. Its simulated sunset with accompanying wave noises is similarly good for lulling you to sleep.
Best small appliance - De'Longhi PrimaDonna Elite
Brew a cuppa joe from your phone
Reasons to buy
+Reliable Bluetooth+Makes good coffee+Simple
If you want iPad-controlled coffee-making you're better off with this than Smarter's more tech-oriented take on the same thing, which only makes filter coffee, and not amazingly at that. It is vastly more expensive, but that, alas, is the deal with bean-to-cup espresso making.
A simple iPad app lets you choose preset drinks (espresso, macchiato, cappuccino, etc) or make one of your own with your favoured strength and balance of coffee, water, milk and froth.
It works via Bluetooth, which is much more irritation-free than Wi-Fi, although it may rule out firing up your favourite beverage from bed, if you're out of range.
As you'd expect at this price the results are generally good, although if we can be horribly snobby about it for a moment, if you're REALLY into coffee, you wouldn't use a bean-to-cup, you'd get a proper espresso machine and a proper bean grinder and do it yourself.
Still, this does give a much easier route to creating obscure coffee variants, with '100s of different varieties of coffee based drinks all from one machine', as De'Longhi enticingly puts it.
TL;DR: this is in the upper tier of bean-to-cup machines we've tried, and the tablet control and customisation does add a fun extra dimension, especially if you're an entire family of unusually choosy coffee lovers.
We do find this - and De'Longhi's gear in general, in fact - rather ugly but hey, that's just, like, our opinion, man.
Best large appliance - Samsung Family Hub 2.0
The ultimate piece of smart home kit
Reasons to buy
+Some useful applications+Futuristic+

Large appliances have taken longer to adopt connected tech. There are a few washing machines which can be app controlled, but our favourite large appliance is the Samsung Smart Fridge from CES 2017.
The first thing you notice is the large tablet built into the front, letting you leave notes, watch YouTube videos, create shopping lists etc.
The other tech is inside the fridge. Most notably a camera that takes images of the contents of your fridge. The means you can be in Tesco, and check how much milk you have left, pretty useful, right?