Best grill to buy in 2014
Whether you're after a George Foreman or looking to replace charcoal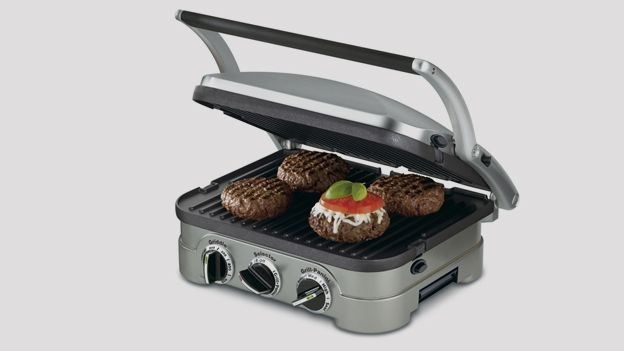 1/8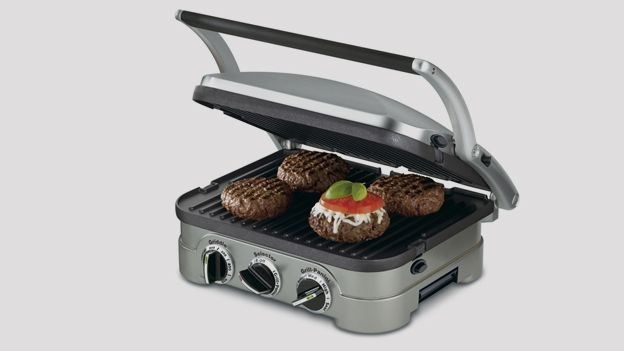 Cuisinart Griddle and Grill
Perfect for those with smaller kitchens, this panini maker / really useful griddle pan does far more than just crisp up your toasties. Thanks to dual heated plates, which can be detached for easier cleaning, you can easily ditch the grill for a night and create something impressive. We tried grilling some bacon, burgers and the like and they all came out with those classic griddle lines. Thumbs-up
£100 | Cuisinart
2/8
Tefal Optigrill
Judging when a steak is done takes skill. Get your timings wrong can make all the difference between tender and tough as old boots. The Optigrill removes the need for any actual skill by judging the thickness of the meat, how many slabs of beef are on the grill while a big bright LED traffic light system shows you when your dinner reaches rare, medium or well done.
Price: £149.99 I Optigrill

3/8
George Foreman 12205
The original Lean Mean Fat Reducing Grilling Machine is still going strong, but with the 12205 Entertaining George Foreman has the whole family covered. With a whopping 625cm2 grilling area, easy clean removable non-stick hot plates it'll cook up to six portions in one go. The perfect gadget for a protein obsessed gym freak housemate.
Price: £99 I George Foreman

4/8
Breakfast Sandwich Maker
Our breakfast prayers have been answered (in the US at least) with the Egg McMuffin style breakfast bap machine. Load up the muffin base, chuck in cheese, meats or whatever you fancy, slide in the egg cooking hot plate, crack an egg, top with the bun and close the lid. Five minutes later pull out the egg plate and enjoy a hot and healthy breakfast as part of a balanced diet…obviously.
Price: $29.99 I Hamilton Beach

5/8
Lakeland Grill and Griddle
Great value multi-function sandwich and health grill than converts into a dual temperature hot plate (max 220°C) both of which come with a 30min timer for added control. Cheaper than most similarly spec'd designs with dinky digital display and removable non-stick hotplates.
Price: £61.99 I Lakeland

6/8
Breville VST035
Face facts heath food fans, nothing beats a toasted cheese sandwich, nothing. And we figure if you're going to ingest globules of artery constricting molten cheese you should do it in style. The original Breville has been transformed and with the launch of the VST035 bow boasts a sleek metallic exterior, removable plates for dishwashing and a supersized four sandwich capacity.
Price: £44.95 I Breville

7/8
Philips Avance Taste Infusion
This glorified barbecue lets you infuse your meat with lovely smoke, wine and herb flavours via the reservoirs at the back. Only the middle of the grill has the heat for proper charring, though the edges still come out very tasty.
Price: £95 | Link: philips.co.uk

8/8
Russell Hobbs 3 in 1
This capable budget offering sears furiously and can be opened out for one-sided grilling, or used as a press. Features are limited beyond that, and it's the only one here whose non-stick plates are not removable.
Price: £35 | Link: uk.russellhobbs.com