The best garden sprinkler and/or lawn sprinkler is becoming an essential as summers get hotter – at least for as long there's no hosepipe ban in place.
Most people will water their plants, but what about your lawn? If there's been a particularly dry month then your lawn can easily become parched. With the summer rapidly approaching now is the perfect time to start getting your garden healthy.
If you've just done up your garden, now is the time to think about giving it the TLC it deserves on a regular basis, with the best garden sprinklers.
And, if you're currently looking for top tech to help you look after your garden, then be sure to also check out T3's buying guides to the best cordless lawn mowers, best garden watering system, and best garden tools.
For more enjoyable garden tech, be also sure to scope out T3's guides to the best barbecues, best pizza ovens and best smokers.
And, for those who have very big gardens, as well as those who like the idea of someone else doing all the hard work, it may also be worth taking a look at the best petrol lawn mowers and best robot lawn mowers guides, too.
Don't forget to check out the best Black Friday deals, because home and garden equipment often attracts deep discounts: it's a great time to stock up for next year's Spring and Summer without paying a premium.
Let's discover the best garden sprinklers on the market today.
The best garden sprinklers you can buy today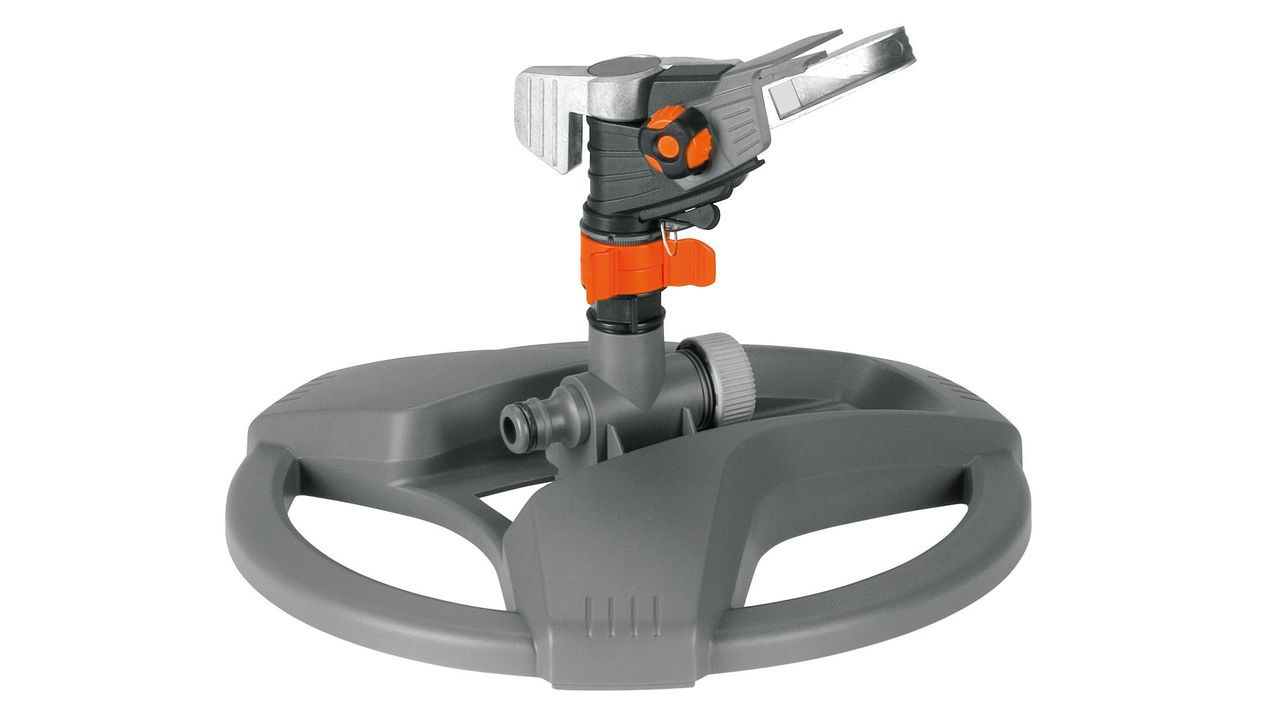 Aside from being especially well suited for large lawns up to 490m2, the main reason we love pulse or impact sprinklers is because they typify the sound of summer and especially the countryside. After all, who doesn't love the peaceful tsk-tsk-tsk sound of a farmer or stately home's irrigation system on a hot summer's evening while sipping on a Pimms or going for a stroll along a bridleway? Well, plonk this model on your lawn and you'll always feel like you're in the country.
Admittedly, pulse sprinklers do look like the result of someone who's found a jumble of metal and plastic bits and put them all together in a man shed. They're also quite delicate and don't like being trampled on. But they're among the best options for long-range watering.
This Gardena Premium Pulse Sprinkler uses a decent amount of sturdy metal in its construction and comes equipped with a high precision brass nozzle that should produce a fusillade of reliable squirts day in day out. Its 10 to 25 metre range is easily adjusted using the large knob on the side and there's a separate swivel adjuster to set the sector from 25˚ to 360˚. And because it has a through connector, you can also link a bunch of them together for a full-on squirt symphony.
To see how this top pick compares to a fierce rival, then check out T3's Gardena Premium Pulse Sprinkler vs Hozelock Pulsating Sprinkler comparison feature.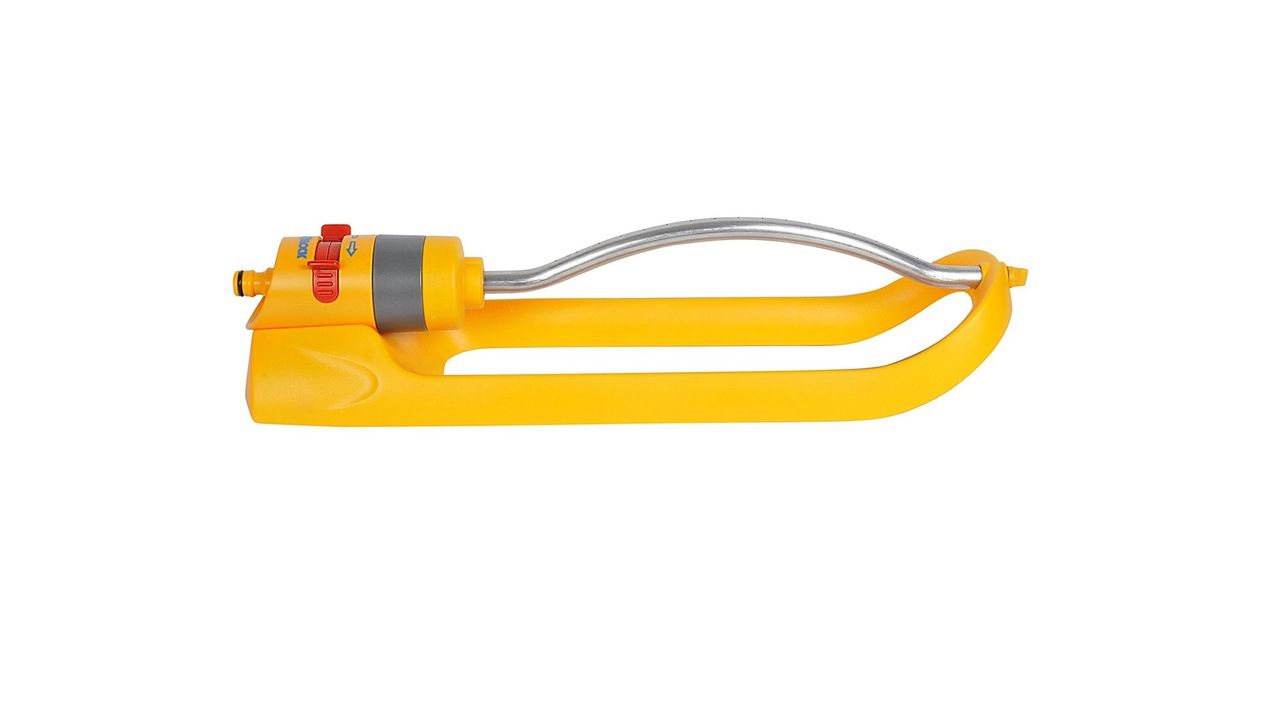 Smaller gardens that need a reliable job done can expect good things from this side-to-side sprinkler. Indeed, it's arguably the most popular sprinkler on the market and very reliable it is, too. Unlike the Kärcher and Gardena reviewed below, you can't make any adjustments to the 15 water jets but you can adjust the reach on either side. However, making reach adjustments on the fly is recipe for a good soaking so be sure to time your tinkering Ethan Hunt-style between oscillations.
The Hozelock's wide sledge-style design keeps it firmly in place even on steep inclines so perhaps consider it if your lawn is as hilly as the South Downs and preferably rectangular in shape.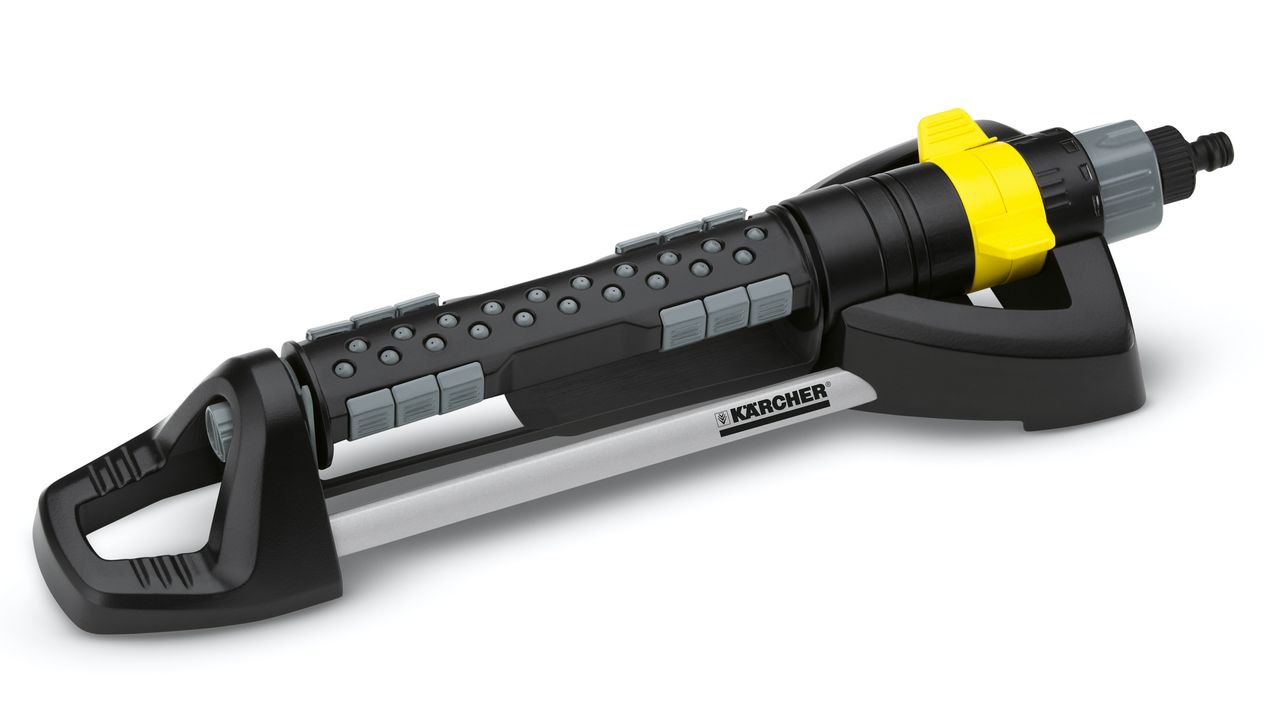 Kärcher is best known for its pressure washers but it's also into gardening in a big way and doing it well. Take this sturdy oscillating sprinkler for example. Unlike your average common or garden oscillator, this one comes with a full complement of bells and whistles. It's got twenty jets on board for a start, and that means excellent coverage on all sides. Better still, you can customise the coverage by turning off some of the nozzles on either side to produce a narrower zone.
The Kärcher Oscillating Sprinkler also comes with a knob for adjusting the water pressure so you don't need to stand at a tap while selecting the most suitable squirt distance. And, in a minor stroke of genius, there's a plastic SplashGuard underneath the unit that rotates to cover the jets nearest to your face while you make extra adjustments.
Admittedly, with all nozzles open – and using typical London water pressure – the Kärcher isn't as far reaching as the Spear & Jackson or Hozelock Rectangular Sprinkler (you get about 4m of soakiness either side) but close a couple of jets on both sides and the throw increases to around 8m either side, albeit with a narrower formation. This setting is ideal for the average long and slim urban London lawn since it will cover the entire plot in one fell swoop. And that means you can just leave it to do its stuff while you engage in more important pastimes, like stuffing your face and getting rat arsed.
To see how this model compares to another highly rated sprinkler then check out T3's Spear & Jackson BWF22 Oscillating Sprinkler vs Kärcher Premium Oscillating Sprinkler OS 5.320SV comparison feature.
This oscillating lawn bar sprinkler from Cost Wise is the epitome of a basic, no-nonsense garden sprinkler. It's crazy cheap, so much so that you could buy multiple units for the cost of some other rival models, and you simply plug it in and away it goes.
As with most cheaper models, this sprinklers action is driven by the water running through it, and coverage is directly dependent to water pressure. This means you can just open or close your tap to grow or shrink its nozzle spray spread and distance travelled.
You can lock the angle and direction of spray, too, meaning that if you want to just water a narrow patch of your garden, such as a flowerbed, then you can do so.
The build quality is just average and there's no doubting that this unit is made largely out of plastic, so don't expect decades of use, but when its as cheap as it is we're not sure that's really something to worry about.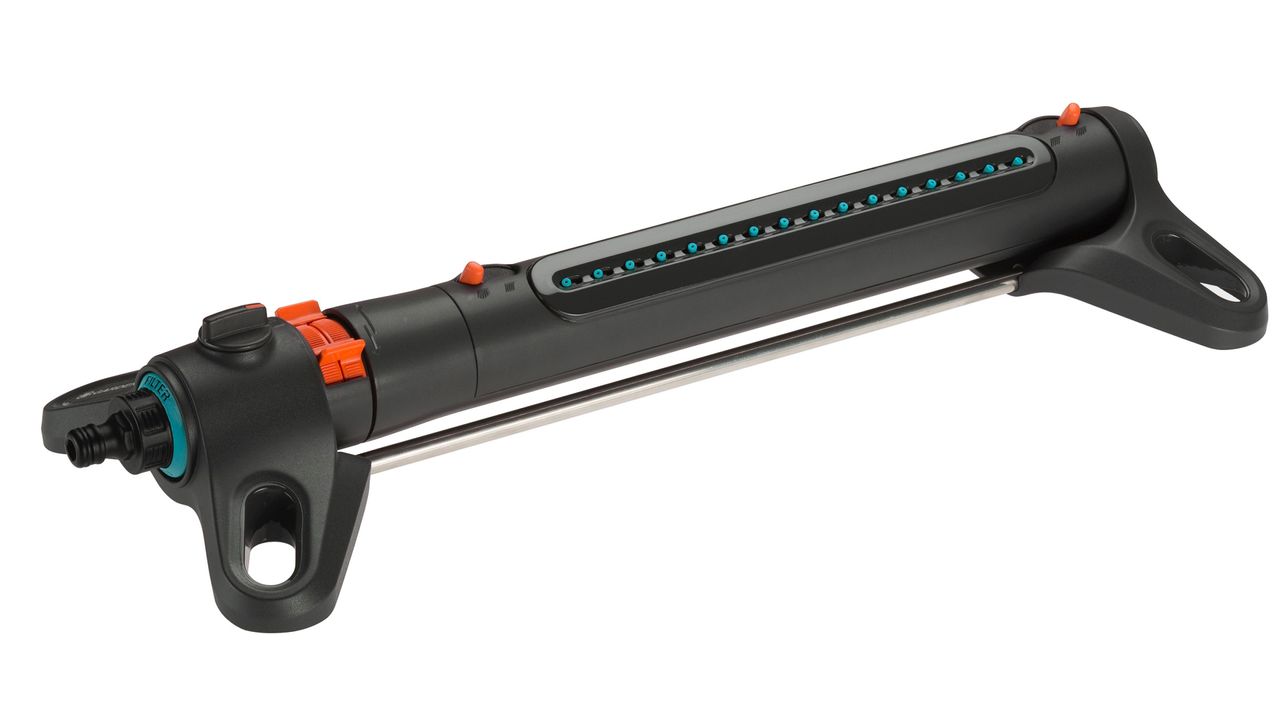 Like the excellent Kärcher reviewed above, this new Gardena model's 16 water jets can be adjusted for either a wide or narrow reach depending on the size and shape of the garden. However, unlike the Kärcher's 20 nozzles which you can switch on and off, the Gardena's system uses two banks of permanently on nozzles which can be aimed side to side to provide a narrow or wide zone, or even adjusted so one bank of jets forms a straight line, say down the edge of a pathway, while the other bank waters the rest of the lawn plus perhaps a flower bed on the side.
The Gardena's nozzles are wider than the norm and that means the reach is nowhere near as far as the supreme Spear & Jackson or Kärcher with two of its jet banks turned off. On the plus side, the increased amount of water coming out of each jet is very similar to that of rain drops so in many ways this sprinkler provides more water per squirty oscillation.
The upshot is, if you have a garden with a surface area larger than say, 10m x 5m or your water pressure is low as it usually is in London, then perhaps forego this model and opt for the Spear & Jackson which has massive range even in low-pressure regions. On the other hand, if your lawn is relatively small – and oddly shaped – and you wish to douse the lawn and beds with more water per pass, then this is the sprinkler to go for.
For even more information about this sprinkler be sure to read T3's Kärcher Premium Oscillating Sprinkler OS 5.320SV vs Gardena AquaZoom.
If you feel you actually would benefit more from a rotating sprinkler then this super affordable model from ENJSD is well worth scoping out. Coming in at under a tenner makes it very easy to pick up, and its simple design makes it easy to blend in to your garden while in use.
The unit itself has three arms that rotate and each has 4 water jet nozzles on them, meaning you get 12 in all. The reach of the nozzles varies depending on the water pressure pushed through it from 2-10 meters, so we're talking modest spread rather than an elongated reach.
There are two modes you can select though, a faster rotation which is good for watering lawns, and a slower mode that fires water higher but in a narrower spread, which is good for the irrigation of tight areas and taller plants.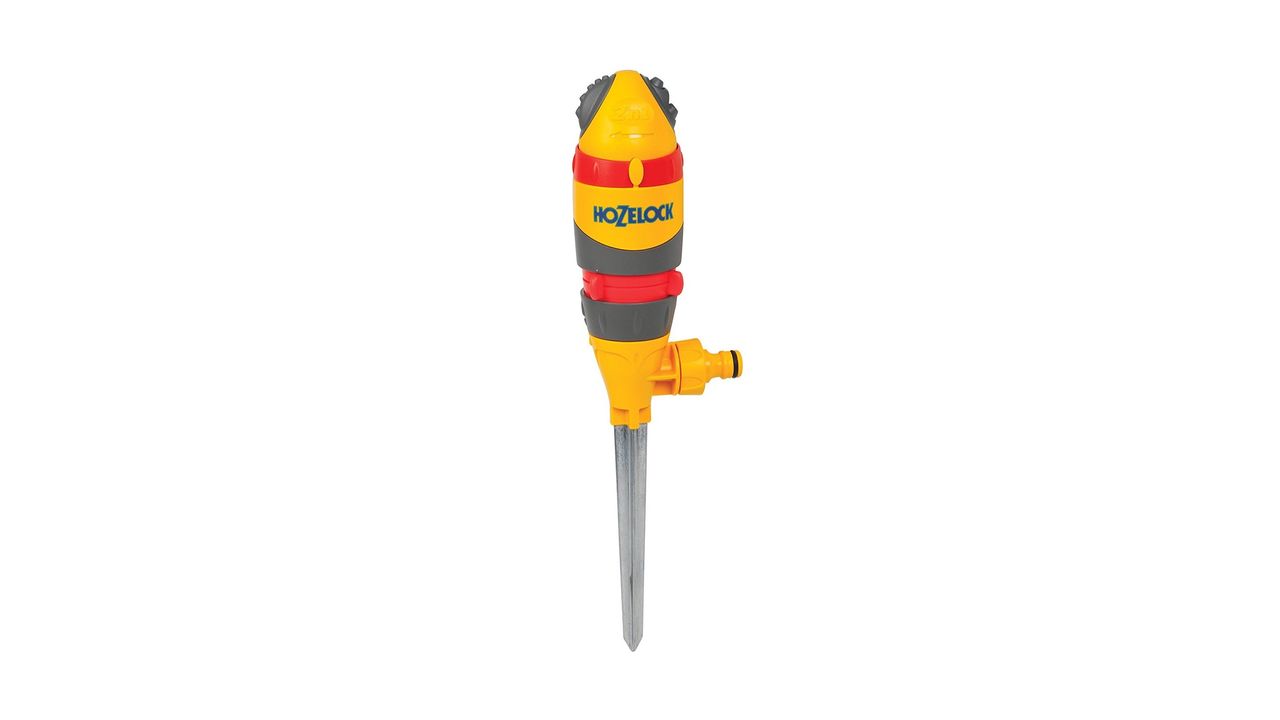 Hozelock has another great entry on our list with the Round Sprinkler Pro which users have found works incredibly well regardless of your water pressure. The spike design means it can be placed securely in the grass and on even the steepest of inclines, or you can purchase the same model with a sled base instead.
With its choice of five nozzles, this sprinkler can be set to complete a full circle of coverage (up to 20m in diameter) or a wide arc by simply adjusting the red setting ring. It is also said to be excellent for providing spray coverage across the whole garden or targeting specific areas with a stronger flow. An excellent choice for smaller lawns.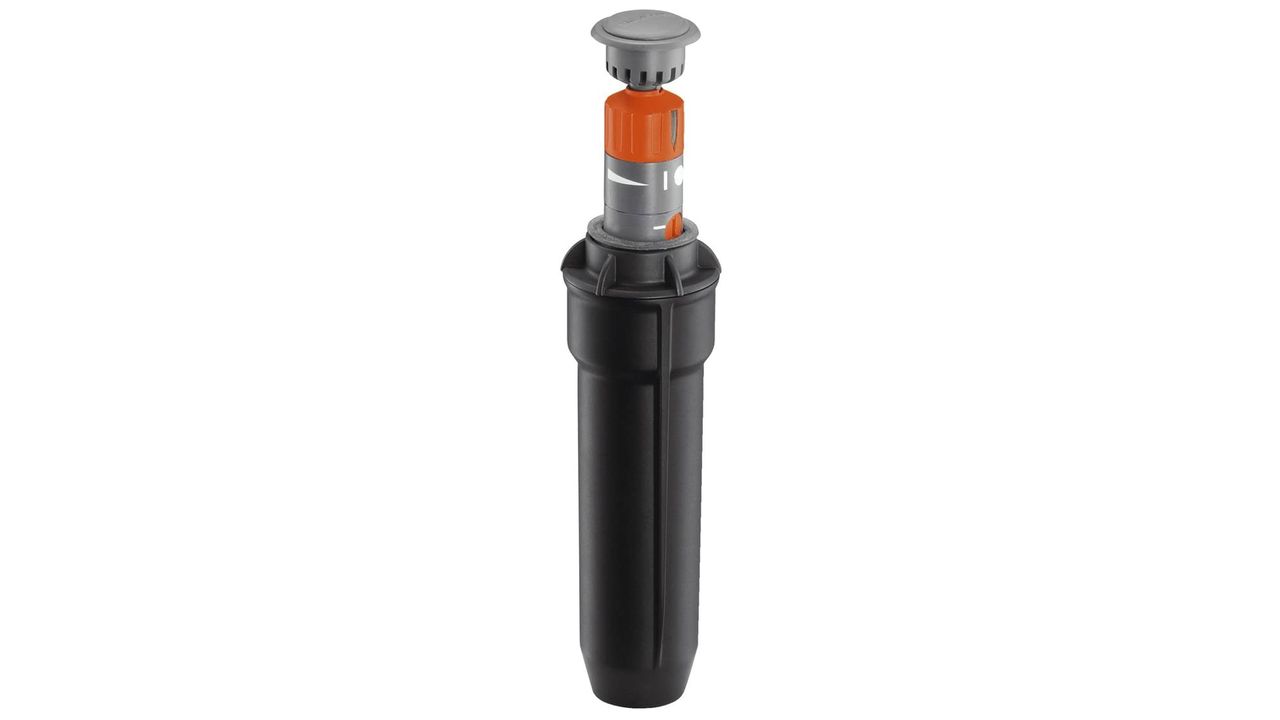 If you don't like the idea of a sprinkler taking up room on your lawn, then this integrated sprinkler is the ideal way to overcome the issue. Because it's hidden, this lawn sprinkler does require installation – a 10-inch hole will need to be dug along with a trench for the hose.
The Popup comes with 16 flexible nozzles to ensure even water distribution and is particularly effective on rectangular shaped lawns (you can adjust spray width, range and direction by fiddling with the unit's various knobs and wheels). To use, simply turn on the tap – or have a timer do it for you – and the water pressure causes it to pop up out of the ground. When finished, it descends back into its housing.
The Popup is far and away the most aesthetically pleasing model on the page but be warned that some users may find they don't have high enough water pressure for it to reach all areas. We would suggest trying an ordinary sprinkler first to test for general reach, because the last thing you need is to discover it has woeful coverage after having dug up half the garden. You're also advised to have the system installed by a professional landscaper because the scant instructions are, to put it bluntly, awful.
How to buy the best garden sprinkler for you
Watering your lawn by hand isn't too much of a hardship, but if you have a large garden then this can begin to take up a lot of your time. This is where a lawn sprinkler comes in.
There are a few types of sprinkler you can get, and the one you choose will depend on the shape and size of your garden, and if there are any particular areas you want covered. A fixed sprinkler will simply water one chosen area but they are usually good at getting to those hard-to-reach areas.
Rotating and oscillating lawn sprinklers will ensure different areas of your garden are watered evenly and tend to be gentler on flowerbeds. However, if you have a particularly large garden, then travelling sprinklers work by moving up and down your lawn to ensure even coverage.
For the most efficient and effective watering, a lawn sprinkler attached to an electronic timer will ensure consistent maintenance, and opting for a sprinkler with a range of nozzles and flow settings means you can target certain areas that need more attention.
Our top choices for ground-based sprinkling include the multi-faceted Karcher Oscillating Sprinkler, the robust and far reaching Spear & Jackson BWF22 Oscillating Sprinkler, the new Gardena Oscillating Sprinkler AquaZoom M and the classic Hozelock Rectangular Sprinkler, or Lawnqueen as it was once known.
What is the best time to water your garden with a sprinkler? Plus other garden sprinkler tips.
As with watering anything the optimal time to do so is in the morning. By turning on your sprinkler in the morning you help the plant or lawn to retain the water that is deposited on it, rather than it evaporating.
If you're watering a lawn then, on average, it is advised to use your sprinkler once a week or a couple of times per week in prolonged dry weather, and to deposit about an inch of water over it. This takes roughly an hour, but obviously varies between make of sprinkler.
One question to remain mindful of, though, is "do sprinklers use a lot of water?" because the answer is yes. This is why it is important to make use of a sprinkler at the optimal times of day to increase its effectiveness in a given time.
It is OK to water plants and lawns in the evening and night, too, however again this needs to be in a controlled manner as damp leaves or boggy ground encourages fungus, moss and mold, which is detrimental to the health of the lawn or plants. This is why watering in the morning is most optimal – the plants absorb the water and make use of it during the peak sunlight hours of the day, meaning they are dry come nightfall.
Lastly, addressing the age old hand water vs water sprinkler argument, both forms of watering have their time and place, as well as benefits. For example, if you just need to water a large patch of lawn or a crop of the same plants, then a sprinkler is a great solution. It waters everything evenly and with close to zero effort from the gardener. However, if you have a bunch of different plants next to each other that will all benefit from different amounts of water, then hand watering is obviously better. Hand watering also lets you water things in tight areas without getting things like paths and flagstones all wet and slippery.
Who are the best garden sprinkler makers?
There are a few established garden sprinkler makers, as well as plenty of up and coming makers, producing products for the market right now. The two biggest established names in garden sprinklers are Hozelock and Gardena, and from testing many different sprinklers from these two makers we can confidently say that you should shop with them in confidence.
Another maker with great pedigree is Kärcher, who has very much expanded its offering aggressively over the past few years. It now offers a wide range of sprinklers, including rotating, pulse and oscillating models.
There's plenty of more budget-orientated makers, too, such as Aolun, Silverline, Onarway, Amlion, Hotelvs, ENJSD, Aiglam, too. These makers focus on producing very affordable sprinklers, and are absolutely worth checking out if you're shopping on a tight budget.
How we test the best sprinklers
Sprinklers come in different flavours, but a lot of the things we're looking for in a good garden sprinkler stay uniform, such as coverage, reach, modes and build quality. And these are the things we're looking out for when we rate a unit.
For example, there are multiple types of oscillating sprinkler on the market, but some come with plastic fittings and others come with metal ones. And it doesn't take much to figure out which one is going to boast the better build quality and longevity.
We want to know also, during our testing, just how easy a lawn sprinkler is to operate, as the last thing anyone wants is a supposedly all-singing-all-dancing model that can do it all if it isn't easy and intuitive to use. Often the simplest products work the best.
Finally, over the longer term we're looking out for how well these sprinklers perform over multiple seasons. If a garden sprinkler packs up after just one summer's use then we will tell you about it here.