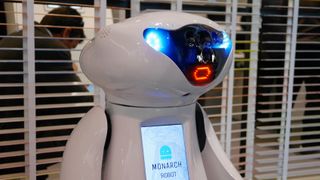 Introduction
You've probably read about all the smartphones announced at MWC (and if you haven't, they can befound here), they're good, but they're not the most interesting tech announced at the show.
The weird and interesting stuff is reserved for the later halls, which take a good thirty minutes to reach, it's filled with smaller companies which can't compete on the same stage as the likes of Samsung and LG.
Here we've taken a more fun look at MWC 2016, and collected really cutting edge tech, from cool and useful, to the completely insane. Enjoy!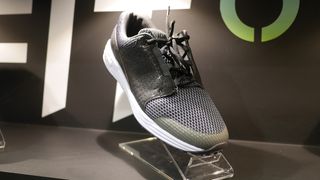 IoFit Smart Shoes
These smart trainers from IoFit were mypersonal highlight from MWC this year. The smart sneaks are backed by Samsung's innovation lab, and they'll be hitting KickStarter next month. They include pressure sensors in the souls, this gives the user an accurate step count, and more advanced information such as balance, weight shift, foot pressure map, your centre of gravity, ground contact force and feet tempo. Which is all very useful information if you're an athlete.
IoFit offers a number of different styles (including a golf shoe) and a companion app, which allows you to record your feet and overlays information onto the video.
Best of all? They're not fugly!
Stay tuned to T3 for more updates on the IoFit smart shoes.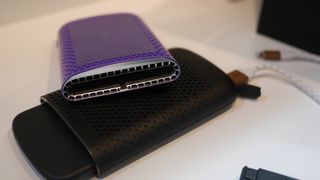 myFC Power Jaq
Meet Jaq, the World's smallest portable fuel cell charger. You'll NEVER need a wall socket again, the Jap generates power from water and salt contained in a slim power card. When the card is inserted into the jacket, hydrogen is produced to generate electricity. Pretty smart, right?
It's attractive, and particularly useful if you often go 'off the grid'.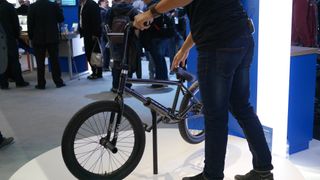 Intel Smart BMX
Intel wants to shove its chip EVERYWHERE. It's latest creation is this smart BMX.
The bike includes a six-axis accelerometer and gyroscope, which can tell the rider how many times they spin, airtime, maximum height, and landing impact.
That's useful for a pro in training, but even more useful for competitions and broadcasters, who can then use that information for judging etc.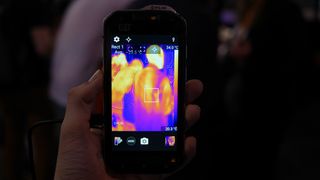 CAT S60 Thermal Camera Smartphone
The CAT S60 is the World's first smartphone to include an integrated thermal camera, it's also the most waterproof smartphone, and incredibly durable.
The camera is from FLIR, and can be used to detect heat loss around windows and doors, spot moisture and missing insulation; identify over-heating electrical appliances and circuitry; and seeing in complete darkness.
Who wouldn't want Preditor vision on their smartphone?
And look at the lovely sweaty back...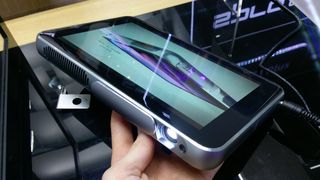 ZTE Spro Plus
Putting a projector in a tablet sounds like a pretty good idea at first, right? Then it comes to the reality of actually making it... and you realise it's to be thicker than a VHS tape.
Despite that, the ZTE SproPlus is a pretty attractive device (all things considering). The 8.4-inch screen has a 2K resolution, and the laser projector projects 500 lumens. There's a large 1,200 mAh battery, and it runs Android.
It fills a niche, it's interesting, but thanks to this size it's unlikely to me massively popular.
VR Vomit Machine
Great idea! Slap a VR headset on someone, then put them in a 360-degree spinning chair. Guaranteed sick.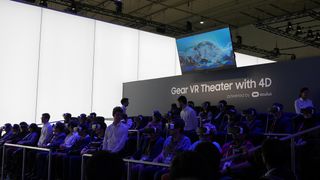 Samsung VR Rollercoaster?
The future of roller coasters? Just look how much FUN they're having! At least it doesn't make you feel ill afterwards.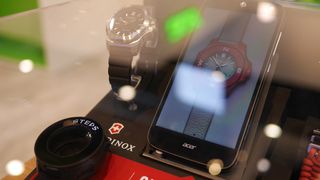 Acer and Victorinox INOX Cybertool
The concept is solid - turn a mechanical watch smart. This attachment from Acer clips onto the front of a Victorinox analogue watch and adds functions such as step counting and caller ID.
But the execution... the Cybertool (that name?!) is chunky,plasticky, and turns a pleasant-looking watch into a monstrosity.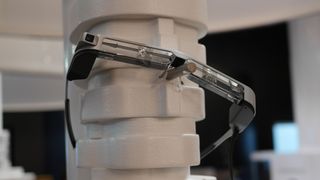 Epson Moverio BT-200
Did Google forget to tell Epson AR glasses are dead?
To be fair, this is probably more for businesses than consumers.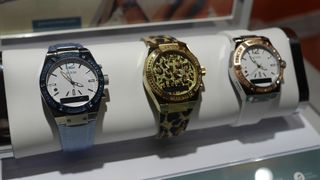 Guess Connect