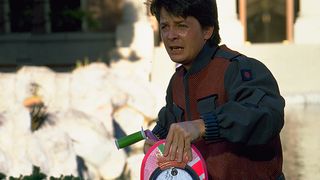 Real hoverboards
Welcome to the future. 2015: this isn't what Back to the Future promised us. We don't all own hoverboards and we're still microwaving those disappointing Chicago Town pizzas rather than chowing down on ones that expand from five inches to 20 when you bung them in the hydrator. But hoverboards are real.
Or at least some of them are. We're going to run through all the ways you can get both the real hoverboard experience, and give a nod to a few things that aren't really hoverboards at all, but get you some of the feel. And potentially a broken ankle.
Get those calf muscles prepped.
Don't forget to read:Meet the man who made Marty McFly's future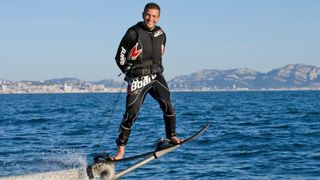 ZR Hoverboard
Price: £1600, plus a speed boat
If you want a hoverboard that feels a bit like what we were promised in Back to the Future, you don't want a land-based hoverboard. Water is where it's at.
The practicalities of the thing work much better on water. The ZR hoverboard uses good old basic physics to make its riders stay in the air, with jets of water that'll propel you up to five metres above water level. That's better than 4cm, eh Lexus?
This is a tethered design, though, with a big 18m pipe trailing off the thing and onto a speedboat down below. So while the ZR hoverboard 'only' costs around £1600, you'll also need a boat to go with it. And last time we checked they cost a bit more than a grand or two.
Still, it's nice to see a hoverboard that causes more terror than disappointment. This one's available to order now, and the brains behind it is champion jet ski rider Frankie Zapata. Don't worry, we hadn't heard of him either.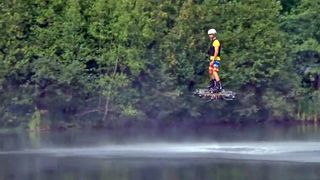 Catalin Alexandre Duru drone board
One of the most amazing, most convincing and most terrifying hoverboards in existence is one some chap called Catalin Alexandre Duru cobbled together himself. Not only that, he snagged himself a Guinness World in the process by travelling 276m on the thing. Before, erm, plunging into a lake.
The most legit, and certainly one of the loudest, hoverboards uses the sort of propulsion tech we see in drones, but maxes-out the concept so it'll hold of fully-grown man. Of course, that's going to use quite a lot of power, which is why the thing conks out pretty quickly.
Would you want to do that 5m over the ground? Of course not.
This hoverboard feels a bit more Starship Troopers than Back to the Future, so we wouldn't be too surprised if the US military was working on something similarly terrifying behind closed doors. Cripes, we're not going to sleep tonight.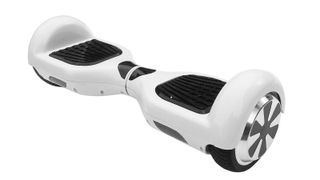 Team Dogz Trooper X
Price:£339
A hoverboard so 'now' you can buy it at Halfords. That's the Team Dogz Trooper X. Yes, it's not a hoverboard at all, rather a sort of rubbish Segway, but the world at large has decided to both market and think of these electric balance boards as hoverboards.
Whatever floats your… well this doesn't really float anything. It rests on two wheels and uses your weight distribution to judge whether to make the electric motors move forwards or in reverse.
If you've seen all the fuss recently about 'hoverboards' being banned on pavements and roads in the UK, it's this sort of device that has been targeted. And mean as we've been, we'll admit to having wanted to try one as soon as we saw the thing. Just preferably not in public.
Electric balance boards use an electric motor under each foot to give you complete(ish) control over its motion, letting you move forwards, back and turn by moving your weight around. You can travel at up to 10km/h, with a range of 15-20km per charge. It's almost be practical if it wasn't illegal to use in most places. You'll find these fauxverboards online for around £300-400.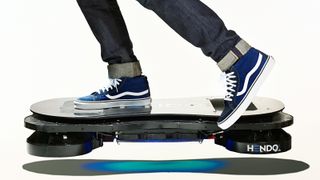 Arx Pax Hendo
Price: $10,000
The hoverboard that kicked up a right fuss on Kickstarter in 2014 was the Hendo Hoverboard. It looks like the real deal, using spinning magnet arrays to keep the board floating even with a chunky bloke on top. As long as you're on the right sort of surface.
Maker Arx Pax even announced a brand new version of the board on Back to the Future Day, featuring a slimmer, quieter and more efficient design.
As it's still in development you can't buy a Hendo Hoverboard right now. And despite raking-in over $500,000 on its Kickstarter, only 11 people actually coughed-up the $10,000 required to snag themselves a real, working hoverboard.
The thing does work. We've seen it on the internet so it must do right? But seriously, head over to YouTube and you can see Tony Hawk having a go on the thing. But even the man behind some of the best (and the very, very worst) skateboarding games can't make it look graceful. Maybe the tech's better than the results on this one.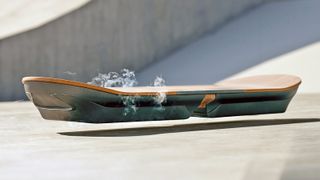 Lexus Slide
Price: N/A
A big-name car maker has made a hoverboard? That's right - and
. In a release that looked, read and smelt like an April Fool's joke announced two and a half months late, Lexus unveiled the Slide back in June 2015.
This hoverboard uses maglev technology like those super-fast Japanese trains. Its insides are super-cooled with liquid nitrogen, and in order for it to levitate the board needs to move along a pre-specified track.
If you've seen videos of the Lexus hoverboard in action, that's the thing working at a specially-built skate park in Spain. Oh, and it only hovers about 4cm off the ground. And, err, needs to be topped up with liquid nitrogen every 10 minutes. In the practicality stakes it makes an electric supercar look like a Ford Mondeo.
So why does it exist? The thing was used in a car ad and, well, we're talking about it right? That's a win for Lexus on one level. That's right: we're all suckers.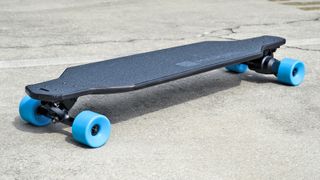 Marbel electric skateboard
Price: around £1000
If you want the feel of a hoverboard on the road, your best bet is an electric skateboard. Yep, it doesn't hover whatsoever, using wheels instead. But look at what it's capable of and you can't help but be a little impressed.
There's a bunch of small US brands making these electric skateboards, including Boosted and Evolve, but we're going to look at the Marbel one in particular. It claims to be the world's lightest electric skateboard.
For $1399 (£900, £1080 with VAT) you get a longboard-style skateboard that can ride at up to 25mph, for 16 miles off a charge. With almost no visible motor bulge on the thing, it's kinda amazing.
You 'drive' it just as you would a normal skateboard, but use a wireless remote to control speed and braking. It'll even go up hills of up to 20 per cent incline. You'll need to get your backside over to Tampa in Florida to try a Marbel out, but if you're rich in cash and short on sense you can order one right now. They deliver worldwide.
Liked this? Why not check outWe've just arrived in the future, and here's our DeLorean to prove it