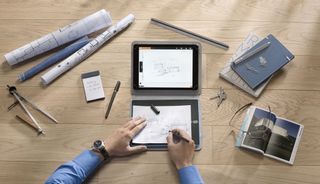 Introduction
T3 travelled to Paris for Connected Conference 2015 and found a feast of startups all plugging into the Internet of Things. And, mais oui, all of them were French. Bof!
Ignoring the big boys of connectables, like Parrot and Withings (both also French, please note), we picked out ten of the freshest new connected devices and the most promising prototypes for our Top Ten Internet of French Things. Or, as the French themselves would say, "Le haute dix internet de choses Francaises de la hee hong". You're welcome.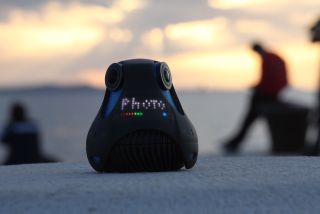 Giroptic 360 Cam
With this three-eyed action cam, you can shoot in every direction at once, creating video that you can steer. Three wide-angle lenses capture a complete 360-degree field of view, including overhead, and stitch the images together in real time, so what you watch back on a 360-enabled player, is a film that you can navigate with your finger on a touchscreen. For instance, you can drag the image around to see the skier's view of the mountain and then the skier's face as they hurtle down it. You can also capture 360-degree stills in the same way.
$499 | 360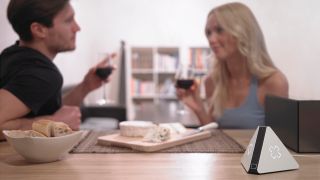 Prizm
Prizm is a context aware music streamer that knows how to please a crowd because it can detect the tunes on every phone in the room. So long as you download the free app, Prizm's software can calculate your musical preferences and pic songs from your playlist, even selecting from genres appropriate for the time of day, so you won't get The Ace Of Spades as your wake up call. If, however, its inbuilt audio sensor detects a lot of noise in the room, it'll select a livelier tune to get the party started. And when friends and housemates come within earshot, it will mix tunes from their playlists too, so everyone is catered for.
$149 | Prizm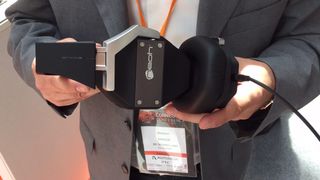 3D Sound Labs The headphones formerly know as Neoh
Usually, with headphones, when you turn your head to the side, Mumford and Sons go with you, which is a bit unrealistic when you think about it. And undesirable, frankly. With these headphones, which are in the middle of a name-change, the soundstage remains in front of you. Motion sensors in the band track your movement, so the music stays in position while you turn, or bob your head, giving a more natural listening experience. The same tech works with movie soundtracks by adding a spatial sound that corrects for slight movements of your bonce.
€259 | 3D Sound Labs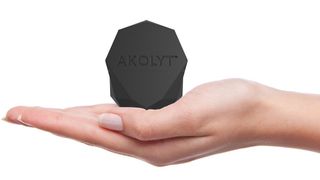 Drust AKOLYT
Turn your commute into a game by connecting a Bluetooth device that can criticise your driving. The Akolyt plugs into that mysterious port in your dashboard that car companies use to analyse your engine, and measures all kinds of useful data from revs and gear changes to speed and stress. The app then interprets all this as good or bad driving, and scores your performance accordingly. What could be annoying about that?
€120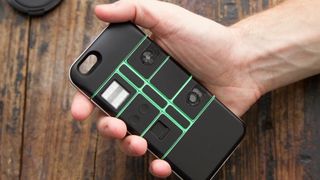 Nexpaq
There's no doubt smartphones can do quite a lot these days, but they could do so much more if only you could somehow add the sensors and upgrades you really need. Enter Nexpaq, the first modular smartphone case that adds speakers, thermometers, memory, motion sensors, and all your other fave sensors. There are dozens of modules to choose from, each costing around £20, and ready to slot into the Nexpaq case, which houses your smartphone. Third-party apps will make use of each sensor in a variety of ingenious ways to boost your phone's functionality.
£TBC | Nexpaq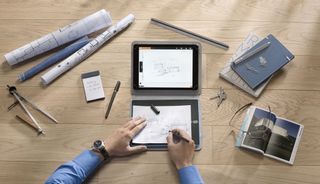 ISKN la Slater
Place your paper on this slate and whatever you scribble down will be copied to your smartphone, with the lines appearing as you lay them down. This could be useful for artists who want to capture their inspiration, professionals who need to jot down data and diagrams, or kids that want to share their, ahem, art. Sensors in the tablet respond to magnetic rings that can be attached to regular pens and pencils and colours can be assigned for each one.
€179 (pre-order) | iSketchnote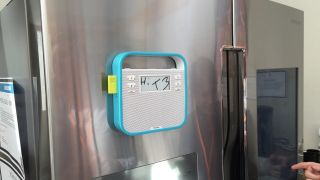 Invoxia Triby
Meet Triby, a magnetic kitchen radio that keeps you in contact with your tribe – that's your immediate friends and family. Instead of a numeric keypad, you select from a list of landline and mobile contact numbers, while the same beam technology as implemented by Invoxia's conference calling, ensures the inbuilt microphones pick up all the people in your kitchen. You can even send scribbled messages back to the kitchen HQ by sketching on the accompanying app. Our favourite feature is the plastic flag that pops up, when Triby has a message waiting for you. There's no actual tuner on board, but with Bluetooth and Spotify Connect built in, you can stream any web station you can think of.
€199 | Innoxia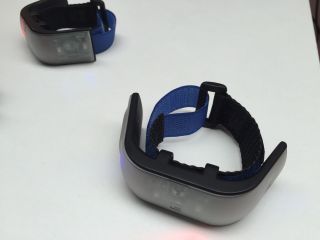 Lucie Labs Wristband
These flashy wristbands contain motion sensors that feed their data back to a hub that can control stage lighting and sound levels, making audience participation a very immediate and digital reality. The more the crowd waves, the more light and volume they experience. They can also be used to cast a vote, or receive a signal that indicates they have been chosen to get on stage. And with NFC built in, the same band can be used to gain entry and pay for drinks at the same venue.
£TBC | Lucie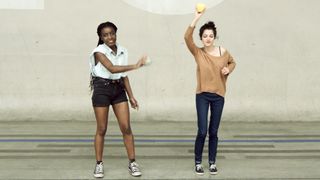 Phonotonic
Don't worry if you can't play an instrument, just give these rubber shapes a shake and they change the pitch, beat and melody of the music you're listening to as if you're part of the band, or at least the engineer. Inside the satisfyingly squidgy geometric shapes are motion sensors that send Bluetooth signals to your smartphone, which alters the music according to the kind of moves your making. Twist to change the melody and really shake to boost the beats.
€80 | Phonotonic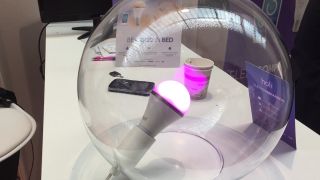 Holi SleepCompanion
This colour-changing bulb uses light to gently wake you in the morning, brighten up your day and send you off to sleep. Connected to the companion app on your phone, Sleep Companion wakes up with your alarm and emits a gentle blue light that gradually increases in intensity. When you're heading to bed, the light is a calming red that fades out when you're ready for sleep.
The app goes further, by recording your sleep data and present you with helpful chart. Oh, and it looks very French (ie: quite silly).
€79 | Holimotion