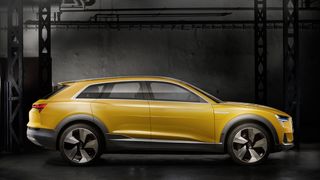 Introduction
The Detroit motor show, or the North American International Auto Show (NAIAS) if you want to get petty, is not for the faint-hearted. Speak to any long-in-the-tooth auto-hack and they will attest to the disruptive snowstorms, sweaty show halls and distinct lack of glamour when it's finally time to hit the hay after filing reams of copy due to the awkward time difference.
Detroit may not be the car-making capital anymore but that doesn't mean it is no longer relevant. In fact, NAIAS is the first proper motor show of the calendar year and a great opportunity for manufacturers to kick-start t2016 in style.
Judging from the machines on display this week, the SUV shows no signs of abating but in amongst the 'Murican metal was a surprising amount of cool concepts and future tech.
Here's a rundown of the most exciting stuff, so crank up the Motown and get your fix of Motor City marvels.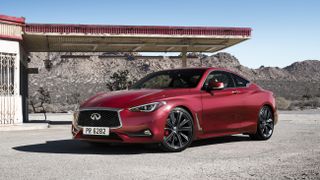 Infiniti Q60 Coupe
Spare a thought for Audi, Mercedes and BMW. The German big three now have more rivals than David Cameron's proposed junior doctor contract thanks to an influx of new models from Japan and Korea.
The sleek Infiniti Q60 is another adversary to add to that list, as the sporty coupé features a 396bhp 3.0-litre, twin-turbocharged V6 engine that could go down very well with owners that like to lay the smack down on a Sunday morning drive.
The Q60 is rear-wheel drive as standard, while the adaptive suspension tuning and the often-condemned electric steer-by-wire systems have been revised to offer more feedback to the driver and a better overall driving experience.
Expect the Q60 to add a dash of sex appeal to the current line-up, which includes the technologically advanced but basically terrible Q50.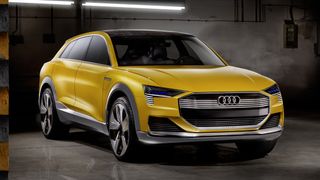 Audi h-tron quattro concept
Big, chunky SUVs typically enrage those with a love for the environment but Audi did things a little differently this year, namely because its Chelsea tractor concept bucked a typical gas-guzzling motor for a hydrogen fuel cell set up.
The upside is that customers will get 373-miles of emissions-free motoring, a top speed of 124mph, a 0-62mph sprint of less than 7 seconds and a re-fuelling time of around four minutes from a hydrogen pump. The downside is that commercial hydrogen pumps are as rare as unicorn dookie right now.
Regardless, Audi has worked hard to ensure the fuel cell stacks are as light as possible and the pair of electric motors kick out some serious power. The result is a svelte SUV that can happily tackle slippery conditions and cruise the motorway without belching out nasty pollutants.
Better still, the interior draws plenty of inspiration from the excellent Prologue concept of last year, which means triple OLED displays that stretch Audi's Virtual Cockpit concept across the instrument binnacles and into the central dash.
The Volvo XC90 may be sat at the top of the high-tech tree right now but Audi's future is looking increasingly gadget-orientated.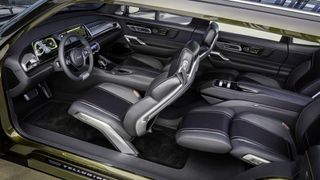 Kia Telluride concept
The Korean marque is riding the waves of success these days and it looks set to bring autonomous cars to the masses with a heap of exciting tech that's due in the coming years. But before then, it wants to give Range Rover and Volvo a good run for their money by tackling the popular and fiercely contested large SUV sector.
The Telluride's ace 'suicide' doors aren't likely to feature in a production model and the four individual 'captain's' chairs are just for show but the clever folding seat arrangement is a good indicator of just how practical this beefed-up Kia could be.
The concept also features Smart Sensors that are embedded into the seats. These can read vital health information and then display it on the interior door panel screens, which then systematically synchronise with a Light Emitted Rejuvenation (LER) system. Bear with us here: the LER system utilises a massive, wing-shaped LED panel mounted beneath the sunroof that displays a pattern of therapeutic light to treat desynchronosis - or jetlag, as we know it - and allegedly improve the passengers' energy levels.
But forget all that for a minute, as the thin, touch-sensitive displays and Kia's hook-up with Harman Kardon to produce a wireless entertainment systems for rear passengers are the most likely aspects to feature in an upcoming model.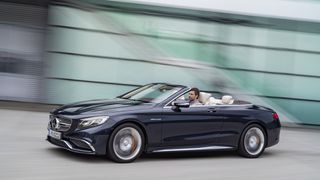 Mercedes-AMG S65 Cabriolet
The S65 is arguably one of coolest ways to cruise the coastal highways of Monaco, Palm Springs and, erm, Skegness, as it blends a brilliantly comfortable ride with a fiery 5.5-litre V12 that's been fettled by AMG.
Posers will be able to enjoy the wind in their hair at 186mph (removing the 155mph limiter is an optional extra) and a 0-62mph dash of 4.1-seconds, despite the added weight from the folding soft-top mechanism.
Other notable features include revised styling elements, including an all-new front grille and shapely rear tail pipes. The roof can also be specified in a number of colours and is can fold down in just 17 seconds at speeds of 31mph.
Expect to part with nearly £200k for one of these beauties when it goes on sale next year but at least that money buys you heated armrests.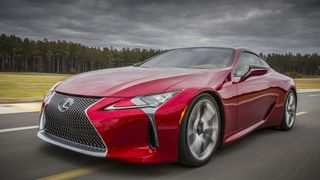 Lexus LC 500 Coupé
Lexus has long been a favourite with our American cousins and this 2+2 coupé will undoubtedly go down a storm. The 5.0-litre V8 that's used in the RC F performance car can be found under the bonnet and it produces 467bhp that's sent to the rear wheels.
Expect the LC 500 to rocket from 0-62mph in around 4.5-seconds and go on to very illegal top speeds. It has been designed for pace but major work has been applied inside, where the marque's new digital displays and updated human machine interface looks set to make it a stylish and comfortable place to be.
Lexus interiors have always looked a bit like the designer walked into a branch of Computer Exchange and then threw his or her shopping bag at the dash but the LC 500 looks to have stepped its digital game up a notch. Exciting times.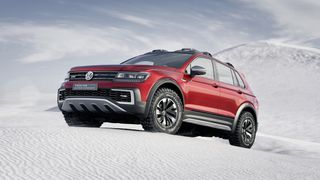 VW Tiguan GTE Active concept
Volkswagen is keen to show off its petrol-electric hybrid system in the wake of 'deiselgate' and the rugged Tiguan GTE Active concept seems like a brilliant place to start.
It's styled like a gigantic Tonka Toy, with enormous alloy wheels that have been shod with knobbly off-road tyres and protective cladding on the grille and underbelly should the owner fancy tackling a boulder-strewn valley in their lunch break.
However, the real clever stuff is under the skin, where a turbocharged 1.4-litre four-cylinder petrol engine and two electric motors sit. This four-wheel-drive plug-in hybrid is capable of around 20-miles of all-electric, off-road action but will also return around 90mpg on the motorway.
LED spotlights on the roof are a neat touch, as is the large infotainment system that looks set to feature in future Volkswagens. The system can be operated by gesture control, while most of the car's functionality is due to be set out in a neat array of sliders and digital buttons.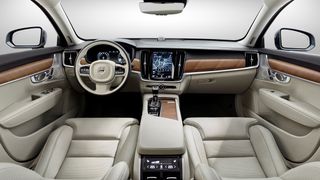 Volvo S90
Those lucky blighters with a healthy company car allowance should let out a small whoop of excitement, because the choice of daily drive just got a lot more interesting.
Yes, the S90 is Volvo's answer to the BMW 5-Series, Audi A6 and the aforementioned E-Class but it offers a truly Swedish alternative to the slightly homogenous German giants.
The ace 'Thor's Hammer' lights have been ported over from the current XC90, while the sleek saloon also gets the marque's brilliant Sensus Connect touch screen system inside. Volvo says that the S90 will be able to keep between motorway road markings at speeds of up to 80mph thanks to its Pilot Assist, which should pave the way for an entire package of future semi-autonomous driving functionality.
A selection of efficient diesel and petrol engines will be on offer but the range is topped by a 394bhp T8 'Twin Engine' plug-in hybrid, which looks set to be the most entertaining of the bunch. Well, until Volvo hands it over to banzai racing tuners Polestar, that is.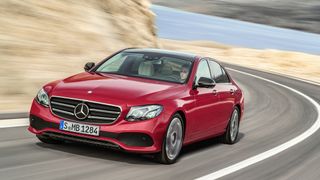 Mercedes-Benz E-Class
There have been many rumblings about the upcoming E-Class, especially regarding the bags of cutting edge tech that will be loaded on to the highest spec models.
Stylistically, the upcoming model has been thoroughly redesigned to fit in with the rest of the Merc family and an almighty array of petrol, diesel and hybrid powertrains will be on offer when it goes on sale later this year, but it is the touch sensitive steering wheel, autonomous drive abilities and infotainment options that will have gadget fans salivating.
Remote Parking will also be possible via a new app, which means the car will actively hunt down a parking space and then slot itself in as long as the user has control of the smartphone.
Expect NFC charging ports, Apple CarPlay and a new digital instrument and infotainment panel - which consist of two stunning 12.3-inch displays - when it hits forecourts in May.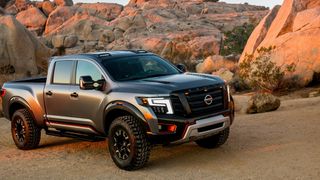 Nissan Titan Warrior concept
Holy hell. The Nissan Titan concept looks like He-Man ate a pile of bricks and then barfed up a small monster truck. The steroid-munching machine is based on the all-American Titan XD diesel truck but receives a healthy dose of what Nissan calls "Modern Armour" on the exterior.
It has clearly been designed to survive a zombie apocalypse, as the 37-inch off-road tyres and 18-inch alloy wheels look like they could crush whatever lies in its path and the LED headlights are bright enough to blind any doomsday miscreants.
Power comes from a stonking 5.0-litre V8 turbo diesel that kicks out around 300bhp and will never, ever, ever appear in the UK thanks to it returning around 1mpg and killing every living thing in a 10-mile radius thanks to its dirty pipes.
Don't hold your breath for a production model; instead see it as a design exercise that hints at what a beefed-up, limited edition Titan XD truck could look like. Which, by the way, aren't on sale in the UK. Sigh.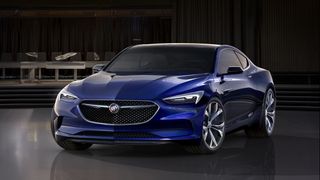 Buick Avista concept
Ignore future powertrain technologies, the Buick Avista plumps for a good old fashioned 400bhp 3.0-litre V6 to propel its shapely chassis along the highways of North America.
Ok, so we're highly unlikely to ever see it in the UK but one of the oldest car firms in the USA has close links to the likes of Vauxhall thanks to their GM ownership, meaning the next Insignia could actually be a little bit exciting. Or not.
But let's not get ahead of ourselves, the Buick Avista is just a concept and that fact is backed-up by the futuristic, 3D-printed interior that features all manner of touch screen displays and spaceship-blue mood lighting.
There's even a cool head-up display that projects driving information onto the windscreen ahead, meaning customers can imagine they are in a jet fighter rather than a Buick Avista.