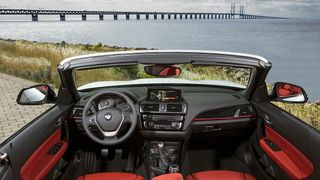 The best gear to connect to your car
In-car tech has come on a bit since the days when a single mixtape, an FM radio and a chewed up tourist map were the best available entertainment and navigation options available to the driving public.
Now the tech giants Google and Apple have set their sights on bringing in-car tech bang up to date, which in turn has forced the car manufacturers to follow suit, resulting in the tech componentry of the average family car rocketing. However, not everyone wants to nip out and buy the latest model in cash, so we've hunted far and wide to uncover ten glorious tech tools that'll bring super-connectivity to any car - though secretive lusting after a Porsche 918 hybrid is still allowed.
From the very latest in Apple Carplay and Android Auto integration, through to audio upgrades, head up displays, the humble satnav and futuristic safety devices, this is the definitive cream of car-connectable tech...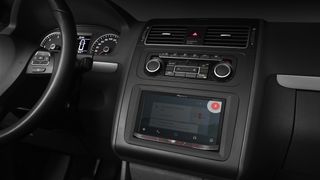 Pioneer AVH-X8700BT Android Auto and CarPlay Receiver
Pioneer has quite the history with in-car tech, so finding it happily rolling out next-gen smartphone-fueled infotainment boxes comes as no surprise. Its 'in dash multimedia receiver', the AVH-X8700BT, in fact handles both Android Auto and Apple CarPlay, as well as supporting Bluetooth, AppRadio Mode and FLAC file playback.
Android Auto brings Google Voice commands to your car, so once an Android phone (Lollipop or newer) is connected, you're off, with access to Google Maps, weather, calendars, etc. Overall, it's a tempting package that doesn't require buying a new car to get some decent tech. As the AVH-X8700BT also plays nice with Apple CarPlay, a similar Siri-flavoured experience is on the cards once an iPhone 5 or newer is paired, although Apple Maps is the default in that case, although the unkind might suggest you might want to avoid that if you're bothered about actually arriving. Burn!
£480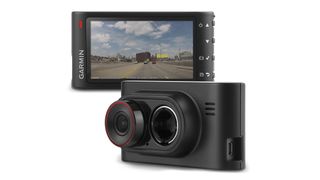 Garmin Dash Cam 35
If it weren't for dashcams we wouldn't have so many brilliant YouTube complilations of lorry accidents, passing meteors, and Aston Martins being keyed in Tesco carparks, and that's something to be grateful for.
On a serious note, they are good for preventing insurance fraud too, by capturing incidents as they happen.
The Garmin 35 is a great dedicated device for this purpose, capturing hi-definition footage when triggered by its Automatic Incident Detection tech, the mighty G-Sensor. It also logs GPS coordinates of prangs for future reference.
There's a 3.0-inch LCD display to watch playback on, or use as a digital camera. Garmin has built in a forward collision warning and red light and speed camera warnings too
£159.99 | available from late October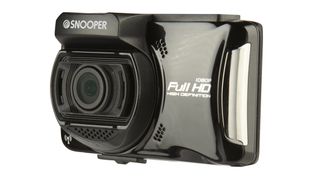 The Snooper DVR-4HD dash cam
A cunning combo of GPS satellite navigation and dash cam, the Snooper features 1080p high definition recording, touchscreen control, forward collision warning, speed camera detection, and a free app to instantly share footage online.
Continuous Loop Recording automatically overwrites the oldest footage, and an in-built microphone will record sound, though it can be switched off for privacy, if desired.
A detection lens at the front of the device works alongside a speed camera database, which will alert drivers to all types of fixed speed cameras and high risk zones in the UK and Europe, including Gatso, Truvelo, Specs and Watchcam sites.
The Snooper DVR-4HD even keeps an eye on things when your car is parked up, automatically recording on a loop when movement outside is sensed, and using a high sensitivity 3-Axis G-sensor to monitor and record any impact incident.
£149.99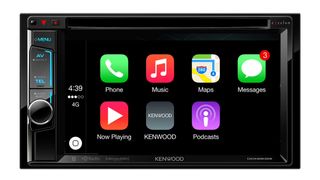 Kenwood Apple Carplay Receivers
As the rumours swirl around whether Apple is planning to build their own car, auto-experts Kenwood have jumped the gun and put out a pair of in-car receivers targeting Apple iPhone users.
Designed specifically to work with iPhones only, the sexily-monikered Excelon DDX6902S and DDX6702S run Apple CarPlay, and thus use Siri as the user's primary interface to select entertainment options, open apps, reply to text messages and get turn-by-turn directions.
Each multimedia receiver features a high-sensitivity, 6.2-inch screen, a tactile knob and menu buttons, and can also connect to an optional reversing camera. The receivers have built-in amps, so hook up direct to existing speakers, and come pre-installed with HD Radio, CD and DVD, and yer standard terrestrial AM and FM, on top of all the radio options the web has to offer.
From $800, UK pricing TBC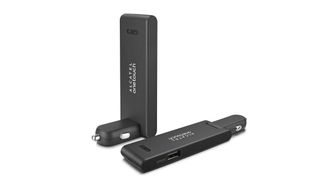 Alcatel 4G Wifi
Your kids and/or partner are screaming in the back, and your smartphone data allowance has been burned through yet again in just a few minutes of streaming Peppa Pig. Step forward the Alcatel 4G Wifi stick.
Shockingly simple, this reasonably sexy stick simply plugs into a car cigarette lighter socket, then blasts forth a 4G-powered Wifi signal that should keep the entire car happily occupied for hours - at least until you arrive in 'the countryside', where mobile networks largely cease to exist. Then it's back to screaming and crudely carved wooden toys for entertainment we're afraid.
The Alcatel 4G Wifi stick supports up to 15 802.11 b/g/n connections at up to 150Mbps. You will, of course, need a SIM and data subscription for the full effect…
€79 |Available Europe-wide from October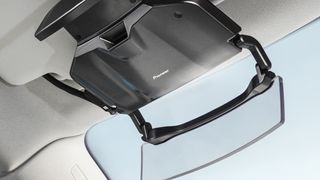 Pioneer NavGate HUD
If there's one thing we need in our ageing motors, it's augmented reality to stave off the boredom of long commutes. Luckily, the folk at Pioneer have created just that, in the shape of the NavGate head-up display (HUD).
This attaches to a standard-issue sun visor, then projects traffic, navigation and other info in full colour through the windscreen, just above the horizon. The driver's perspective sees the equivalent of a whopping 30-inch display suspended three meters in front of the car, which would be fairly harrowing in a different context.
Smartphones can be connected via USB, and as the system is mainly designed to support CoPilot and NNG's iGO primo smartphone apps, it displays navigation instructions, points of interest, road hazards and more. Light sensors automatically adjust the brightness of the projections according to the amount of ambient light.
£170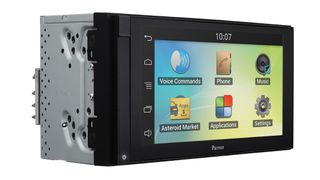 Parrot Asteroid Android control panel
It's more recently a maker of drones, but Parrot has long been famed as an in-car tech creator. The icing on its cake has to be the Parrot Asteroid, an Android-powered in-dash box.
A 6.2-inch multi-touch capacitive screen, Android OS, Wi-Fi and a host of USB and audio inputs make this a super-flexible method of getting apps and their accompanying brilliance into your car.
There's even a cut-down version of the Google Play market including apps such as TomTom, Spotify, TuneIn Radio and Deezer, covering off most of the bases you'd expect, and some you wouldn't. Finally, there are outputs for external screens, including headrest screens to keep the sprogs in the back content - and that's really priceless.
£499 | 5-inch and 3.2-inch versions available for £299 and £249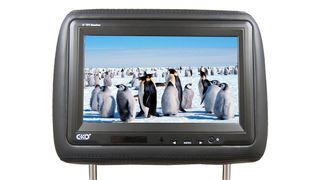 CKO headrest screens
There are approximately 6 million methods of getting video piped into your back seats, but this 9-inch TFT LCD monitor and remote control is one of the cleanest. Simply swap your old, non-smart headrest for this, and boom - video entertainment in the backseat.
This model has 2 AV inputs, a dual Channel IR remote control, and adjusts to suit most seat types. It can also make a family saloon feel like a budget international airline, which can be no bad thing.
Other alternatives include hanging an iPad Mini 4 off the back of the seat in a special case, or simply singing 'the wheels on the bus' in unison until the words stop making sense and you break down somewhere on the M6.
£350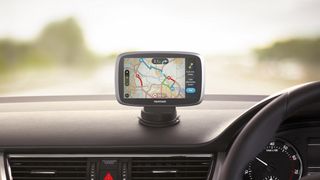 TomTom GO 6100 satnav
It wouldn't be an in-car tech list without a TomTom, which has become shorthand for satnav over the years.
TomTom's GO 6100 device has all the things you'd expect of a nav - six-inch pinch to zoom screen, 3D maps, built-in SIM with unlimited data and free roaming, real-time traffic information and a Click & Go mount to minimise carpark theft. In addition, you'll get lifetime map updates and a lifetime speed camera warning service.
Here, the company has pushed the boat out a little with MyDrive, which allows you to plan a route on your home computer, tablet or phone (iOS or Android), then send it to your car nav. Simple, but ingenious, MyDrive is available in new TomTom satnavs, and also downloadable for older units.
£299.99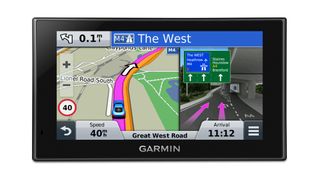 Garmin nüvi 2699LMT-D
Sometimes the smartest tech is the simplest tech, and thus it is in this case, where Garmin has upgraded the usual satnav, so as to keep only the essentials.
The result is brilliantly capable of navigating you around town, city or country, but also builds in new functionality such as Off-Road Driving, Foursquare and Fuel Efficient Routing.
Foursquare will take care of seeking out a new restaurant or the latest coffee shop, while, rather brilliantly, the off road setting simply draws a straight line to your destination and guides you along it - ideal for the HIghlands, potentially more divisive in London, or Kent.
The six-inch display features pinch to zoom and dual orientation, there's voice activation and search functions, inbuilt Bluetooth for hands-free calls and maps for the whole of Europe.
£199.99