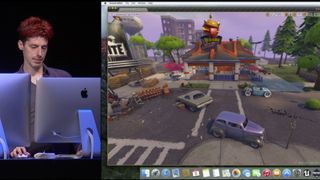 Intro
Apple's 2015 Worldwide Developer Conference keynote was one of its more exciting events in recent times, with announcements coming thick, fast and frequently kinda cool.
WWDC has always been predominantly about developers, obvs, and updates to iOS and OS X. But in this case, in front of 5,000 of Apple's keenest devs, scholarship winners, hacks and hangers on, the 2015 keynote included updates to Watch OS, the software behind the Apple Watch, Siri, Apple Maps and the introduction of Apple Music, a new service which competes with Spotify, Rdio and every radio station in the world.
The keynote, though actually pretty good fun, was very long indeed, as was the list of new things trailered. So to save you time, here is the coolest thing announced at WWDC 2015: iOS 9 will, apparently, work with "all" iOS devices, giving a new lease of life to older iPhones and iPads, rather than turning them to treacley horribleness, as certain recent updates have done.
Now read on for the next 10 coolest things from WWDC 2015, from the quirky to the mainstream…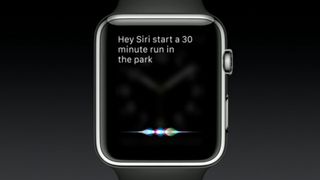 Siri is now Google Now and a DJ on your wrist
Much ado has been made about Google Now and its ability to accurately predict where you will be and what you will be doing based on your past actions, future calendar events and communications. At I/O the company expanded this functionality with Now on Tap.
Apple's Siri is less celebrated. Solution: make Siri's a "Proactive Assistant" that seems uncannily reminiscent of Google Now.
Rather than waiting to be called upon, Siri can now work intelligently in the background and predict which services you would be using at certain times. If you go for a morning run and listen to music, Siri can now bring up the playlist when you plug in your headphones to go for your morning run.
Additionally to this, Siri now offers suggestions in Spotlight such as your most used apps and most contacted contacts based on the time of day, what you are doing and so on.
Siri can also be asked to "remind me about this" for which it will create a reminder intelligently about what is on screen at set times or even locations. Demos included events and a website.
Finally, Siri is now a resident DJ onApple's new music streaming service and she DOES do requests, knocking up playlists such as "the biggest songs of 1982" and "the current alternative top 10" at the drop of a Kangol hat.
According to Apple, Siri is getting 1 billion requests a week and is now 40 percent more accurate at writing down what you didn't say.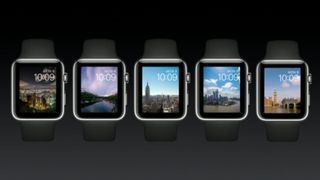 Apple's smartwatch now actually quite smart
The Apple Watch is an area of intense interest for Apple and those who follow the company. Reports seem to come out daily that brand it a success, a failure, a revolution for the Watch industry or a complete dud that isn't scaring anyone who lives in Switzerland. We've probably printed most of them.
Whatever the truth of it, Apple is still hard at work on Watch, and WWDC saw the first update to the software: Watch OS 2.0. It is such an improvement on 1.0, we don't know why we ever liked it.
Developers can now build apps right into the device, decreasing the reliance on the host iPhone and enabling apps that work far better with the hardware, right down to the microphone. There are currently a little over 4,000 apps for Watch, and this is bounfd to swell both the quantity and the quality of them.
The new smartness of Siri has also trickled over into the Watch, allowing the assistant to open apps and perform various other features that it is frankly surprising were not present in version one.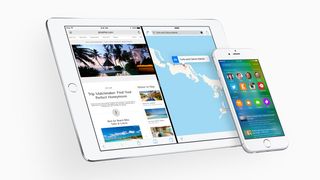 iPad Split Screen lets you view dumb stuff while pretending to work
One of the headline updates to iOS with iOS 9 is the ability to run two apps side-by-side on the iPad. The software allows the playing of videos inside of other apps, so you can keep up to date with a sports game while reading a work email, for example. You can also have two apps running concurrently next to each other.
The on-stage demo showed Twitter in a "thin" window working alongside various other apps so you can waste time while pretending to do work without fear of having to quickly switch back to another app.
Some have pointed out that Microsoft's Surface tablets have been able to "snap" windows side-by-side since they debuted due to the functionality in Windows 8 and so Apple is late to the party in this sense but Apple's implementation appears to be thorough and considered and, with the best will in the world, available to a slightly larger user base than the Surface-owning community.
Currently, running apps side-by-side is limited to only the newest iPads and it is expected to stay that way. If the rumoured iPad Pro ever arrives this feature will be its raison d'être. But it probably won't, so don't lose sleep over that.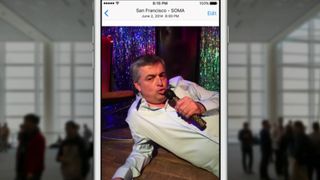 Apple has invented an amazing new way to hear music and it's called "radio"
First up, let's all say a big "thanks guys" to Apple for removing Zane Lowe from the airwaves of the UK. We really hope its global "radio" idea takes off, although nobody has ever tried to launch a service where "DJs" play "music" to "listeners" before, so who knows what could happen?
Okay, sarcasm aside, Apple Music, which finally landed at WWDC today, looks a perfectly decent rival to Spotify. A hybrid of iTunes, Spotify, Rdio and, indeed, a radio, Apple's latest service is nothing if not versatile. It can work as a music player playing offline tracks, stream music (like Spotify), play music videos (like Vevo) and allow the user to "connect" with artists, who also act as curators for playlists (again like Spotify).
Drake was shown off onstage as an example of someone who is invested in Apple Music - his next album, Tales from the 6, will be released exclusively on the service - and after rambling for several minutes, he was thanked by rockin' Tim Cook.
Fascinating side fact: Drake's real name is Aubry Graham.The Apple Music service also promises to help build audiences for those who aren't already big stars, so that's nice.
A subscription to Apple Music costs $9.99 a month, or $14.99 for a "family" sub for up to six users. The first three months is free.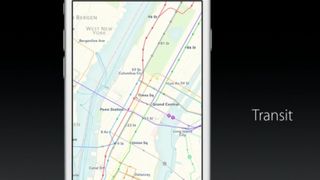 Non-walking addicts rejoice as public transport added to Maps
Yes, apparently a number of drivers and walkers DO use Apple Maps by choice - Apple says it handles over 5 billion requests per week for it -and now they may be joined by fans of buses, trains trams and all the other, myriad forms of public transport. At least inLondon, New York, Toronto, and a few places in China.
Apple has kindy worked out how big major stations are, so as to give very accurate walking directions. If you're a cyclist, you're still better off with Google Maps. Actually, if you're a driver, walker or public transport user you're probably still better off with Google Maps too, but at least the gap is closing.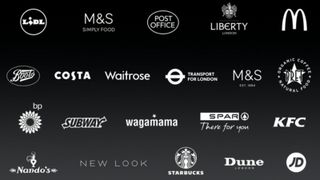 Apple Pay now usable in its natural homes: Waitrose and M&S
According to Apple, its contactless payment service is a huge success, being in thousands of stores and bringing in millions of dollars in revenue for retailers, more and more of whom are lining up to add terminals that can work with NFC enabled devices.
More importantly, Apple is bringing the service to the UK. As you can see from the slide above, it'll work on Waitrose (though seemingly not John Lewis), and M&S. That's a wise move, as almost everyone who shops in those establishments will own an iPhone.
London Underground journies can also be paid for with Apple Pay, and you can also use it in less middle class enclaves such as Lidl and JD Sport.
The service launches over here in July and works only on the iPhone 6 and 6 Plus.A limited selection of banks will be on board initially but the number is likely to grow.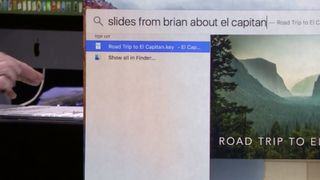 Spotlight Search is smarter than ever too!
An ostensibly rather dull update to OS X 10.11 (named "El Capitan", for reasons best known to Apple), the new Spotlight search actually really impressed us. It can now do a myriad of different things beyond simply searching documents.
It was described on stage as "searching in your own words" and the statement appeared to be true. Searching for "documents I wrote last month about Apple" yielded relevant results and didn't require any mental gymnastics to figure out exactly what was written or the exact title. Beat that, Windows 10!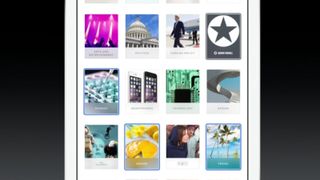 Apple News takes on Flipboard in war of the smart magazines
The day has come and Apple has finally given up on Newsstand after even the Apple executive team stopped using it. The replacement has just been unveiled and it's called News. From what we've seen, it is, at heart, a Flipboard-alike, aggregating news from different outlets, presenting you with stories it thinks you'll like, based on your tastes, but with more Apple bells and whistles.
Many of the details about News are unclear such as how a person would subscribe to the content and what's in it for the publishers. Newsstand failed largely because it was 'just another way' for publishers to deliver content to users and, as it turned out, people didn't really like the way it worked. News looks to be much of the same just presented in a different way with a larger focus on websites over publications. And the "News" for Flipboard: you're in a war.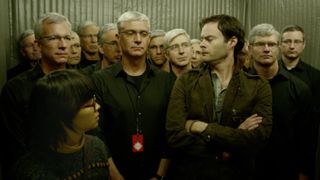 Diversity Rules WWDC
From women to Canadians to Kiwis to larger gentlemen in baggy, untucked shirts to Jimmy Iovine's massive, shiny head, everyone is welcome in Tim Cook's new model Apple.
After many years of mounting disapproval at Apple's events having a "cast" made up entirely of Caucasian males wearing jeans and a tailored shirt, this was the year diversity fought back.
Not only were there women speakers from Apple's senior ranks - two, no less - there was also Drake, who is not only black but also Canadian, if you please, Zane Lowe (a New Zealander), show closer The Weeknd (also Canadian) and Eddy Cue, who at the very least has "Cuban blood", and Jimmy Iovine, who has a very shiny head.
Tim Cook has made many big plays to collect and celebrate a more diverse selection of employees - even helping matters by coming out as gay himself - and it was groovy to see WWDC reflecting that.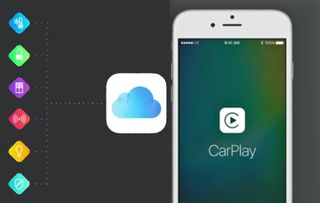 Blink and you missed 'em award: HomeKit and CarPlay
Apple's connected home and in-car services are a massive deal for the brand, right? Erm… Well, it slipped in about a minute on each, noting that there are many appliances for HomeKit (there aren't) and that CarPlay now works wirelessly, because of course it does.
Surely, both will play a larger role at future WWDC events though, won't they? Won't they?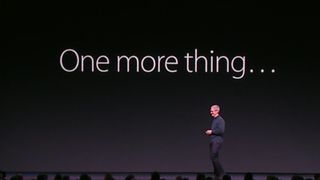 Hang on - where was the new Apple TV box?!
Yes, despite being picked by many "experts" as the surefire, nailed-on certainty to be the big news at WWDC, Apple TV was nowhere to be seen. But surely that shape in the middle of the invite is an Apple TV? Surely, a new Apple TV was being cunningly teased as "the epicentre of change"? Ah well.