We may not yet live in a Jetsons-inspired space bubble, or rehydrate pizza with the touch of a button (come on, Black & Decker, hurry it up!), but the smart home is starting to take shape. Intelligent heating, lighting, home security and appliances all aim to make our lives easier and more efficient.
Top of the tree for labour-saving potential, though, is the robot vacuum cleaner.
Unlike the connected washing machine, which still needs loading and sorting; or the coffee machine, which can pour you a cup remotely but only if there's coffee, water and a cup in position first; the latest robot vacs offer the promise of pristine floors without you moving a muscle, and the chores done by the time you get home from work.
Sure, robot vacuum cleaners have been around for more than a decade now, but the exciting (albeit generally awful) early tech has moved on at a pace, with the latest crop of machines combining powerful suction, app control and camera mapping that Homeland Security would be proud of.
But do they really offer mother-in-law-placating levels of cleaning without the effort? T3 puts its feet up and reaches for the remote in order to give the three flagship models from Samsung, iRobot and Dyson a chance to tackle the dog hair and dust in our test house…
Contenders for the best robot vacuum cleaner
Samsung Powerbot VR9300
The "world's most powerful robot vacuum cleaner" (Samsung's words), the VR9300 has cyclonic suction, full remote control and advanced room-mapping.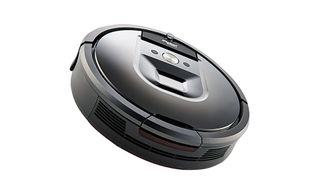 iRobot Roomba 980
The Roomba 980 is an edge-to-edge connected cleaner that automatically goes into power- boost mode when it switches from hard floor to carpets.
Dyson 360 Eye
Dyson claims that the 360 Eye has "twice the suction of any other robot vacuum". It also offers true 360-degree vision and carbon-fibre brush-head filaments.
Test 01: Design
While these robots look infinitely better than 'normal' vacuum cleaners, cynics might argue that they still resemble oversized ice-hockey pucks. Thankfully, looks aren't everything and they're full of clever tricks – from easy-empty dustbins to quick-release brush bars – to make maintenance simple.
If the Dyson is a small compact car and the iRobot an executive saloon, the Samsung is a brutish 4x4. Understated, this thing ain't. With a brush bar the width of a full-size vacuum cleaner, and a large-capacity dustbin, it's built for larger rooms. The big wheels promise excellent height clearance when it climbs onto rugs, and even the charging dock is bulky. Multiple power settings, a full remote control and an app help to give the impression that this robot means business – even if it won't fit under the sofa.
The Roomba 980 boasts a low-profile design (it's just 91mm tall) that means it'll fit under all but the lowest of sofas; and while it has a relatively large diameter, it won't stand out like a sore thumb in your living room. Its excellent rubber brush bars actively help to prevent tangles from hair, etc, and are mercifully quick to clean, though the cleaner isn't as simple to empty as the Dyson. Further points have to be deducted for the charging dock only having a plug on one side, which limits your options somewhat.
Finally, we have the 360 Eye; a short, squat cylinder (228mm diameter x 120mm height) that's every bit a Dyson. Unmistakeable build quality, as well as reassuringly familiar components, give this vacuum cleaner an air of dependability and desirability right out of the box. The combination of brush bar (just like the one found on the Dyson V8 Handheld), transparent dustbin and slick, nickel-and-grey casing really catches the eye when it's docked in the corner of your room.
But it's also fuss-free, with only a basic LED-lit control button, an easy-empty bin and filters that can simply be rinsed under the tap.
Test 01 winner: Dyson 360 Eye
Achingly cool, intuitively put-together and simple to set up… when it comes to combining design and aesthetics, Dyson hits the spot.
Test 2: Navigation
Samsung has loaded the VR9300 with an upward-facing camera, a bunch of front, side and rear sensors, plus drop sensors underneath. All of this tech, plus the dirt sensors, means it doesn't hang about, covering ground far quicker than the competition, and with fewer stoppages than the Dyson – though we're not sure speed is important, given that we plan to be at work when the 'bot does its business. Sadly, the Samsung got stuck on every single test clean and, unlike the Roomba, didn't have the motivation to get free and keep cleaning.
The 980 is the first Roomba to boast a top camera and floor sensors. It can track where it's been, and also avoid obstacles as it goes. This hybrid navigation system, essentially hi-tech camera mapping and blind bumping, works extremely well and offers a more systematic approach compared to older Roomba models.The Roomba worked its way around our living room effortlessly, covering good distances and taking its time to get out of jams instead of quitting. It bumps into more stuff than the Dyson, but hugs skirting boards better.
Dyson's robot vacuum cleaner uses a live-vision camera to create a 360-degree vision of its surroundings, before working out what it thinks is the most systematic cleaning pattern. It knows where it's been, what needs avoiding and where's left to clean. There are still IR sensors to prevent stair drops and help it get closer to walls, but on the whole it slowly works around the room in squares, overlapping to avoid missed bits.
The 360 Eye works best in even light and can struggle to see if moving from shade to sunlight – and if your sofa has enough height clearance like ours, you'll notice that it can get confused in the shadows. Infrared sensors are there to help, but cleaning in the day (or with the lights on) is recommended.
The smaller footprint means it's excellent at navigating through tight spaces, but the tank tracks don't offer the best climbing power, frequently getting stuck on the fireplace hearth.
Test 02 winner: irobot Roomba 980
It might not be the fastest cleaner on test but, as far as we're concerned, when it's this thorough, the Roomba 980 can take all day.
Test 3: cleaning
Anyone who's ever paid for a (human) cleaner will be familiar with the undeniable joy of returning home to a spotless house; and while our robotic vacuum cleaners can't compete with that just-polished smell, when they work as they should – and don't suffer from app drop-outs, cable tangles and pesky chair legs – you can really notice the difference.
With its super-wide brush bar and multiple power options, Samsung's VR9300 is the closest thing in this test to a full-size, upright vacuum cleaner, and if you've got big rugs and carpets, you'll be rewarded with a deeply satisfying clean. It doesn't spend as long on hard floors, but your home will feel cleaner for its efforts. It would easily be our test winner if it wasn't such a brute. The dinky Dyson just gets into tighter spaces. The Samsung also boasts spot-cleaning and full remote control. Being able to point a laser at some dust and have your vacuum cleaner go and suck it up is a neat trick, and there's novelty in controlling your 'bot. However, it's slow-going, and in the time it takes to deal with breakfast crumbs, you could've got a dust pan out, cleaned up, filled the dishwasher and put the kettle on.
The Roomba's superior navigation should, in theory, mean better cleaning performance; and while the rubberised brush bars help it to excel at attracting pet hair, watching the small, spinning brushes push dirt in the wrong direction at times – instead of into the path of the brushes – was infuriating. But the 980 does deliver, and at times the dustbin needed to be emptied twice on a single route.
There's no such remote-control tomfoolery with the 360 Eye, just ruthlessly efficient cleaning. Let the Dyson do its thing and, despite the lack of love it has for getting close to the walls, the full-width brush bar picks up an embarrassing amount of dust, hair and debris on carpets and hard floors. We thought our bedroom rug was pretty clean until the Dyson proved otherwise, picking up piles of dust, and even sand from last year's summer holiday.
Test 3 winner: Dyson 360 Eye
It's not fast, but the famous Dyson suction and superior carbon-fibre brush bars make light work of carpet and hard floors alike.
The overall winner is…
1st: Dyson 360 Eye
OK, so It takes ages to get the job done, but if time isn't an issue, the 360 Eye out-cleans the competition every single time.
T3 rates: The superb Dyson Link app makes it easy to schedule cleaning, as well as offering real-time feedback and geek-worthy analytics of its cleaning prowess – almost as if it's showing off.
T3 slates: It'll weave neatly around chair legs, but the squat design won't fit under most modern sofas, which is irritating as T3 would rather send a robot down there than do it ourselves.
T3 says: It took 17 years to produce, but Dyson has set a new benchmark for robotic cleaners, offering the power and dirt pick-up of a regular vacuum cleaner without you having to lift a finger.
5/5
2nd: iRobot Roomba 980
T3 rates: Exceptional navigation and impressive dirt pick-up on carpets, especially if you have pets.
T3 slates: On hard floors, it can sometimes feel like an expensive carpet sweeper.
T3 says: The best Roomba ever made, the 980 was only just pipped to the post by Dyson's super-powered brush bar.
4/5