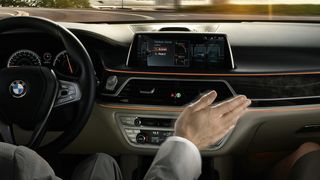 Interior
Those with second homes in Tuscany, children at boarding school and annual bonuses larger than the average salary tend to splash out on their automobiles. It's highly likely that something sleek, sporty and powerful resides in the triple garage but the car that wafts these lucky few from A to B has to be more comfortable, packed with entertaining tech and typically German.
The grandest of fromages may lean towards the Bentleys, Maseratis and Rolls-Royces of this world but those on a slightly tighter budget will head straight for a Mercedes showroom, where the excellent S-Class awaits, or an Audi outlet to test drive the A8. Or if they're really patriotic, a Jaguar XJ will do.
BMW has the 7 Series and its most recent version is brand new in almost every way, from its basic structure to the technology and oily bits, ensuring it remains at the very top of the super saloon tree.
But is it the best of a brilliant bunch? Leon Poultney took a trip to Portugal to put it through its paces.
• You want the best SUVs money can buy? We got 'em!
• And just for the hell of it, our favourite supercars, too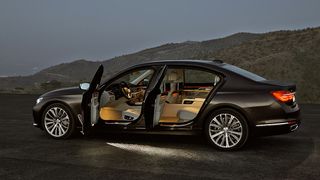 Tantalising technology
Most car reviews would begin with a nugget about ride, handling and engines but it's worth kicking off with the technological aspects of the new 7 Series because this is not a car, it's a branch of Maplins on wheels.
First off, the iDrive infotainment system has been reworked to offer a number of neat features, including gesture control, which allows the driver to dismiss incoming phone calls with a swipe of the hand, increase and decrease the volume of the entertainment system with a twisting motion and skip tracks by jabbing with two fingers. It's a world first.
The tech works by incorporating an infrared camera that's located near the rear-view mirror. The driver simply has to make the gestures in front of the infotainment console and the camera will pick them up and act accordingly. Cool eh?
Better still, the system now responds to conversational voice commands. So you can tell the navigation to "take me to a nearby coffee shop" or "show me some good hotels in the area" rather than laboriously punching in searches by hand.
To keep existing customers from running scared, all of this infotainment loveliness can be operated with the typical iDrive rotary controller, or via new touch screen monitors within the cabin. The idea is that BMW owners get comfortable with the sheer weight of technology on offer, rather than being instantly overwhelmed and pining for the good old days. Other notable pieces of kit include high-speed in-car Wi-Fi, the most malleable climate control system I've ever experienced and a neat Android tablet that slots in between the rear passengers and allows them to remotely control climate, seating position, navigation, interior lighting, multimedia and more.
And as an added bonus, occupants can remove said tablet and use it to do tablet-y stuff when they exit the car.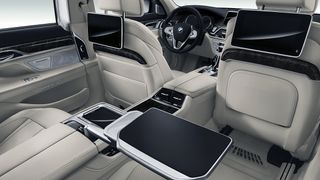 More comfortable than a cotton wool onesie
This car has been designed to waft its occupants from A to B in Business Class-esque comfort, which is why it packs optional extras like massaging seats, sumptuous head rest pillows and a rear perch that practically folds into a bed.
A flick of a switch on the leather-clad door panel sees the offside rear passenger's seat gently recline, while the front passenger seat tips forward and reveals an inviting footrest. The rear entertainment screens also tilt down so one can take in a Blu-Ray while Jeeves sets course for the Cote d'Azur. Beautiful.
It's a similar story for everyone else lucky enough to travel BMW 7 Series, as all seats can be heated or cooled and customers can order full massaging thrones all-round.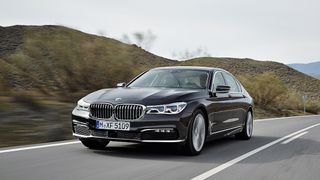 Frills and spills
Despite BMW engineers designing the 7 Series to favour a relaxing cruise over a fiery dash across country, it can still provide an entertaining drive when it wants to.
To get all techy for a minute, BMW has installed a 'carbon core' for the first time, which means carbon fibre has been used to reinforce much of the shell. This saves a load of weight and improves handling dynamics, fuel economy and performance.
That's a good thing, because a BMW spokesperson told me that they've added around 60kg of new technology to the latest model. Despite this, the overall weight saving is 130kg thanks to revised carbon components and lighter materials.
On top of this, a revised air suspension set up means that large potholes are soaked up without complaint and the ride remains brilliantly pliant no matter the road surface.
A clever optional Executive Drive Pro system takes comfort to the next level, as it anticipates corners and undulations using satellite navigation and the on-board stereoscopic cameras to then stiffen and relax roll bars and dampers.
It means the car can transform into a sporty machine when it detects the driver is in the mood and relax back into a relaxing cruiser when the driver backs off. There's also a sport mode, which sharpens throttle response and steering, should you want to override the computer and drive like a maniac all the time.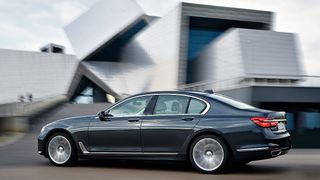 Engines for all
I drove the range-topping 750i, which packs a meaty twin-turbo V8 that develops nearly 450bhp and can rocket the goliath from 0-62mph in just 4.4 seconds. It's surprisingly quick and makes a rather satisfying growl when the accelerator is pinned.
More sensible customers will likely opt for the range of straight-six engines, with the diesel variant destined to be the most popular here in the UK. That's badged 730d and its 261bhp is good enough to get it from 0-62mph in a respectable 6.1 seconds. The 60.1mpg fuel economy figure will also make it a lot easier on the wallet in the long term.
We will also be graced with a 740e model later in the year that couples a four-cylinder petrol engine with an electric motor to improve performance and reduce emissions. Expect a claimed fuel economy figure of 134.5mpg and tax-friendly emissions of just 49g/km CO2.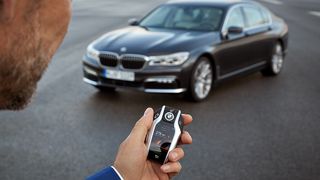 Too much tech to talk about
I've realised I've skirted over the large head-up display that sits in the driver's line of sight, the semi-autonomous radar cruise control and lane keep assist, the NFC smartphone charging box, the Apple CarPlay and Android Auto compatibility and the amazing Diamond Surround Sound System from Bowers & Wilkins that beautifully illuminates its tweeters at night.
I also failed to go into detail about the plethora of adaptable ambient lighting that makes the cockpit look like a UFO, the Light Carpet that is displayed on the floor at night to guide owners to the vehicle and the fantastic Display Key, similar to that seen on the i3 and i8, that features its own little screen and allows owners to remotely check on vehicle status and change climate settings from afar.
Then there's the 360-degree stereoscopic cameras that create the most in-depth parking guidance system seen on a car, where users can pinch, zoom and swivel the view to avoid any unseen nasties.
Oh, and the thing can park itself. Yeah, as of November, the BMW 7 Series will be the first production car in the world to manoeuvre into and out of forward parking or garage spaces without the driver having to sit inside.
All the driver has to do is select the function on that aforementioned Display Key, press a button and the vehicle uses its weight of sensors and cameras to guide itself out of tight parking spots. A second world first.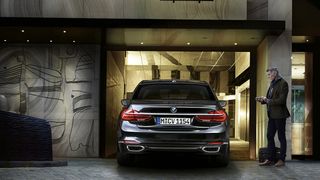 Verdict
It's very difficult not to be bowled over by the sheer weight of cool features on offer in the new 7 Series but the car backs up it claims with tech that really works. It's also extremely comfortable to pilot and rivals the Mercedes S-Class in terms of ride quality.
Ok, it's not the most sporting of machines when pushed and it doesn't look quite as snazzy as the big Merc from the outside but the overall package is staggering.
It's just a shame it will cost in excess of £100,000 for the models with all the toys, otherwise I'd be first in the queue for one.
Stats:
Model: BMW 730d
Price: From £64, 530
Engine: 3.0-litre twin-turbo diesel
Power: 261bhp 0-62mph: 6.1 seconds
Top speed: 155mph
Fuel economy: 60.1mpg
Emissions: 124g/km CO2