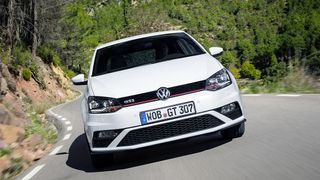 Introduction
Well this week we bagged an invite to VW's "Regional Tour 2015", where the German auto-bolters line all their cars up in a swish hotel with a roomy car park – in this case Buckinghamshire's exclusive Danesfield Park Hotel –and have a board full of keys to pick. It's like car Christmas, only without snoozy relatives demanding never ending sherry. So we had a fine selection of vehicles, a day and only Bucks' tractor filled roads to spoil our fun.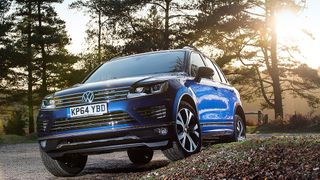 Touareg
What's new?
This "refreshed" Touareg started putting rubber to UK road in November last year, with a paddle shifted gearbox as standard. Inside it feels pretty luxurious, with 2zone climate control, digital DAB radio, Bluetooth and USB connectivity (via bizarre, individual Lightning/micro USB/etc adaptors), colour touchscreen satellite navigation with Google Earth mapping and Google Street View. Eight speed tiptronic auto hits max speed in 6th, with 7th and 8th added as overdrive ratios to aid fuel consumption.

What tech's inside?
Leather heated steering wheel with paddle shift as standard, keyless entry and start, touchscreen DVD/satellite system with 8-inch colour screen, 60GB hard drive, two SD card readers and Bluetooth support. Panoramic electric glass sunroof. Dusk sensor, rain sensor, automatic dimming rear view mirror, automatic coming/leaving home lighting function. Stop/start engine. Heated front seats with six-way adjustment.

What's the drive like?
This is the Switzerland of diving experiences, it's so neutral. The chassis is neutral, the engine okay, the driving position super comfy and high up with excellent visibility. The 262PS 3.0litre 8-speed auto sounds impressive on paper, but consider the fact it's pulling a near 2.2tonne kerb weight and it shifts without overly impressing and the interior is a nice place to be. It's strange, there's very little not to like here. But equally, there's little to genuinely please. It's nice. It's nice to drive.

Verdict: nice.

We drove: Touareg R-Line V6 TDI 4motion SCR 262PS 8-speed auto tiptronic at £48,220 on the road.
Like
Great driving position
Acres of space inside
Bomb proof finish
Dislike
So-so engine
Competitors literally bristling with tech
Generally vanilla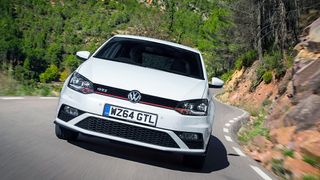 Polo GTi
What's new?
Fourth generation GTi still based on the angular 2014 model, now with a new 1.8litre, 192PS turbocharged engine, LED lights, roof spoiler, automatic distance control (maintains a preselected speed and automatically brakes and accelerates in traffic), excellent new touchscreen infotainment centre and "Golfy" new look. It's now essentially the same size as the classic Golf GTi used to be. So if you're interested in hot hatch legacy, this is the one for you.

What tech's inside?
Touch screen, proximity sensing, 5.8-inch screened infotainment centre. Hill hold, automatic post-collision breaking system, automatic distance control and Bluetooth support. No standard satnav, surprisingly.

What's the drive like?
Stab the "Sport" button on the dash (it's a GTi, it would be perverse not to) and this is a grin-spreading little tyke. The terrier puppy of a turbocharged engine will take you to 62mph in 6.7, but it feels faster, and the ride is direct, communicative and hard in a way that'll keep dentists in Porches. But that's half the fun. The high revving, low end torque engine means it'll redline at 6,000 revs and run out of puff long before, so that gearlever will need to be studiously applied, up and down. But apply it well and this is endless fun.

Verdict: Great car, but just edged out by Ford's exemplary Fiesta ST.

We drove: GTi 1.8 TSI 192PS manual 5-door at £19,480 on the road.
Like
That wonderful, turbo engine
Roomy interior
Pin sharp handling
Dislike
"Firm" ride
No satnav as standard (it's an astonishing £600 option)
More no frills than "anti-frills"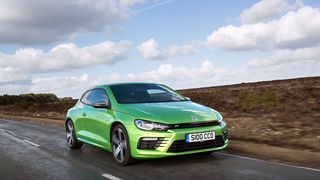 Scirocco R
What's new?
Externally: new, streamlined shape with new LED headlights, tail lights and bumpers. Internally: new dash, dials and auxiliary instrument cluster front and centre, like a Ford Focus ST. New 280PS engines claim to achieve fuel efficiency improvements of up to 19 per cent.

What tech's inside?
New instrument cluster features chronometer, charge pressure and oil temp. Computer includes (tedious) visual gear change for fun-free fuel sipping. Stop/start engine function. Front and rear parking sensors. Touchscreen navigation/DAB radio with CD player, eight speakers SD card reader and Aux in, USB and iPod connection cables.

What's the drive like?
After stepping out of the Polo, the Scirocco's steering wheel felt like a dustbin lid, but it reinforces the fact this is more grown-up coupé than back road thrasher. We selected the top-of-the-range R variant with a transverse-mounted 2.0 litre engine put through the six-speed, paddle shift DSG gearbox. And immediately regretted it. On full auto you floor the right pedal and… the Scirocco thinks about it, checks its emails, then, explodes. The engine is brutally fast, but the auto gearbox is vexingly slow to respond. Turn it off and start flicking the paddle shift, though, and all that power's useable all the time. But for this involvement, the manual box is a more engaging – and £1,500 cheaper –alternative. Figure this out and the engine is responsive and pulls like chariot racer on a chassis that makes the Scirocco feel smaller and smaller the more you drive it. The UK loves the Scirocco –we're the model's biggest market outside China – and this will do nothing to dampen enthusiasm.

Verdict: Top, top fun, great engine, but get a manual, eh?

We drove: Scirocco R 2.0litre TSO 280PS 6-speed DSG at £34,080 on the road.
Like
The incredible engine
Great chassis makes car feel smaller than it is
Still a pretty car
Dislike
The auto gearbox
Strangely small rear view mirror
Lorry-like steering wheel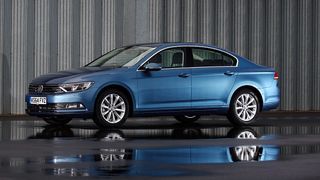 Passat Saloon
What's new?
Europe's "Car Of The Year" for 2015 gets new engines boasting a reported 14 per cent better energy efficiency, a plug-in GTE hybrid (from October 2015), Active Info Display 12.3inch TFT option, 85kg has been shaved from the weight and a diesel BlueMotion will be available from July, returning an estimated 78mpg.

What tech's inside?
Keyless entry. Optional 12.3-inch interactive TFT screen in place of the instrument cluster. Front assist, adaptive cruise control, pre-crash system, driver profile selection, Car-Net info app support, predictive pedestrian protection, traffic jam assist: brakes, accelerates and steers automatically in traffic and trailer assist makes caravanning more fun/easier.

What's the drive like?
We spent a good deal of time being impressed by the Passat, but that's maybe more down to low expectations than anything else. We drove the "business" spec model, which will be the most bought as company cars, with the most used suit hanger. And by and large, it's great. There's surprisingly useable low end power, even if it does run out of puff alarmingly quickly and it pretty much goes where you point it. The ride is pretty much perfect for a family saloon, although the analogue clock in the middle of the drab interiored dash was possibly the saddest thing we saw all day. Plus, we had a true first world problem of Bluetooth syncing. Once the phone was synced the audio wouldn't work, and when trying to sync Bluetooth audio we were constantly told our phone was already synced, so couldn't be synced again. Annoying.

Verdict: A solid, crowd pleasing car. But desperately in need of a full model refresh. (Oh, this is the model refresh.)

We drove: Passat SE Business 2.0litre TDI 150PS 6-speed manual: £25,135 on the road.
Like
Lots of useable low end power
Direct chassis more fun than we expected
Ride perfect for mile-munching trips
Dislike
Beige interior
Fighting with Bluetooth
Engine taps out at 5,000 revs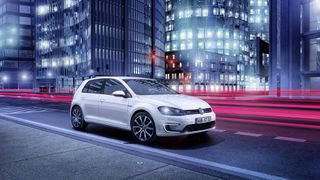 Golf GTE
What's new?
VW's first hybrid, this matches a 1.4 litre, direct injection, turbocharged 150PS four-cylinder engine with a 102PS electric motor, integrated into the gearbox housing. Somehow these two combined produce 204PS *scratches head*, but allow all sorts of driving combinations. Electric alone will provide 31miles of battery-fed range, at up to 81mph, you can drive petrol engine only or a combination of petrol and battery which adds the power and therefore the smiles. But the headline figure is a claimed 166mpg fuel efficiency with combined motors. VW's excellent, new touchscreen infotainment comes as standard, although the USB plug in for smartphone integration is four inches inside a compartment behind the gear lever and requires an awkward fingertip and fingernail push to get in. Duh.

What tech's inside?
Excellent 5.8-inch screened, touch screen, proximity sensing infotainment system with voice recognition. Keyless entry and start. Optional EV navigation identifies destinations within electric range and charging points. Parking sensors front and rear. "Car-Net" mobile support shows remote battery charging management, remote pre-trip interior climate control, vehicle status and vehicle trip stats.

What's the drive like?
It's a strange start up. Hit the start button and… nothing happens. That's because the GTE starts in all-electric mode, so we'd simply not realised the car was on. User error, see? You need to hit the GTE button or select a drive option – E-mode, GTE, battery hold (full petrol), battery charge and hybrid auto – on the touchscreen to get going on power other than leccy, but this needed explaining. Only once, mind. Hit the GTE button and you get the full petrol plus battery power and it's an instant hit. The Golf chassis is legendarily good and it's enormous fun to throw around country lanes. Although when the battery engine runs out of juice it's demonstrably slower, like someone's whipped off your Air Maxs in the middle of a run. But at just over £28k (including a £5k government "green" backhander, it's over four grand cheaper than the much-loved Golf GTi.

Verdict: VW's first hybrid. And it's a cast iron winner.

We drove: GTE 1.4 TSI 204PS 6-speed DSG five-door at £28,035
Like
Terrific hybrid engine
Responsive, clever touchscreen infotainment
Grin-inducing chassis
Dislike
Running out of juice
Inexplicably challenging USB port
Starting up is strange