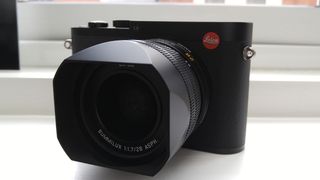 Introduction
In thepastyou'd be forgiven for calling Leica too traditional. Despite being a well-known manufacturer, they were slow to adopt technology(the company didn't produce a digital flagship until 2006).
That's not necessarily a bad thing -- the company has always carved their own way -- but with the brand-new Leica Q, they've jumped head first into the 21st Century.
The Q is a compact digital camera, it features a fixed 28mm lens, and a full-frame 24-megapixel sensor. It also packs NFC, Wi-Fi and a fully automatic mode.
It's an interesting camera for the brand, and seems to hit the sweet spot for enthusiast shooters (who want both automatic and fully manual controls).
T3 went hands-on with the premium snapper this afternoon, and these are our first impressions.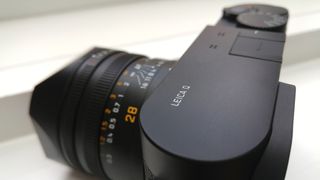 1. It looks and feels great
Let's start with the build quality, something Leica is famous for. It's no surprise the Q is extremely solid, the top plate is machined from aluminium, and the rest of the body is magnesium.
It's one of the heavier mirrorless cameras we've held, but it's also extremely rugged and feels like it could take a knock or two.
Aesthetically the camera resembles the company's M rangefinder camera, but the Q is stouterand more compact.
There's little to grip on to (that would ruin the minimalist looks) but they have created a detachable grip which is sold separately.
Leica have been making cameras for over 100 years, so it's nailed ergonomics down to a T (but more on the controls later).
The Q bears the 'made in Germany' mark of quality -- all-in-all it's a very desirable camera, just like a Leica should be.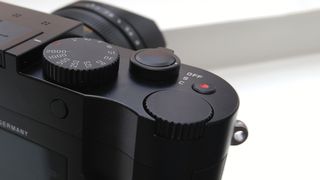 2. The controls are just where you want them
Controls for the aperture, focusing, and macro mode are on the lens, while the shutter speed and anadditional dial (used for fine tuning shutter speed in manual mode) are located on the top plate.
The focus ring mechanism is smooth with a good amount of resistance, which allows for very accurate manual focusing. To switch between auto and manual focus there's a button placed on the finger rest.
The clicked aperture dial adjusts in 1/3 stops, and when the Macro Mode is activated (allowing a close 17mm focal distance) the distance scale adjusts to compensate. It's alovelytouch and well thought out.
Again, control dials on the top of the camera have nice resistance, which means they won't be easily knocked out of place.
The power switch is located around the shutter button, and also switches between single and continuous shooting modes.
The controls on the rear are well laid out, and the buttons are reassuringly clicky -- for want of a better word.
The display is capacitive touch, allowing you to focus and navigate the playback screen (but not change settings, which would be too fiddly). It's responsive, but greasy finger prints could be a problem.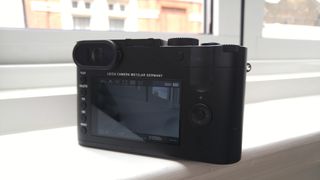 3. It's connected and ready to go
The Leica Q comes with integrated NFC and Wi-Fi, which means it'll connect to your smartphone for control and image sharing.
There's alsoa dedicated app on iOS and Android, called Leica Q, which will allow you to remotely controlall of the camera functions (change aperture, ISO, shutter speed, WB, and release the shutter).
These seem to be really well implemented (we'd have to spend more time to see if it actually works), but it's a nice addition which will certainly appeal to a younger consumer.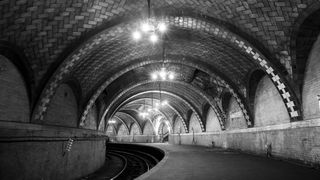 4. Image quality and performance
Unfortunately, we didn't spend long enoughwith the camera to comment on image quality (above is a sample shot provided by Leica), but we're going to go out on a limb and say you won't be disappointed(we'll update you once we spend more time with it).
Inside the camera we have a 24-megapixel, full-frame CMOS sensor which can deliver extremely detailed images, capable of an ISO up to 50,000.
The glass in front of the sensor (another thing Leica is famous for) is a 28mm f/1.7 ASPH Summilux. It lets in plenty of light, and the wide field of view means you can squeeze lots into the frame.
If you want something a bit more telephoto, the Q also has a digital zoom, which crops (rather than enlarges) the image, giving a 35mm and 50mm FOV.
The autofocus is also incredibly impressive, snapping onto subjects with minimal hunting. Leica claims it has the fastest autofocusing in its class.
The integrated electronic viewfinder is hands-down the one of the best we've ever used. With a resolution of 3.69-megapixels it's detailed and sharp. You'll get framing lines, and the sharpness makes manual focusing (with assist) a breeze.
The newly developed Maestro II image processor another great innovation, it's very quick, and can reach ten frames per second at full resolution (DNG and JPEG).
Of course the camera can also record video, with the press of the dedicated record button the camera will begin recording at 1080p, and either 30 or 60 fps.
Despite being the smaller brother to the company's flagship M range, the Q certainly pulls its punches when it comes to image taking abilities.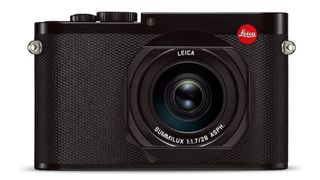 5. Early verdict
The Leica Q is really exciting new camera from the German manufacturer, it features an impressive amount of tech, amazing image quality and sturdy build quality.
We really can't wait to spend more time with the camera, and we'll update you with further impressions.
The Leica Q will being shipping tomorrow (June 11) and comes in at around £2,900.