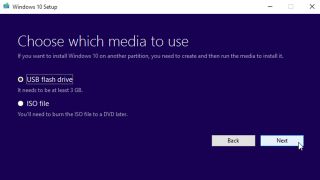 Backup plan
Microsoft's attempts to make Windows 10 an easy, hassle-free upgrade haven't been universally successful. Whether or not you've been able to update through the invitation route, it pays to have a backup plan in place. This involves creating Windows 10 installation media using a blank DVD or spare 4GB USB flash drive. Not only can you use this to upgrade to Windows 10 now if you're struggling to do so, it enables you to reinstall Windows 10 from scratch further down the line too.
Here, we reveal how to use the Windows Media Creation Tool to download and build your bootable Windows disc or drive. We'll then show you how to use it to upgrade to Windows 10 from within Windows itself before demonstrating the steps required to boot from it to perform a clean reinstall.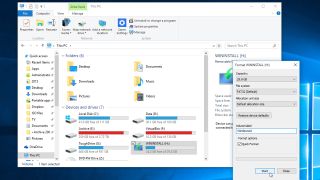 Prepare and create boot media
You'll need a blank DVD or USB flash drive (minimum 4GB) to store the Windows installation media on. Insert your USB drive, then browse to Computer, right-click the drive and choose Format. Make sure it's formatted as FAT32. If burning a DVD, the Media Creation Tool will create an ISO file – once it's complete, click Finish, right-click the new ISO file and choose 'Burn disc image'.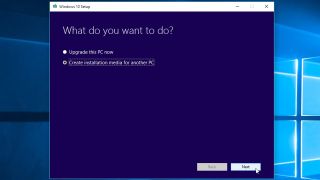 Obtain Media Creation Tool
Next, visit Microsoft's Windows 10 download page. Click the appropriate download link depending on whether you're running a 32-bit or 64-bit version of Windows and save the MediaCreationTool file to your Downloads folder. Next, double-click MediaCreationTool – when the main screen appears, select 'Create installation media for another PC' and click Next.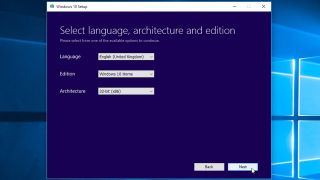 Create boot media
First, select your language, edition (Windows 10 Home in most cases unless you're upgrading from a Pro edition) and architecture (32-bit or 64-bit) before clicking Next. Leave 'USB flash drive' selected unless you're burning a DVD, in which case choose 'ISO file', then click Next again. Wait while the files are downloaded and either copied to flash drive or incorporated into the ISO file. Click Finish.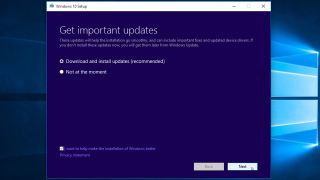 Start upgrade
Once your media's been created, and you've taken all suitable precautions, it's time to upgrade to Windows 10. This has to be done from within Windows itself, so open the drive and double-click the setup.exe file. Leave "Download and install updates" selected and click Next. Once the updates have been retrieved, read the licence agreement and click 'Accept'.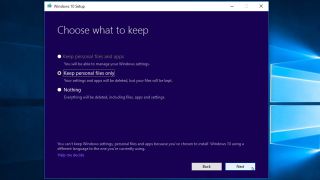 Choose install type
You'll be given up to three options based on which version of Windows you're upgrading from. You may be able to keep your personal files and apps, or just your personal files only. You can also opt to delete files, apps and settings if you're looking for a clean start, but make sure you've backed up your critical documents and other files first. Click Next.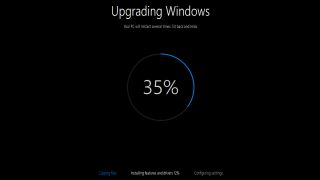 Sit back and wait
Windows will perform some final checks and report back on any potential compatibility issues. Click OK to continue followed by Install. The install process is automatic, and Windows will restart a number of times. Be prepared to wait for up to an hour depending on the speed of your PC (and hard drive). There's nothing to do, so feel free to leave it to its own devices.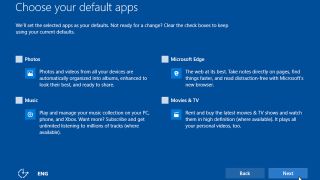 Set up Windows 10
Once installed, you'll be asked whether you want to perform an Express or Custom setup. Choose the latter to prevent Windows from changing your default apps and applying some settings that may compromise your privacy. Once the upgrade is complete, you'll find yourself at the Windows 10 desktop, ready to explore your new operating system.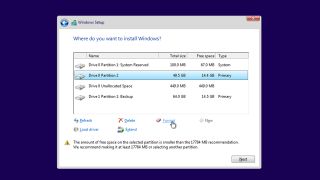 Future reinstalls
Should you need to reinstall Windows 10 from scratch, restart your PC with the boot media inserted, tapping [F11] or whatever prompt appears to select the boot media. Choose your DVD or USB drive and wait for the setup files to load. When prompted, skip the product key and choose 'Custom', then click 'Format' to wipe the current drive Windows 10 is on before installing a fresh copy over it.