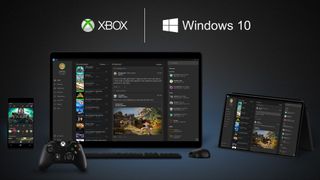 Introduction
While Sony is forging ahead with cross-platform play, cross-save and cross-buy on Playstation and Vita, Microsoft has frankly seemed a little stuck in the mud, focussing more on the slightly-suspect Kinect hardware. Recently, though, the Xbox One team seem determined to change that, albeit slowly, and the first evidence of this is the cross-compatibility between Windows 10 and Xbox One.
Other elements are supposedly coming down the pipeline, including the ability to stream from your PC to your Xbox One (though Steam streaming already does a fantastic job of that and will only get easier with the forthcoming Steam Link). But for now we're going to show you how to stream from your Xbox One to your PC.
Like this? Have a peek at: Microsoft Xbox One - the streaming dream machine?
Check out the rest of our Windows 10 coverage: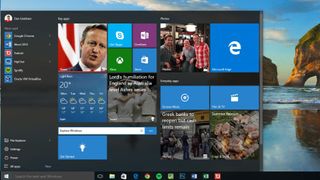 1. Connect a controller
First off, you'll need to ensure you've got the basics set up. That's Windows 10 on your PC, with an Xbox controller of some sort and an Xbox One on the same network as your PC.
As you'll almost certainly know by now, Windows 10 is available as a temporary free upgrade to all PCs currently running Windows 7 or 8. An Xbox One is available from about £275, though you may want to pay more to get some games...
You also need to connect an Xbox One controller to your PC. This should be plug and play with Windows 10, if it's on a wired connection. We've also found that Xbox 360 controllers also work, but that you'll need the Official Xbox 360 Wireless Receiver for wireless connections.
This will let you control the Xbox stream natively. You might also want to plug in a Windows 10 compatible headset into your PC, as that'll let you chat with your friends, and insert into the Xbox One the disc of any game you want to play that isn't downloaded or pre-installed.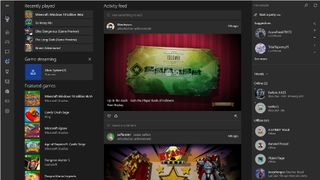 2. Launch the Xbox One app
Launch the Xbox app in Windows 10. This comes pre-installed with Windows 10, so you shouldn't have trouble getting it running - but if you can't find it in the terrible Windows 8-style menus, then just use the search bar at the bottom left.
The Xbox app is basically Windows' new games app. It's supposed to find all the games on your computer from various systems (Steam, Origin, Uplay, etc.) and let you access them with an Xbox One overlay.
On my system, with over 500 games installed (yes, I have a problem) it located… just five of them. For our purposes though, it works just dandy.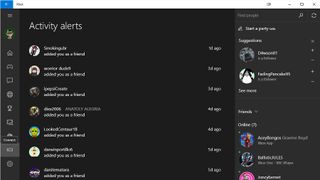 3. Sign into a Live account
Sign into a Live Account on both machines. If you don't already have one, it's probably easier to register on the PC where you've got a keyboard and easy access to your emails.
Thank Gates that you don't need Xbox Live Gold to get this working, because that would be stupidly expensive. You can sign up over at the Microsoft site here - and if you've got an existing Microsoft, Hotmail or Outlook ID or email address, it's best signing in with that.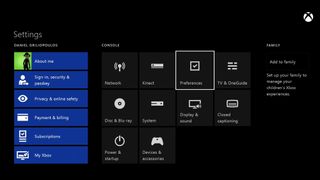 4. Connect to the same network
Once you're signed in on both devices, you'll need to connect your devices to the same network, whether that's wired, wireless or a mixture.
On your Xbox One, head to the Settings Menu then find the Preferences option. It should have 'Allow game streaming to other devices' already checked, but if not turn it on.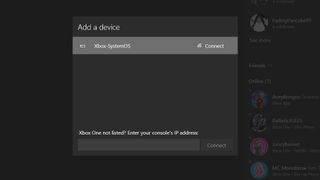 5. Launch the Xbox app on a PC
Now on your PC, head to the Xbox app, and click the Connect button (which is second from the bottom on the left.) Your Xbox One should appear as a connection option, so click Stream.
Next time you open the Xbox App Connect pane, your Xbox One may already appear as connected. If not, depending on your Xbox settings, it may allow you to power the system on.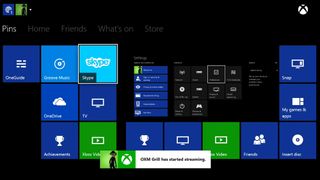 6. Stream and record
Now you can just stream from your Xbox in this full-screen interface. If you want to record your stream, hold the Windows button and press G.
Remember that anyone sitting in front of the TV your Xbox One is connected to will also get to watch you play! From this point on, your controller takes over and your keyboard and mouse are useless. You can play games, natter with your friends and so on.
If you want to stream from further afield, you can set up a VPN - but Microsoft doesn't support this, so it might not work too well. It also doesn't allow another user to continue using the Xbox One for, say, streaming Netflix, which would be a killer app to us.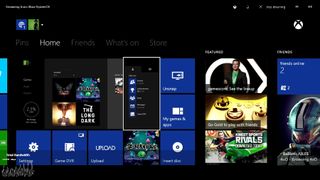 7. Monitor your stream
Just a quick word on the interface on PC. If you move your mouse around, you can see a ton of buttons pop up at the top of the screen. On the left it says what you're streaming from - in my case Xbox-SystemOS.
On the top right, you've got the Xbox button, which will take you to home or perform other functions with a double tap. You've got a microphone mute button, which does exactly what you'd expect. You've got the 'Stop Streaming' button - and by the way streaming will often stop if you change windows on your PC.
You've got a menu button that gives you the bandwidth usage of the stream across the network, with some fancy graphs and stats that you can see at the bottom left of the image. And you've got the bandwidth selector, which lets you reduce the impact on your network if other people are trying to use it.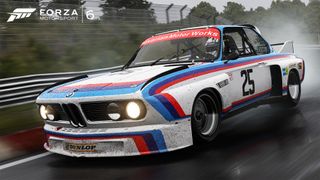 8. Get some games!
Still here? Wondering which games are worth streaming? Well, the Xbox One doesn't have that many exclusives that aren't also on PC. Some of those - like Boom Ball, Fighter Within and Slice Zombies - are Kinect only, so there's no reason to stream them.
Therefore our picks for the exclusive games to play are limited to just Forza Motorsport 5, Crimson Dragon, Sunset Overdrive and Halo: The Master Chief Collection. Including upcoming releases, we'd recommend Scalebound, Gears of War 4, Quantum Break, Halo 5: Guardians, Below and Crackdown. There are even a bunch of Xbox 360 games you can play through backwards compatibility.