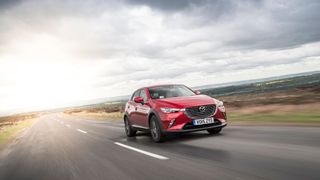 Introduction
The compact Sports Utility Vehicle is rapidly becoming one of the most popular cars in Britain. Families up and down the country are ditching their faithful hatchbacks in favour of the raised ride height and chunky body addenda of thesefaux-by-fours,becauseafter all, the school run is increasingly becoming more treacherous...
... Or maybe it isn't, but Nissan kick-started the craze with its oddly bulbous Juke, Mini soon followed with its Paceman and now, even premium marques like BMW and VW arereadyingjacked-up city cars for sale.
But before you go spending all of your hard-earned savings on a premium machine, Mazda is here to tempt you with a more upmarket offering than its closest rivals but one that doesn't quite break the bank like a BMW.
It packs some sweet tech, agreeable looks and a surprisingly fun drive, and it's called the CX-3...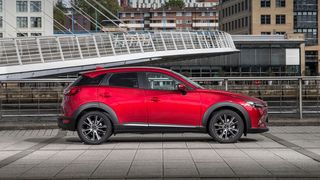 1. Swoopy styling
Mazda unleashed the Shinari concept car back in 2010 to giddy whoops and gasps from a shocked Paris motor show crowd. It was a stunner, but rather than releasing a car that was as close to concept form as possible, the Japanese firm decided to pinch design elements for various upcoming models.
So, if you squint really hard, you can see elements of the Shinari in the CX-3, such as the swooping roofline, coupe-esquecabin and curvy waistline. We'll admit, it's no Italian exotic, but it is easier on the eye than many oddballs in this segment.
Spec it with the 18-inch alloys wheels and it looks even better; just don't expect to cram any rugby teams inside soon. The styling comes at a price and that's a pretty puny boot and slightly squished interior.
2. Tactile tech
The CX-3 isn't the cheapest SUV on the block, either. In fact, with all the bells and whistles added on, it comes in at around £20,000, which is a good £4k more than much of the competition.
Customers do get some sweet techthrowninto the deal though, including a 7-inch colour touchscreen that sits nice and high on the dashboard for easy viewing.
The system is controlled by an ergonomic jog-wheel design, much like the one seen on BMW's iDrive system, which is effortless to use and quick to respond.
Even basic models get DAB radio and Bluetooth, but spend a bit more on the Sport Nav models and you get crystal clear navigation, a bespoke Bose sound system and a neat head-up display unit.
The little piece of clear plastic sits behind the steering wheel and displays speed information, as well as turn-by-turn navigation instructions. It might look like an old Casiocalculatorbut it is mighty handy.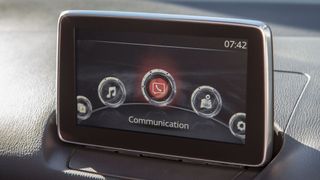 3. Apps as standard
Mazda is all too aware that the 'yoof' of today need to update their Facebook and Twitter accounts on the go, otherwise they spontaneously combust like vampires in the sunshine.
For that reason, all CX-3s feature a system called MZD-Connect, which allows occupants to tether a smartphone to the infotainment system and access social media sites on the move.
In the interest of safety, desktop functionality is ruled out and instead the car will read out tweets and FB posts. But don't worry, the system is also compatible with Aha and Stitcher so you can listen to podcasts and online radio if the timeline gets a bit boring.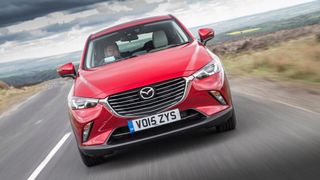 4. The drive
Brace yourself for some seriously high-octane performance figures: 0-62mph in 8.7 seconds and a top speed of 124mph. Ok, so even the range-topping 148bhp 2.0-litre petrol engine isn't what you'd call exciting but it is frugal, quiet and responsive.
In fact, Mazda boasts arguably the slickest manual gearbox and most direct steering rack in the business, which means the CX-3 is surprisingly fun on a twisting country road.
The lower-powered 118bhp petrol engine will likely be the bestseller,while the 1.5-litre diesel will find homes with long distance drivers, but they're both very easy to live with.
Mazda's choice of suspension set-up is a bit baffling though, because although the car soaks up bump and potholes at speed, it tends to bounce around a lot afterwards, meaning occupants inside feel like they're sailing on rough seas.
But that's the trade-off for mini-Range Rover styling, plus buyers are unlikely to thrash the pants off the CX-3 and will instead enjoy the smooth and quiet ride.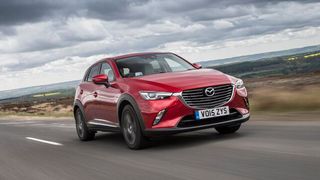 5. The verdict
The Mazda CX-3 isn't the most exciting car in the world, nor is it the most frugal, cheapest, cleanest or roomiest in its class, but it's not all doom and gloom.
The cabin is plush -- which is more than can be said for many contenders -- the ride is good and the onboard tech is some of the most responsive and user-friendly that we've come across in a while.
Mazda CX-3 Skyactiv-G 120, from £17,595 or £21,695 inSportNav trim as tested.
On sale now, visitwww.mazda.co.uk