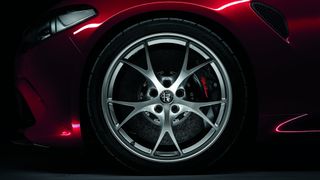 Introduction
Motoring journalists have been congregating in Frankfurt this week to gorp at all the sweet new cars from every manufacturer under the Sun. 2015 has been a stellar year for the Frankfurt Motorshow, with everything from a new MINI to a georgous new Rolls Royce on show.
Are you looking for a new car? You've come to the right place, here are all the newly announced vehicles that you'll actually be able to buy.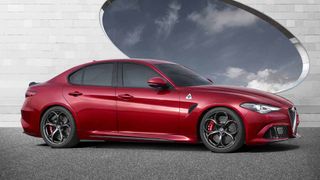 Alfa Romeo Giulia
We've seen the Alfa Romeo Giulia before, but now the Italian marque has teased us with some pretty impressive specs. For a start, Alfa kicked things off by confirming the car (in its hottest form, obvs) will lap the Nurburgring circuit in just 7.39.0 minutes - that's a new record for a saloon car.
The range-topping Quadrifoglio model will take the fight to Mercedes, BMW and Audi with a 3.0-litre V6 Turbo, hitting 0-62 in 3.9 seconds and going on to reach 190mph. If you want to stand out from your German whip driving banker chums this is definitely the way to go.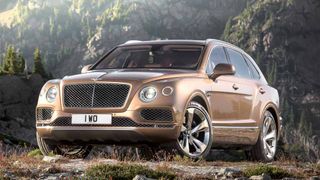 Bentley Bentayga
The Bentley has had a tough life, the first concept was rejected by critics as being downright hideous, and now the company slap it with the Bentayga name and present it in gold paint. Seriously guys, give it a chance?
If you're willing to look past that, it should be scarily fast (0-62 in 4 seconds), and full of tech, so it's not all bad, right?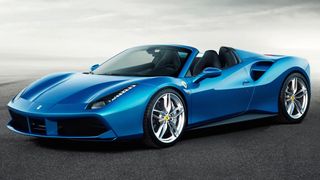 Ferrari 488 Spider
What you're looking at here is the most powerful convertible ever to come out of Maranello. The 488 Spider's turbocharged V8 produces a massive 660bhp, which powers it from 0-62 in 3 seconds.
It looks stunning, and with no roof you'll be able to hear that monstrousV8 in all its glory.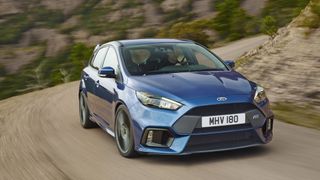 Ford Focus RS
Ford has been playing a blinder recently, if your cash can't quite stretch to the stunning GT, maybe the hot Focus RS is more achievable?
This bonkerscar has 345bhp, a 0-62 time of 4.7 seconds, and only costs £28,940. Plus, it looks ready to bite the rear bumper off any car who slows you down on the supermarket run.
People are already billing this as the performance bargain of the year.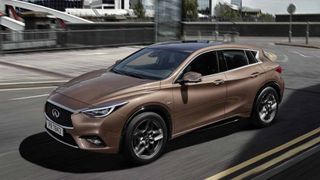 Infiniti Q30
The sleek Q30 is Infiniti's first entry in the premium compact hatch class. The car will rival more upmarket brands like Merc and BMW, and if you're looking for a car packed with tech, Infiniti should be high up on your list.
Who said luxurious cars can't be small?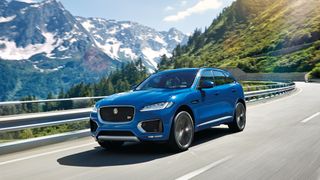 Jaguar F-Pace
Jaguar has created quite a buzz at Frankfurt this year, finally revealing the F-Pace inall its glory (and they did it by setting a world record).
The F-Pace will arrive in April 2016, priced from £34,170. It looks like a beast, and should be a hero for Jaguar, who have been doing so much right recently.
Check out the F-Pace specs here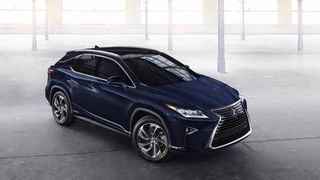 Lexus RX
We've seen the angular, wide open mouth of the Lexus RX before, but now it's made a European debut. And there's good news! The RX will be available in the UK in two versions – the full hybrid RX 450h and turbo petrol-powered RX 200t.
Of course, being Japanese it's filled with technology, you can read about or first drive here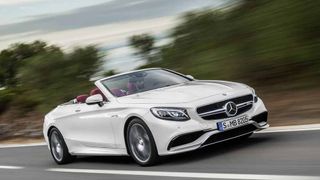 Mercedes S-Class Cabriolet
The S-Class has always been a graceful car, but chop the roof off, and somehow it looks even better. Everything has been optimised to make this the most luxurious way to travel with the wind in your hair. The roof has been 'acoustically optimised', and the seats feature a 'Wind Scarf', which blows hot air around your lugholes to keep them warm.
The inside of an S-Class has always been about ultimate luxury, and the Cab is no different. That doesn't mean it's a slouch though! In S63 AMG guise it'll reach 0-62 in just 3.9 seconds.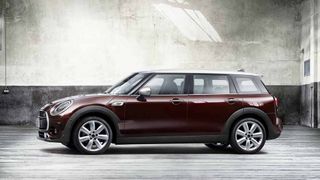 MINI Clubman
The MINI Clubman has always been our favourite model in the MINI range, it maintains a cheeky British character, but is slightly more usable than the Coupe. This is the new Clubman, and features MINI's 2015 styling, moves more up market, and comes in at £19,995.
Looks a bit like a regular MINI has been stepped on from the outside, but the interior looks seriouslyswish.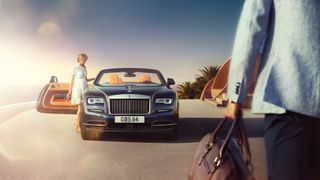 Rolls Royce Dawn
The Rolls Royce Dawn may just be the sexiest Rolls ever. It's based on the Wraith, but it's 80-percent new, and has had the roof removed for larks in the Sun. The company took inspiration from the 1952 Silver Dawn Drophead, and designed it with no compromises, claiming it's just as quiet as the Wraith with the roof up.
Powering the Dawn isa twin-turbo 6.6-litre V12, producing 563bhp and reaching 62 in 4.9 seconds. Fuel economyis 19.9mpg combined, but if you're worried about how much it'll cost at the pumps, maybe the Dawn isn't for you (prices start at £250,000).