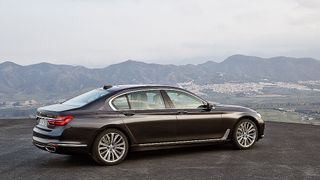 BMW 7 Series
BMW's just announced its latest 7 Series and it it, as you'd imagine, quite swank. It's no doubt a smooth ride that will turn heads, but we're interested in the tech, of which there is plenty, from remote-control parking to a Bowers and Wilkins sound system.
Remote-control parking
A world's first, no less, the BMW 7 Series lets you remotely park the car from outside of the vehicle. Using the 7 Series Display Key, just use the touchscreen as a remote control to park the car - and reverse out of spaces afterwards - like you're Pierce Brosnan in that Bond film with the remote-controlled BImmer. The next model, die 2017, will be invisible and feature rocket launchers.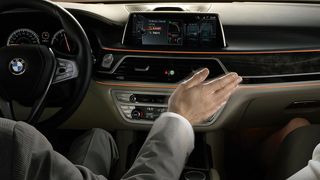 Gesture control
Another first, the 7 Series uses gesture controls - with your palm or single digits - to control the car's iDrive infotainment system, answer the phone, dismiss calls and change tracks. It's okay, you can still also use single digits and your palm to let other drivers know what you think of their skills, in the usual way.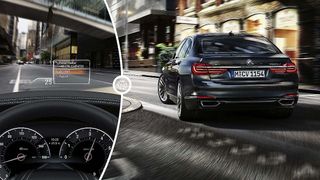 Driving tech
The Bimmer iDrive system now include a touchscreen and gesture control, as well as a Heads-Up Display, crossing traffic warning, steering and lane control assistant, active side collision protection and Surround View, including a 3D View. It's Minority Report on wheels, basically.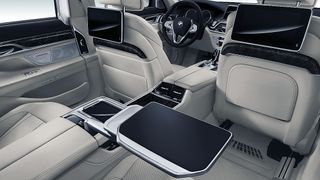 Backseat drivers' perks
Not only can your passengers control functions from a seven-inch tablet, they can also watch streamed video (there's Wi-Fi, naurally) on a brace of 10-inch screens.
After that, why not chillax? The seats have a massage function with eight different programs and variable intensity levels from relaxing to "ouch, that's my lumbar". You can even choose to stimulate muscles in specific regions of the body.
A Vitality Program, specially devised for the new BMW 7 Series, means passengers can actually "work out" while they're ferried to Glyndebourne, or the bingo.
There's even a range of fragrances to switch on, with such memorable titles as "Naturalness of Lush Grass" and "Waft of Pure Water Pearls". We think we can also detect "Whiff of Purest Wellbeing Gobbledygook" in there. Well, it beats having one of those Christmas tree things that you hang from the rear-view mirror.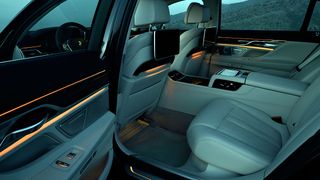 As well as internal mood lighting, there's an LED 'light carpet' to project a lit path outside the car whenever the doors are open. Other opulent options include a glass moonroof, etched so it simulates a starry night sky, lit with hidden LEDs and a Bowers & Wilkins diamond-cut surround sound hi-fi system. Tasty.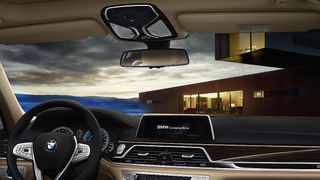 BMW Laser Light
This puts out a high-beam with a range of 600 metres - double that of the LED headlights - without dazzling onlookers.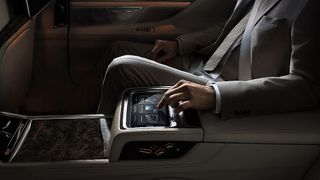 Touch controls all over the place
You can also control in-car systems from here, if you like. We're just using up all these nice press shots for the sake of it now, really.