Welcome to our guide to the top ultraportables and the best ultrabooks 2016, and now they're even better thanks to the updates to Windows 10 and mac OS Sierra.
Our favourite ultraportable laptop right now is the .
The epic is just an awesome experience that boasts both muscle and feather-like lightness.
Its powerful specs are mighily impressive, too (there's a rapid Core i7 under the hood) and 256GB SSD, too. As we've said below, it really does feel like a laptop fom the future. We love it and so will you.
Want something a little less delicate? Check out the also excellent .
How to choose the best ultraportable laptop for you
These super-thin, feather-light ultrabooks are perfect for anyone who doesn't want the heft of a traditional laptop, but can't stand the idea of tapping out emails on a tablet or phone.
The appearance of £200 – and sometimes lower – Chromebooks though, has forced other laptops down in price too. So now you can get laptops for some absurd prices, especially if you pick up a sale bargain.

But many of us are interested in a laptop that's not only lightweight, but looks good too.
Many of the laptops featured here aren't interested in offering the best bank for your buck. But they do look the part and they offer plenty of style. They often sport all-metal construction, wafer-thin designs and internal guts that can chew through demanding tasks.
Also check out our guides to the best laptops, best Chromebooks or best 2-in-1 laptops – those have their own buying guides – but let's have a look at all the best ultraportables right now!
The 10 best ultraportables you can buy today
These are the best laptops to buy, in order of preference.
1. HP Spectre 13
A Windows laptop with the sleekness of a MacBook
CPU: 2.5GHz Intel Core i7-6500U (dual-core, 4MB cache, up to 3.1GHz with Turbo Boost | Graphics: Intel HD Graphics 520 | RAM: 8GB LPDDR3 SDRAM (1,866MHz) | Screen: 13.3-inch, 1,920 x 1,080 FHD IPS UWVA BrightView Corning Gorilla Glass WLED-backlit display | Storage: 256GB SSD (PCIe; NVMe; M.2)
Sleek and lightweight
Tactile keyboard
Standard 1080p display
Mushy trackpad
HP's most luxurious laptop borrows the Lenovo Yoga 900S's style and the MacBook's bag-friendly dimensions. The Spectre 13 is so thin that tapping away on its tactile keyboard almost feels like your fingers are tap-dancing on the table. Its biggest advantage over the MacBook is its Intel Core-series processor inside, which lends it the winning combination of dazzling looks and computing muscle. Packing three USB-C ports for hooking up peripherals (note that you'll need a converter to use your old USB-A ones), the Spectre 13 doesn't just look like a laptop from the future - it has one eye trained on it too.
Read the full review: HP Spectre 13
2. Dell XPS 13
The most compact Windows laptop
CPU: 2.3GHz Intel Core i5-6200U | Graphics: Intel HD Graphics 520 | RAM: 8GB | Screen: 13.3-inch QHD+ (3,200 x 1,800) | Storage: 256GB SSD
Gorgeous bezel-less display
Lightweight, compact frame
Off-centre webcam
Small frame limits battery life
If you're looking for a Windows laptop, it's hard to go wrong with the Dell XPS 13. While it's more expensive than the Asus UX303 — particularly if you go for the QHD+ version — the XPS 13's InfinityEdge display makes it worth the money. It's surrounded by a bezel that's just millimetres thick, lending the 13.3-inch laptop a body that's closer to 11-inch laptops in size. It gives the XPS 13 excellent portability, and unlike the 12-inch MacBook Dell has done it without sacrificing ports or power. The XPS 13 packs Intel's latest Skylake processors under the hood, and features both Thunderbolt 3 and USB 3.0 ports.
Read the full review: Dell XPS 13
3. Apple 12-inch MacBook
The most fashionable laptop around
CPU: 1.1GHz or 1.2GHz dual-core Intel Core M processor | Graphics: Intel HD Graphics 5300 | RAM: 8GB | Screen: 12-inch 2,304 x 1,440 pixel-resolution Retina display | Storage: 256GB or 512GB PCIe-based flash storage | Connectivity: USB-C (USB 3.1) | Camera: 480p FaceTime camera | Weight: 0.92 kg | Dimensions: 28.05cm x 19.65cm x 1.31cm (W x D x H)
Thin and light
Retina display
One USB-C port
Shallow keyboard
Apple's 12-inch MacBook isn't just the most portable MacBook of them all, you won't find a more compact laptop with a high-resolution display full stop. Every inch of Apple's impossibly-thin machine is gorgeous, but it comes at the expense of usability. With just one USB Type-C port, the MacBook requires an adapter if you want to use multiple USB devices - or a combination of peripherals and a display - at the same time. If you don't mind carrying one around in a case, the MacBook's surprisingly punchy speakers, good battery life and catwalk looks make it a unique (and fun to use) laptop.
Read the full review: Apple MacBook
4. Lenovo Yoga 900S
Lightweight and beautiful, with a twist
CPU: 1.1GHz Intel Core m5-6Y54 (dual core, 4MB cache, up to 2.7GHz with Turbo Boost) | Graphics: Intel HD Graphics 515 | RAM: 4GB LPDDR3 (1600 MHz) | Screen: 12.5-inch, 1,920 x 1,080 FHD IPS LED glossy multi-touch display | Storage: 128GB PCIe SSD
Elegant design
Twists and bends
Shallow keyboard
Small trackpad
Convertible laptops undoubtedly make better tablets when they're lightweight. The Yoga 900S is one such machine, weighing in at a svelte 2.2 pounds. What you get then, is a 12.5-inch laptop with a bright and colourful screen that can rotate into several different positions, making it easier to interact with touchscreen apps, do a bit of lightweight gaming or even a spot of reading laid back on the couch. In terms of design, the Yoga 900S borrows the Yoga 3 Pro's stylish watchband hinge design without charging the jewellery shop price tag. It's thinner too, while bringing the same pixel-packed 2,560 x 1,440 pixel-resolution display along for the ride.
Read the full review: Lenovo Yoga 900S
5. HP Spectre x360
Another Spectre that's oddly brilliant
CPU: Intel Core i5 2.2 GHz | Graphics: Intel HD Graphics 5500 | RAM: 4GB | Screen: 13.3 inches 1920x1080 | Storage: 128GB SSD | Connectivity: 3x USB3 | Camera: HD | Weight: 1.48kg | Dimensions: 12.79 x 8.6 x 0.63 inches
Superbly thin
Vibrant, bright display
Too heavy to use as a tablet
Weird, wide trackpad
There's something oddly brilliant about HP's Spectre range. Clearly intended to compete with Apple in terms of build quality, but priced just a tiny bit lower to gain some traction with potential buyers. The X360 is another convertible that allows you to fold the screen backwards to create a tablet-style device. This is ideal for Windows 10, although you'll probably not use it much as a tablet because it's still a laptop-weight device.
Read the full review: HP Spectre x360
6. Lenovo Yoga 900
Performance meets design, Lenovo's latest flagship is a jewel
CPU: 2.5GHz Intel Core i7-6500U | Graphics: Intel HD Graphics 520 | RAM: 8GB – 16GB | Screen: 13.3-inch QHD+ 3,200 x 1,800 IPS display | Storage: 256GB – 1TB SSD
Gorgeous display
Slim design
Shallow keyboard
Display drivers issues
If you're all about style and want power to back it up, things don't get much better than Lenovo's latest flagship hybrid Ultrabook. It's much more punch than its Intel Core M-toting predecessor thanks to trading in Core i5 and i7 CPUs, and it has bigger batteries to boot.
Though it's no longer one of the lightest Windows laptops to date, the Yoga 900 still retains an incredibly sharp and thin design. Although it comes at a steep price, such panache will be worth it for style nuts.
7. Samsung Notebook 9
One stellar entry-level Ultrabook
CPU: 2.3GHz Intel Core i5-6200U | Graphics: Intel HD Graphics 520 | RAM: 8GB DDR3 1866 | Screen: 13.3-inch, FHD (1,920 x 1,080) LED anti-reflective display | Storage: 256GB m.2 SSD
Thin, smart styling
Nearly perfect display
Micro-sized video ports
Short battery life
The Samsung Notebook 9 retains the paper-thin (not literally) design of the Series 9 notebook we all came to know and love back in 2012.
This time, however, we're greeted with a considerably competent Core i5 Skylake processor in addition to an attractive screen, design, and - unlike past Samsung ultrabooks - an approachable price.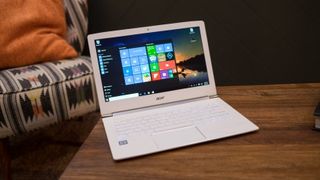 8. Acer Aspire S 13
One of the most affordable ways to get into Ultrabooks
CPU: 6th Gen Intel Core i5 – i7 | Graphics: Intel HD Graphics 520 | RAM: 4 – 8GB | Screen: 13.3-inch FHD (1,920 x 1,080) touchscreen | Storage: 256GB – 512GB SSD
High performance for a low price
Non-reflective touchscreen
Exterior feels a little cheap
Disappointing battery life
The Acer Aspire S 13 may not win prizes for being the thinnest nor the lightest Ultrabook around, nor does it offer more than 10 hours of battery life. But it's an impressive machine none the less with speedy and reliable performance. It's nearly as affordable as the Asus ZenBook UX305 and the touchscreen comes standard, something you won't find on most budget Ultrabooks.
9. Dell Latitude 13 7000
A higher class of business laptop we deserve
CPU: Intel Core m3 – m7 | Graphics: Intel HD Graphics 515 | RAM: 4GB – 8GB | Screen: 13.3-inch FHD (1,920 x 1,080) – QHD (3,200 x 1,800) InfinityEdge display | Storage: 128GB - 256GB PCIe SSD
Tactile keyboard
Thin and light
Intel Core M only
Unusual webcam placement
Following in the footsteps of the king of Ultrabooks, Dell has revamped its Latitude series of business notebooks with the Infinity display redesign. With a compact chassis, the best keyboards ever and great build quality, the Dell Latitude 13 7000 is one of the best Windows laptops to take on the road.
However, thanks to only Intel's Core M chip inside, it isn't the fastest business brain on the block. Still, if you're looking for a reliable machine, you'll be pleased with the Latitude 13 7000's seven hour battery life.
10. Microsoft Surface Book
The ultimate Windows 10 hybrid laptop
CPU: 2.4GHz Intel Core i5-6300U | Graphics: Intel HD graphics 520; Nvidia GeForce graphics | RAM: 8GB | Screen: 13.5-inch, 3,000 x 2,000 PixelSense Display | Storage: 256GB PCIe3.0 SSD
Futuristic design
Seamless tablet separation
Battery life falls well below promises
Major updates are still in tow
Microsoft's Surface Book is a 2-in-1 with a detachable display that can be used as a tablet, and although a bit on the heavy side of ultraportable it's an excellent laptop in its own right for several reasons. First, it's the only one out there with a high-resolution 3:2 aspect ratio display which is great for reading long web pages, typing up documents and doing anything that requires a bit more vertical space on the display. Second, its keyboard is simply superb offering a deep amount of travel that reduces fatigue during long typing sessions. Third, Intel's latest Skylake processors and Nvidia's GTX 940M GPU give the Surface Book enough grunt for light gaming and multimedia editing. If money isn't an issue for you, then Microsoft's laptop should be considered even if you're not planning on detaching its display. Which you will, of course — even if it's just for showing off.
Read the full review: Microsoft Surface Book