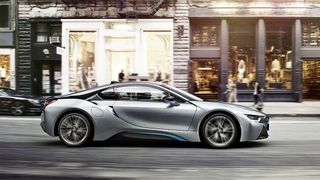 Supercars: start your engines
From the days of the Bentley Speed Six in the 20s, supercars have had the power to capture the imagination, astonish with pure performance and wow with some of the most cutting edge street tech possible. Supercars, or hypercars as they're become known, have metamorphosed over the years, becoming ever-more adventurous in their pushing of the performance envelope. A modern hypercar is made of materials that have more in common with a fighter jet than a normal road car, and the advent of useable hybrid technology has created a whole new class of uber-tech machines.
These are the hypercars we'd love to drive - in theory, as long as we're not paying the insurance bill, and there's plenty of runoff. And definitely not in town. These cars may be the pinnacle of man's 4-wheeled evolution to date, but speed bumps are definitely off the menu.
There are some exceptions, but you'll also note that the tech here is largely in the engines and chassis of these monsters. Of course, if you really want touchscreens and smart electronics with your space-rocket-grade acceleration, there's always a Tesla…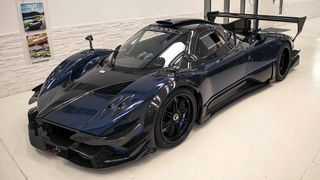 Pagani Zonda Revolucion
The 'final version' of the Pagani Zonda was unveiled way back in 2013, but is still one of the most sharp-edged 4 wheeled performance things ever made. A carbon-titanium monocoque body weighing a massive 1070 kg powered by a 800 hp 6.0-liter V12 conspire to give an overall madness rating of 748 hp per tonne - which is very high indeed.
Add to that Brembo brakes and CCMR discs derived from F1 racing, along with a wince-inducing asking price (before VAT), and you've got a genuine hypercar monster.
To say that it's a track-focussed car is a slight understatement, given the standard specs include Cro-Mo roll cage, a magnesium gearbox that'll grab the next gear in 20ms, and a wildly complex drag reduction system that can either operate automatically, or manually via a button on the steering wheel if you're feeling very, very brave.
€2.2 million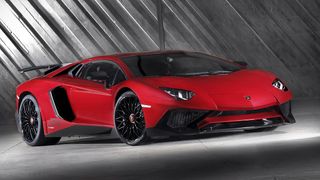 Lamborghini LP 750-4 Superveloce
No list of supercars would be complete without at least one monster from this ultra-luxe Italian stable.
Set to be a fixture on small boys' bedroom walls, the LP 750-4 Superveloce is as extreme as any classic Lambo should be, with a snarling V12 soundtrack pumping out 552 kW/750 hp, which should power you and your Mulberry luggage to 62mph in 2.8 seconds, and from thence to 'more than' 217 mph.
Lambo have concentrated on extreme weight reduction, just for a change, and have thus used lots of carbon fibre to produce what they claim is the "most sports-oriented, fastest and most emotional series production Lamborghini ever." The diet has removed the audio system too, and even that vast rear wing is manual; you'll need a special spanner to manipulate it.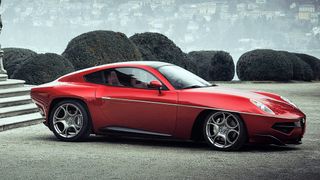 Alfa Romeo Disco Volante
Alfa Romeo has a strong heritage in producing awesome cars, but this collaboration is something very exciting indeed.
The Disco Volante is a two-seater Gran Turismo with a completely bespoke, hand-made carbon fibre and aluminium body underpinned by the Alfa Romeo 8C Competizione coupé with its front-central mounted 4.7-litre V8 engine, delivering 450 HP and 480Nm peak torque, which results in a spicy (0-62mph) in 4.2seconds, and a top speed of 180mph.
Like many Italian supercars, this isn't about the specs, or even the swathes of carbon fibre making up the front bumper and grille, the bonnet, the side skirts, the boot lid and the integrated rear-window frame. It's all about passion, and the little Alfa delivers that in spades.
Each car is built to order, and takes 4,000 hours of craftsmanship to complete – that's 166 straight days of passion, right there.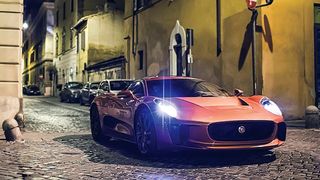 Jaguar C-X75
Jaguar's C-X75 was originally shown as a micro gas turbine-powered concept in 2010, and was then developed in partnership with Williams into a hybrid so cutting edge that the companies decided to shelve actual production (originally scheduled in 2011 at 250 cars priced at £750,000) on cost grounds.
However, a handful were built as test cars, and are in very active use. Bleeding edge tech includes TFT virtual dashboard, an entirely custom a 500bhp, four-cylinder, 1.6-litre engine that redlines at 10,200rpm and works in tandem with two 200bhp-ish axial-flux electric motors, and a battery setup that improves upon F1 tech.
Finally, swathed in compression-moulded carbon fibre (stronger but more complex than simple resin-transfer moulding as in the 918 or a McLaren), we can safely say that it looks reasonably awesome. The Bond production team thought so , using one of the five working C-Ariel AtomX75's in a high-speed chase through moonlit Rome in Spectre.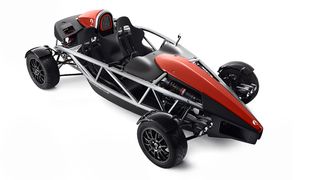 Ariel Atom
Like the Zonda, the Ariel Atom also has a roll cage, and four wheels, but that's pretty much all it has, giving a total weight of just 520kg.
That means its 2-litre Honda iVTEC engine, kicking out 245bhp, is enough to push this little go-cart from 0-60 in 3.12 seconds, and continue that pace (100 in 7.82 secs) till 145mph.
Options such as a supercharger, race suspension, improved, sport brakes and carbon-fibre aero items will push the price up, but it's still exceedingly cheap in supercar terms. However, the level of creature comfort you get for your buck is flagged by one of the factory options - a pre-mounted motorbike TomTom satnav and a pair of Bluetooth intercoms, so you and a lucky passenger – yes, there is at least a passenger seat – can communicate without screaming.
£38,000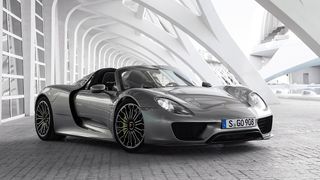 Porsche 918 Spyder Hybrid
No stranger to extreme four-wheeled focus, the premium German marque really started something big with the 918 Spyder, creating a supercar which not only looks stunning, but also harnesses hybrid technology in the name of pure performance.
The machine consists of a carbon fiber reinforced polymer monocoque, V8 petrol engine and two electric motors, one on each axle, which allow casual town cruising on battery alone, then via a series of increasingly ludicrous settings to full race mode, which will thrash the V8 rotten while boosting the power with the instant torque of the electric motors.
Overall we're talking an astonishing 887 hp and 944 lb-ft of torque, 0-60 in 2.6 seconds, and a top speed of 217mph. Hilariously, official mpg figures (which discount the electric boost) give you 71 mpg into the bargain, and while on the topic of sensible, those massive 15.4-inch carbon-ceramic rotors provide serious stopping power.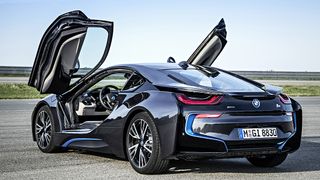 BMW i8
BMW took on a lot of challenges to make the i8, but stayed unusually close to an incredibly futuristic original concept to end up with one of the most cutting edge cars on the planet. Aside from the seriously Tron-esque styling – the driver will never tire of gawking in their mirrors – the hybrid-powered i8 is no slouch on performance either. BMW TwinPower Turbo and BMW eDrive technology deliver 60 mph in 4.2 seconds and a top speed of 155mph, but with an mpg of 94.
An Android and iOS i Remote app lets you lock and unlock remotely as well as check battery charge, while the iConnectedDrive dash provides all the navigation smarts you could wish for.
£100,000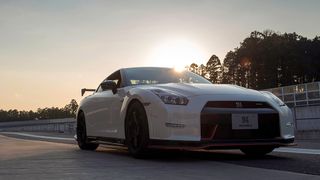 Nissan GTR NISMO
Now, the doubters at the back might say this isn't a supercar, and that in fact, it's a production Nissan. Where is the Italian leather, the overly-delicate turbo, the huge servicing charges?
Well, it's got the latter covered, and for a very good reason - Nissan claim it's the fastest volume production car in the world, based on a Nurburgring lap of 7:08.679, which is very much on the rapid side.
Make no mistake, this may look like a chunky, boy-racer's box, but by the Lord Harry it goes, nailing 0-60 in 2.9 seconds, with a max of 191 mph.
As you'd expect from Nissan, there's considerable tech embedded into this monster to make it dance like that, including a twin-turbo V6. There's also a customisable TFT dash in addition to plenty of carbon options. It's also very much in the affordable aisle compared to, say, a Ferrari...
£78,000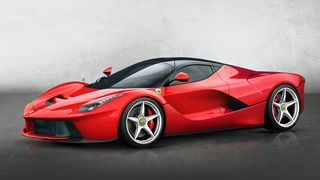 La Ferrari
Designed to be the King of the Hypercars, the hyperbole around La Ferrari is almost endless.
Designed as the successor to the shy and retiring Ferrari Enzo, La Ferrari, in obligatory red paint job, was billed as the 'most ambitious project yet' by Ferrari, and on launch as having 'the most extreme performance ever achieved by a Ferrari production cars.
Given that build up, the relentlessly impressive performance figures come as no surprise. It'll do 0-60 in less than 3 seconds, more than 217 mph, and produces 790 bhp at 9000 rpm and 516lb ft of torque at 6750 rpm. It's a hybrid, and rather brilliantly the Italians have decided to simply use all the hybrid power, all the time - there's no eco button as on the German Porsche.
Ciao, bella – shame they're actually all but impossible to buy.
£1.15 million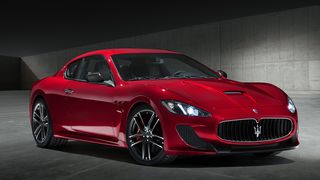 Maserati GranTurismo MC Stradale Centennial Edition
With perhaps the longest name in motoring, the Maserati GT MC SCE is a centenary celebration for the Italian marque, and delivers the full luxury experience one would expect.
With an interior made entirely of leather and carbon fibre inlays, an optional Bose sound system and a special 'Rosso Magma' colour scheme, applied in three coats for max panache, it'll grace any location, from exclusive golf club to wildly over-priced restaurant.
A tuned 460 HP, 4.7 litre V8 engine does plenty of talking in all the right tongues, and takes this statuesque beauty from 0-60 in 4.5 seconds, and a top whack of 188mph.
£118,000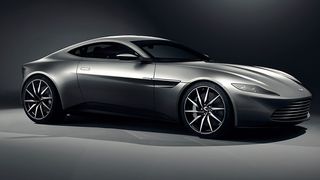 Aston Martin DB10
Aston Martin's take on a 2015/2016 supercar is as sleek as they come, and drives just as well, judging by footage from Spectre.
The DB10 was developed specifically for the Bond flick, with considerable input from Sam Mendes, apparently, and only 10 were hand-built at Aston Martin's Gaydon headquarters.
Aside from looking astonishingly purposeful, the only thing we know about the DB10 for sure is that it contains Aston Martin's 4.7-litre V8, as well as whatever array of secret agent gadgetry Bond's packing this time.
This will likely give performance figures akin to the Vantage, which also houses that powerplant – about 430bhp in tuned fettle, with a top speed of 190mph and 0-60mph sprint time of 4.8secs.
Alas, unless you're one of the lucky recipients of the 10 DB10's, you either have to settle for the DB9, or wait for the upcoming DB11. Or get a Ford Fiesta.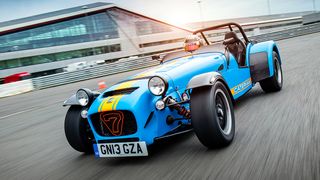 Caterham Seven 620 R
Another low-ball in the world of hypercars, the Caterham 620 R is the second-cheapest car in this list, and has the second lowest top speed. However, it compensates for this with a hypercar equalling 0-60mph time of less than 2.8 seconds, which in such a stripped-down missile takes some getting used to.
The Caterham Seven 620 R makes 310 bhp, has a top speed of 155mph, a power-to-weight ratio that's better than a Bugatti Veyron, and is made in Blighty. Ah, makes yer proud.
In pursuit of lightness, the 620R has carbon fibre front wings, carbon seats and a rather nice carbon dash, while carbon suspension wishbones are an option. What's missing is an audio system, seat padding and locks.
Basically, it's the biggest chunk of retro motoring hilarity on the market. One of these, a leather helmet and some Biggles goggles and you'll soon be drifting round Brands Hatch like Stirling Moss in his prime.
£49,995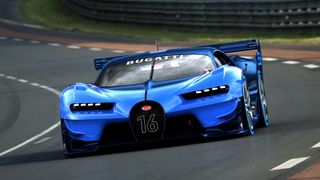 Bugatti Vision Gran Turismo
The car Bruce Wayne would most like to commission, the Bugatti Vision Gran Turismo is quite a statement car, and that's saying a lot coming from a marque as overstated as Bugatti, purveyors of the entirely over-specced Veyron.
Although the car was originally designed exclusively for the PlayStation game franchise Gran Turismo, the team at Bugatti took the job very seriously indeed, to the point of making an actual car in carbon fibre to show off the concept.
It's powered by Bugatti's quad-turbocharged 8.0-liter W16 engine in theory, and by the sounds of a video that's leaked online, probably is in reality too. We'd love to drive this car in real life, although it comes with a strong health warning: Bugatti calculates that the Vision Gran Turismo can drive at over 400 kph (250 mph) on four sections of the virtual Le Mans track, and would be as quick in the real world as "the fastest real-life LMP1 race car." Essentially one for professional racers and superheroes only, then…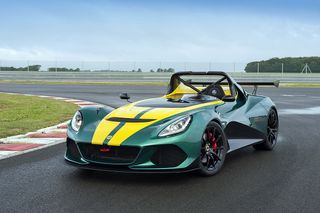 Lotus 3-eleven
It's difficult putting a Lotus up against some of the hypercars elsewhere in this feature, as on paper it's not a fair fight. Yep, the Lotus kills it everytime.
Obviously it's made in Norfolk out of string and optimism, and is an entire digit cheaper than much of the competition, but it's got the performance to fry your synapses good and proper.
A V6 supercharged engine developing 450 hp is bolted into a chassis weighing a helium-like 900kg, which results in unleashing 0-60 mph in less than 3.0 seconds before reaching a maximum speed of 174 mph.
All that weight loss is bad news for the tech though, with an uber-minimalist aluminium cockpit housing just a wheel, pedals, paddle shifters and a combination LCD speedo/engine readouts panel. Still, the driving experience is among the best on the planet.
£82,000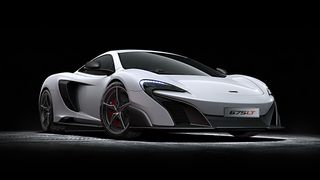 McLaren 675LT
Yes, another mainly carbon fibre, 3.8-litre twin-turbo, 666 bhp (at 7,100rpm) supercar from McLaren.
Verging on affordable by supercar standards, the McLaren 675LT is almost boringly competent at serving up elite performance in a useable package (but not quite), with the sprint from 0-62 mph taking 2.9 seconds, before the 675LT continues to 100 mph barrier in 7.9 seconds, then a top speed of 205mph.
Designed to honour the iconic McLaren F1 Longtail (thus the LT moniker), this stunning little car is mainly targeted at the track. A third of its parts have been specifically designed with this in mind, and it'll doubtless be cleaning up there accordingly.
As ever, the devil is in the detail. Those vast twin exhausts are sculpted out of forged titanium, and in a brilliant stroke of minimalism the aircon controls are hidden inside the touchscreen "infotainment" console…
£259,500