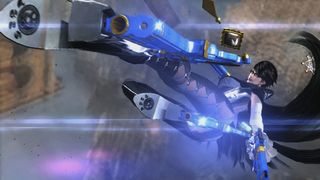 Bayonetta 2
Still only slated for '2014', despite it having more to play than most titles at E3, Platinum Games' sequel to its acclaimed but disappointing-selling combat masterpiece continues in the same vein. Again, it's absolutely batshit, the titular witch fighting chaotically atop a plane as it ploughs through a city of gigantic demons amongst skyscrapers like a bastard Transformers out-take. We found the "easier" touch-screen mode entirely unresponsive, so turned to classic controls and the magic kicked in. Quite how Nintendo's traditional demographic will take an almost naked woman crying orgasmically as she slays baddies in floods of gore remains to be seen.
UK Release date: 2014 | Trailer: Bayonetta 2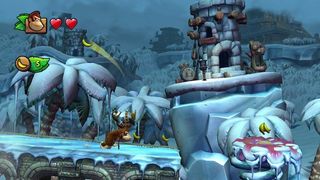 Donkey Kong Country: Tropical Breeze
Another challenger for game of E3 for us – say what you want about Nintendo but all their games were playable extensively, no matter how far off, rather than the majority shown as CG trailers – this return to Donkey and a now rocket-packed Diddy's 2.5D platforming roots looks stunning. It plays well, too, the familiar combinations of banana collecting, mine-craft riding and exploding-barrel riding being expanded into a widescreen adventure of island locales. We played through three levels, the standout being a mine-cart roller coaster that took in a relentless flurry of trigger events to avoid, from crashed plans to rising ships.
UK Release date: November 2013 | Trailer: Donkey Koing Country: Tropical Breeze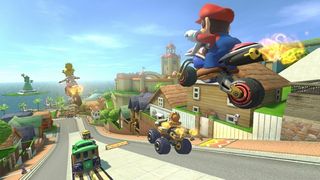 Mario Kart 8
Nintendo's old reliable racer has upped the ante once more with a very strong shout for our game of E3. With enough of the much-loved formula to feel instantly familiar, but with enough new stuff – anti-gravity courses anyone? – to feel genuinely fresh, we had to be prised off the stand as we took Toad's motorbike to win after glorious win. GamePad motion handling is very smooth indeed, with the screen used for map reading and horn honking. The only downer is that it's not out till spring next year – come on guys, we'd happily play this now.
UK Release date: Spring 2014 | Trailer: Mario Kart 8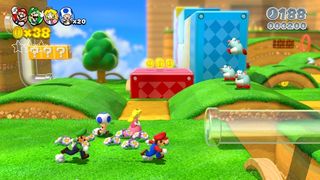 Super Mario 3D World
More Mario, but this time in classic platform adventure mode - except, well, it isn't. There was initially some consternation that this wasn't the Super Mario Galaxy U that many were expecting, but it takes the series off in another slightly different tangent, much more like Super Mario 3D Land on the 3DS. With up to four-player co-op throughout, a new cat suit so you can clamber up walls (and, most point-scoringly, the end-of-level flagpole) and a variety of different level styles from side-scrolling traversal to into-the-screen monster riding, it's a whole heap of fun.
UK Release date: December 2013 | Trailer: Super Mario 3D World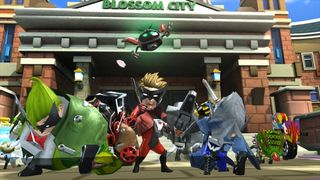 The Wonderful 101
Charming and typically creative oddity from Platinum Games, this has you controlling a group of mini superheroes who can be turned into collective weapons by drawing a variety of shapes on the touch screen a la Trine 2. You can recruit new heroes to your throng – and you'll need to when the collective has been decimated by a particularly tricky boss – and your powers are directly proportionate to how many you have in your number. It may baffle the mainstream, but it's a gamer's delight, with a depth and control subtlety that can only be admired. Thankfully, unlike most of Nintendo's roster which isn't out till Christmas or well into next year, this lands in August.
UK Release date: 23rd August, 2013 | Trailer: The Wonderful 101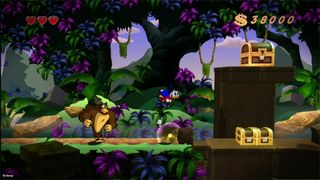 DuckTales Remastered
The old NES classic updated for current-gen systems (PS3, Xbox 360 and PC all get a go too), the beautifully redrawn HD graphics are like an interactive cartoon. The game is much the same as you remember, all platforming and walking-stick pogo-ing around the likes of the Amazon and Transylvania looking for treasure, but the attention to details – including voice capture from the original stars of the TV cartoon – makes this far more than a retro cash-in.
UK Release date: Summer 2013 | Trailer: DuckTales Remastered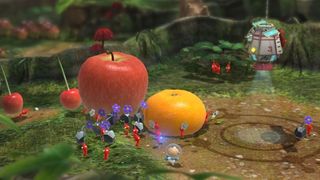 Pikmin 3
Famously one of Shigeru Miyamoto's favourite games the puzzler which was one of the few GameCube titles to shout about almost ten years ago, is back. Once again the cutesy real-time strategy title let's you control an army of ant-like creatures around a rich environment with GamePad support that means you can scroll around the map or use Wiimote and Nunchuk from the Wii to navigate the Pikmin around. There's a new Challenge mode and a Rock Pikmin to throw at hard objects and judging from the footage, sports some slick visuals.
UK Release date: 26th July, 2013 | Trailer: Pikmin 3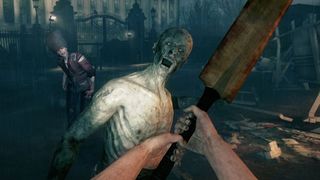 ZombiU
The first person horror shooter from Ubisoft places you in the shoes of a zombie apocalypse survivor where you can utilize the Wii U Gamepad to scan areas and locate zombies in cover and use it as an inventory manager letting you check to see what's in your backpack without taking your eyes of the zombies gaining ground. We also love that the The 'Tower of London' level means the zombie infestation makes it way to the capital as well.
UK Release date: Out now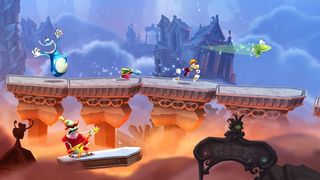 Rayman Legends
After the surprising success of Rayman Origins, the 2D platformer is coming to the Wii U on launch day bringing 5-player Co-op gameplay combining the Wii U GamePad with four Nintendo Wiimote controllers. As well as the new game engine improvements which delivers the gorgeous graphics, you can use the GamePad touchscreen to help negotiate your way through levels and when someone wants to watch the TV, simply continue the action on the GamePad.
UK Release date: Out now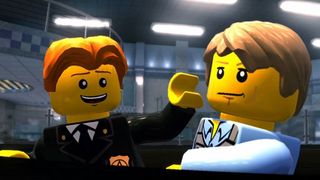 Lego City Undercover
Think GTA but made from blocks, the open world sandbox adventure is brought to you by the guys that developed previous Lego games and this could be the best one yet. Roaming the streets of Lego City solving crimes, you'll be able to use the GamePad to navigate around the fully interactive landscape with over 100 vehicles including aircrafts, cars and motorbikes to drive, but possibly not jack in a Grant Theft kind of way.
UK Release date: Out now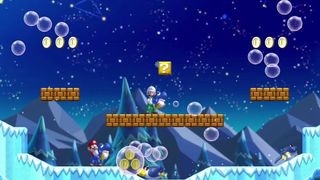 New Super Mario Bros U
Well it wouldn't be a Nintendo console if the Italian plumber didn't make an appearance, and in the latest Super Mario Bros instalment you can expect a 2D re-imagination of the Mario Bros format rather than a brand new 64-esque 3D adventure. Playing as one of the iconic characters or as your Mii, the Wii U Gamepad support brings multiplayer co-op action, that will test your communication powers, while the new Boost Rush mode should add more gameplay variety.
UK Release date: Out now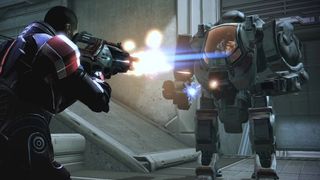 Mass Effect 3 Special Edition
Giving the third instalment of the first person shooter a new lease of life, iOS developers Straight Right is now taking over the reins from Bioware to deliver the game on the Wii U. Along with single and multiplayer campaigns, there's an interactive back story to bring Mass Effect newcomers up to speed, GamePad control support to bark orders and add-on missions including "From Ashes" and "Extended Cut".
UK Release date: Out now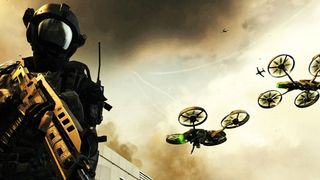 Call of Duty: Black Ops 2
Already expected to shift in its millions as it seems to do every year, the latest COD will this time be popping up on the next gen Nintendo console in full HD glory. Amongst the unique Wii U features will be the ability to play multiplayer with one person playing on the GamePad and the other person waging warfare on the TV screen. The GamePad can also be used in single campaign mode to quickly view maps to ensure you don't march directly into enemy territory.
UK Release date: Out now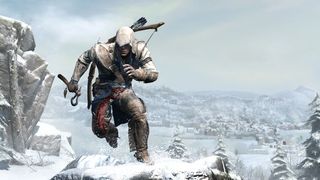 Assassin's Creed 3
With new location and a new protagonist to run freely around another open world environment, Assassin's Creed 3 will have the same hand-to-hand combat with human and wild animals as the PS3 and Xbox 360 versions, but on the Wii U you can expect exclusive features which include touchscreen maps, weapon select, camera control via the GamePad's built-in accelerometer and an alternative Eagle Vision mode to seek out the enemy or work out if you are roaming in the right direction.
UK Release date: Out now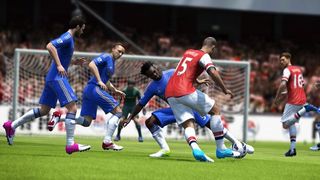 FIFA 13
EA Sports somehow manages to make the beautiful game, well, more beautiful and the Nintendo Wii U is not be left out on the sidelines. As well as the new impact engine, excellent first touch control and improved AI, exclusive Gamepad features include touchscreen tackling and shooting with access to the Manager Hub where you can review player stats, make tactical shake-ups and give the hair dryer treatment at half time.
UK Release date: Out now