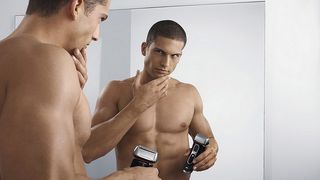 What's the best shaver?
If you're struggling to find the top electric shaver or razor to buy in 2017, look no further. We've found the best on the market, so you can keep on top of that beard and stay looking your best.
Our current best favourite electric shaver is the Braun Series 9. It can deliver 40,000 cross-cutting actions per minute (or ccapm, as we like to call it).
Unsurprisingly, there are a lot of electric shavers out there, each claiming to the best thing to keep your unruly beard under control. So we've tested a whole load to see which one is right for your needs.
Whether you need the smooth, stubble-free look or something a little more complicated, we look at everything from tech-filled shavers to the super simple Wilkinson Sword Hydro 5 to find out which one is the ultimate shaver.
These high-tech shavers all claim to make fast work of facial fuzz, but which should you apply to yours? Click through the gallery to read about all the best razors and electric shavers....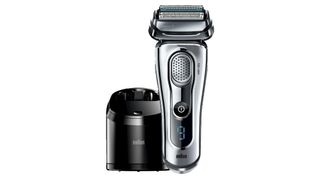 Braun Series 9
The Braun Series 9 can deliver 40,000 cross-cutting actions per minute (or ccapm, as we like to call it).
It uses all of Braun's top shaving tech, including SyncroSonic Technology with four individually floating cutting elements, Hyper Lift & Cut which lifts and cuts flat-lying hair in the awkward places.
There's also Direct&Cut trimmer for more targeted trimming, OptiFoil for the closest shave possible and, finally, Sonic Technology, which creates 10,000 micro vibrations per minute to read your face and adapt to the density of your stubble.
Just like the Panasonic, it also has an intelligent Clean&Charge Station, which keeps your electric shaver in top condition.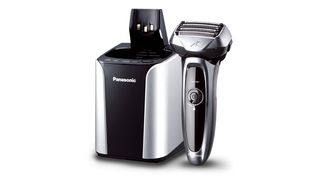 Panasonic ES-LV95
Panasonic's hairy techno bods must have been experimenting big time during the development of this forthcoming five-blade wet–and-dry series.
How else could they have stumbled upon so many tantalising solutions? The Multi-Flex 3D pivoting head is a case in point. Where most other electric shavers work efficiently only in one direction or in a circular motion, the LV can be wielded in any direction that pleases.
Another cool feature is something Panasonic calls Quick Lift Foil. This clever device lifts those cheeky flat hairs usually found on wispy beards or under the chin and on the neck and puts them directly in the path of the shaver's lethally sharp, Japanese-made nanotech blades. These teeny-weeny Samurais are set at an optimum 30˚ angle to ensure complete annihilation of even the most obstreperous follicle without taking your face off at the same time.
And then there's the sensor. This equally clever slice of tech detects an individual's beard density and automatically adjusts the motor speed accordingly so that the shaver doesn't just steam ahead willy nilly obliterating everything in its path. Instead, it thinks 'this is a mighty beard, therefore I must approach it with much caution'.
Needless to say, the wet & dry LV does a grand jobatkeeping the face, armpits and any other areas in need of a preening free of follicle and smooth as a Labrador's ear. It's comfortable in the hand and runs for ages on a single charge.
What really impresses us about the shaver is the charging base station, which also dries, cleans, and keeps the blades sharp. It'll clean, sterilize, dry, and charge in 90 minutes, which is impressive, and very useful.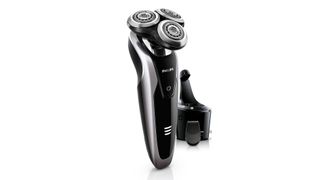 Philips Series 9000
Philips' new S9000 wet and dry shaver is just what man-about-town requires to maintain a super smooth visage.
Dapper in looks and comfortable in the hand, the new top-of-the-range S9000 is suitably well-endowed when it comes to features. Firstly, the V-Track dual-blade system is said to 'cut up to 20% more hair in a single pass' and we're inclined to agree. Instead of a 10 minute morning dry-shave session, the S9000 nailed it in nearly half the time. And the results were good. Very good. Indeed it performed almost as well as a wet razor. So we took advantage of the manufacturer's 'wet & dry' moniker and tried it with a faceful of shaving gel (foam works too) and the results were even more impressive; as close as a razor but without the inconvenience (and pain) of having a face full nicks.
Clearly this shaver does what it's supposed to do but what we haven't mentioned (until now) is just how comfortable the Series 9000 is to use. The three blade housings flex dramatically in eight different directions so that even the most angular jawline gets a thoroughly good seeing to. What's more, the blade head glides so smoothly across the dermis it actually feels as if it isn't doing anything. There's simply no snagging of the skin and no annoying hair snatches. And no blood.
The 9000 provides 50 minutes of shaving from an hour's charge. It's also designed to work with Philips' SmartClean system so it comes with a rather large mains-powered cleaning station equipped with proprietary detergent (an extra twin pack costs £14) that not only gives the shaver a good valet but also leaves it smelling fresh. Alternatively, you can dismantle the head assembly and rinse all the parts under a tap. The Series 9000 incorporates Philips' SmartClick attachment system and comes with a clip-on detail trimmer for moustaches and sideburns (a manscaping styler and rotating facial cleansing brush are available separately). In a nutshell, the Series 9000 is a very efficient package that shaves both your face and minutes off the morning rush.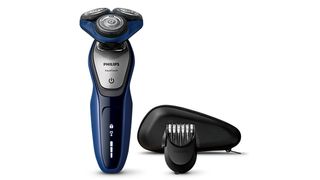 Philips AquaTouch Wet and Dry S5600
Being fully shower-proof was our favourite feature. Slap on the foam or gel, fire up the motor and it'll give you a quick, close shave while you rinse the rest of yourself. There's a pop-up trimmer and it lasted for a week before needing recharging.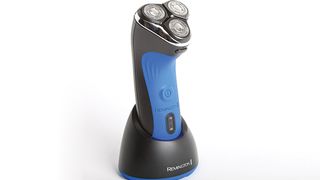 Remington AQ7 Wet Tech Rotary
Remington's Wet Tech Rotary has a useful quick charge feature that allows the shaver to be ready for your morning routine after 5 minutes of being plugged in, making sure you look your best at a moments notice. You'll get a close and comfortable shave too, with a large flexing head that allows for more precision. it can even be used in the shower if you're really short of time.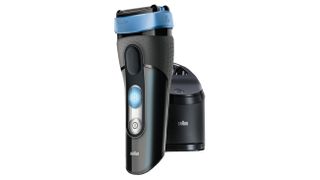 Braun Cool Tec CT2cc
If you have particularly sensitive skin that makes shaving a painful experience, then this shaver aims to make you a bit more comfortable. The active cooling technology should keep your skin fresh, minimising irritation in the process and the twin foils with integrated middle trimmer will give you a close shave. Flexible cutting elements also aid in shaving by adapting to your unique face shape.
The way that the Cool Tec immediately cools to a genuinely cold temperature is highly impressive, and the sensation of it on one's face is very pleasing and overal results are good… it's just we're not entirely convinced it gives a better or less irritating shave as a result of the cooling element.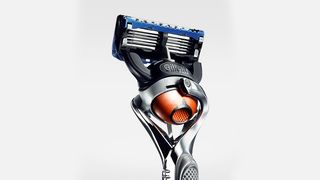 Gillette Fusion Pro Glide Power Silver Touch
Gillette's latest addition to its ever-growing range of razors adds in a few new features to make it your morning grooming product of choice. Thin blades improve comfort, an elongated lubricated strip complete with mineral oil improves the moisturising element Gillette have used for a while now and most importantly, the handle is silver in colour.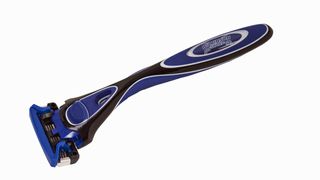 Wilkinson Sword Hydro 5
This five-blade stack is easy to handle, leaving an epidermis as polished as the finest Chippendale, so long as you use a quality shaving cream or oil. With a flip trimmer and a hydrating gel reservoir this razor is designed for the most demanding of men.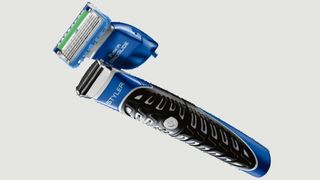 Gillette Fusion ProGlide Styler
Gillette's latest 3-in-1 has all the relevant kit to help keep your facial hair intact. Custom length is delivered via three detachable combs, while the electric trimmer allows for smooth shapeups. It's also comfortable to hold and comes packing a detachable blade, so you're not solely limited to dry shaves.
Actually a very handy little device indeed for beard trimming and 'tache shaping, though we prefer a standard razor for close shaving.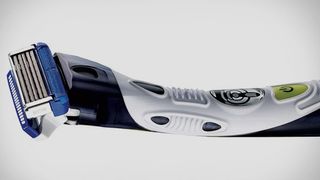 Wilkinson Sword Hydro 5 Power Select
With a variety of power settings, 5 UltraGlide blades with skin guards and a digital LED display, this razor is truly feature packed. Instead of just the normal moisturising strip we often get, the Hydro 5 has a hydrating gel reservoir which they claim will last twice as long as its competitors. To round the package off is a handy flip trimmer for those areas that are a little harder to reach.