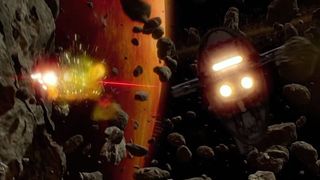 Slave-1 VS Delta-7 dogfight over Geonosis
When that first seismic charge went off, shattering a large chunk of the asteroid belt over the desert world of Geonosis, I bet you suddenly paid attention, right? After being slowly smothered with a pillow made from George's appalling script for hours on end, to suddenly be hit in the face with such an intense audio-visual spectacle was damn refreshing. Yes, this dogfight between Jango Fett and Obi-Wan Kenobi in Episode II was definitely cool and both evoked the asteroid belt set-piece from the original trilogy whilst also upping the action dramatically. The crack of the laser cannons screaming past the Delta-7s hull was awesome and really helped show off one of the few decent new vehicular designs of the prequels, Jango Fett's Slave-1.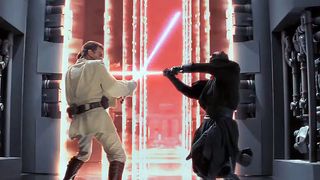 Qui-Gon Jinn and Obi-Wan Kenobi VS Darth Maul lightsaber duel
Ok, we know, we know. By the time Episode I wheeled around to its finale you were seconds away from slitting your wrists. We get it. However, weren't you glad you held the knife back until this doozy of a fight landed. Ray Park - the actor/stuntman/martial arts expert behind famous movie fighters such as the Headless Horseman in Sleepy Hollow and Toad in the X-Men - absolutely kills in the role of Sith Lord Darth Maul, taking on both Jedi with his awesome double-bladed lightsaber. The speed and intensity of this fight, right from the beginning to Maul's eventual demise, is just insane and really helped take lightsaber duels in Star Wars to a whole new level. The musical track that accompanies the fight - Duel of the Fates - is also just epic.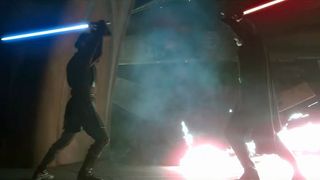 Anakin Skywalker VS Count Dooku lightsaber duel
This was what everyone was waiting for in Episode II - grown up Anakin Skywalker's first lightsaber duel against a Sith Lord. And, more or less, this fight does not disappoint. Yes, we'd have liked a little more action with Anakin in dual-wielding mode, however aside from that the action is pretty damn great. Christopher Lee brings loads of class to the role of Dooku and fights with a rapier, duelling-style lightsaber technique that is incredibly precise (in the fiction the technique is called Makashi and is designed specifically for duelling). When Anakin cuts through a power cable and the lights drop out, the blue and red glow of the clashing lightsabers illuminating the combatants' faces, this fight also evokes the look of the duel between Luke Skywalker and Darth Vader in Star Wars: The Empire Strikes Back.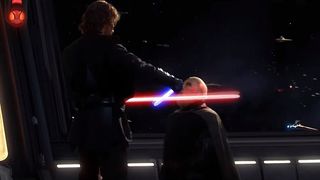 Anakin Skywalker beheads Count Dooku
Round two of Anakin VS Dooku is pretty good, however once Dooku is disarmed, with both his hands removed in one blow, it's what happens next that is particularly cool. Anakin lays both his own blade and Dooku's either side of his head and then, under the command of Palpatine, beheads him. While the beheading is quick and, due to how it's presented, you don't see much detail, the fact that you actually get this actioned on the screen of a PG-13 was pretty surprising. It also set a new precedent in terms of lightsaber on lightsaber dismemberment, which is something that we are certainly hoping manages to make an appearance in Star Wars: The Force Awakens. If metal swords can remove body parts, then lightsabers can do so even easier!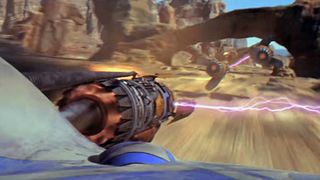 The Pod Race
Asides from the Darth Maul fight, this racer set piece is probably the second best thing in the entire film. Yes, it has that annoying kid in but, even now, the sense of speed that it creates is great and the pod racers themselves remain distinctive and well designed. It feels like a genuine event within the Star Wars fiction that is believable (the motives for it are clear). The sound the pod racers make is also very distinctive and the CG gremlins at Lucasfilm certainly put a lot of effort into making the alien pilots who compete with young Anakin as weird as possible. Overall the whole thing is like an alien edition of Formula One, the only difference being that the Pod Race is actually interesting to watch. Burn!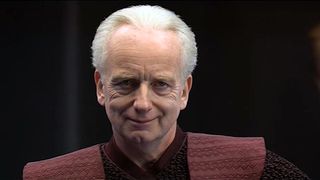 Ian McDiarmid's Palpatine
Yes, there are a couple of moments in Revenge of the Sith when McDiarmid hams it up a bit in full-on Emperor mode, which is cheesy, but on the whole his performance in the Star Wars prequels is understated and beautifully insidious. Greasing his way through the films like the world's best politician McDiarmid, as Senator Palpatine, influences people directly or indirectly to do his bidding and place him in a position of power. He is the master puppeteer that manages to go completely unnoticed until it is too late. Crucially though, McDiarmid manages to demonstrate how Palpatine rose to power in a very real and believable way, overthrowing the Republic and crushing the Jedi through tact and guile, rather than magic force powers.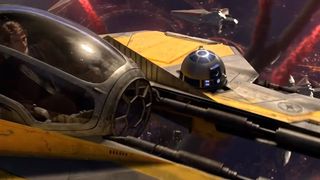 The Battle of Coruscant
The most well-shot space battle in all of the three prequel films, the Battle of Coruscant proved a tasty opening to Revenge of the Sith that, while not approaching the glory of the scraps in A New Hope and Return of the Jedi, did at least get the adrenaline pumping. With the glowing planet of Coruscant below, Anakin and Obi-Wan blast themselves through enemy pilots, buzz droids and seeker missiles in a 360-degree dogfighting extravaganza of audio-video stimulation. The ending with a crappy CGd Obi-Wan launching himself out of his cockpit to cut down some droids isn't great, however almost everything that proceeds it is and, at least for a moment, tricked you into thinking that ROTS was going to be ace.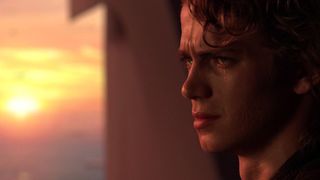 Anakin and Padmé contemplate what is to come
Aspiring film makers take note! Sometimes the best scenes in a movie involve absolutely zero dialogue. Actors, you know, can act with more than just your script's dialogue - they have full use of their bodies and facial features too. Case in point is this small but beautifully refreshing scene from Revenge of the Sith that involves zero dialogue. With the dark third act of the movie looming, Anakin and Padmé, the former in the Jedi Temple and the latter holed up in her apartment, each both stare out over Coruscant while contemplating the future. The inevitability of events at this point add a poignancy to it that is non-existent anywhere else in the prequels and, without any of George's appalling script stuffing their mouths, Portman and Christensen can actually do some good acting.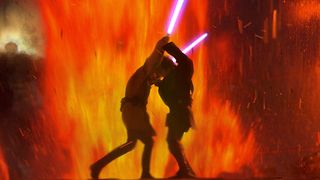 Anakin Skywalker VS Obi-Wan Kenobi lightsaber duel
After the General Grievous confrontation delivered an all-time low point for lightsaber duels and, for that matter, villains in any of the Star Wars films, George really had to pull it out for the big one, the one everyone had been waiting to see since the prequels were announced. Luckily, thanks to some pretty impressive CG (in general) and some solid fight choreography (in general), the Anakin VS Obi-Wan final fight is definitely good value for money. Hayden Christensen, who is finally free to act with his facial expressions rather than with George's appalling dialogue, goes super emo dark side with aplomb, while Ewan McGregor plays a straight bat as Kenobi. The visuals of the two exchanging blows amidst towers of molten lava remains incredibly memorable and, like some of the best swashbucklers of old, this fight sees them duke it out in and around a wide-variety of environments.