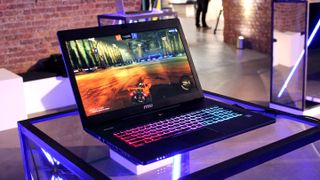 Introduction
Just like clockwork, the arrival of Intel's sixth-generation Skylake processor has ushered in a new era of sleek, powerful laptops and 2-in-1s.
As you'd expect, the world's biggest hardware makers are vying for attention, duking it out to produce the flashiest designs while ramping up the power.
Skylake might only offer a modest performance boost over its predecessor, Broadwell, and it's more feature-packed. New abilities include include DDR4 RAM and Direct X12 support, better power-saving functionality through Intel's SpeedShift tech, and improved overclocking abilities, to name a few.
Click on to check out the latest Skylake processors set to hit UK shelves before the end of the year.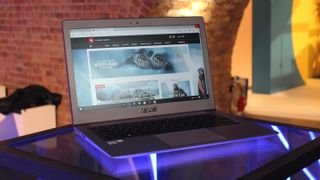 2. Asus ZenBook UX303UA
Powered by Intel's top-end Core i7 processor, the UX303UA offers more muscle power than its modest, MacBook Air-like chassis lets on. Available in Smoky Brown (ok...), Rose Gold (nice) and Icicle Gold (er, what?), it features a bright 1080p IPS display that's bolstered by ASUS' Splendid tech, which automatically fine-tunes to make colours look richer. We like the sound of its 'Exclusive Super Hybrid Engine', which can apparently boost battery life by up to 25% for less demanding tasks to take battery life up to a total of seven hours.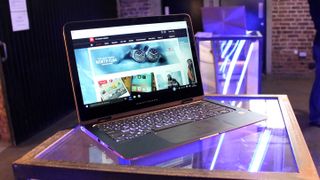 2. HP Spectre
That the HP Spectre looks like a laptop Bond would use is pure coincidence — it has nothing to do with the movie or the tuxedo-donning, wise-cracking super-spy. Effectively a shrunken version of HP's impressive Spectre x360, the Spectre has a searingly-bright 2,560 x 1,440 pixel-resolution display, an alluring aluminium chassis that allows the display to fold over 360 degrees and one of the roomiest trackpads we've seen on a 12-inch notebook. Built like a miniature tank, it's one of the more suitable 2-in-1s if you're the clumsy type.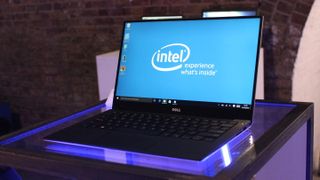 3. Dell XPS 13
Dell has refreshed its impressive XPS 13 laptop with Skylake, making an already impressive laptop even better. The XPS 13's Infinity Display, which is virtually borderless, lends it the footprint of a 12-inch laptop — so it takes up less room whether it's in your bag, on a train table or in your lap. The XPS 13's design also makes the screen look like it's "floating", which is novel. If you've got room to spare, consider Dell's new XPS 15 — a 15-inch laptop with a 4K Infinity Display display that lends it the footprint of a 14-inch laptop.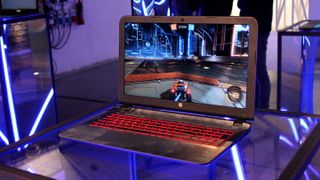 4. HP Pavilion Star Wars Special Edition
The launch of a Star Wars-themed laptop felt inevitable in the run up to the new Force Awakens movie, and HP has beat other laptop makers to the punch. Its "dark side-inspired" Pavilion comes complete with a Sith-red backlit keyboard and decals designed to mirror the X-Wing Star Fighter Guidance System. Configurable with up up to Nvidia's 940M mobile GPU, up to to 12GB of RAM and 1TB of storage, it's sure to handle EA's upcoming Star Wars: Battlefront shooter with a setting or two dialled down.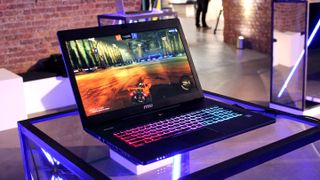 5. MSI GS70 Stealth
As beautiful as it is powerful, the GS70 Stealth is a cheery 17.5-inch gaming laptop with clout. Using MSI's software, the GS70's already powerful Core i7 Skylake processor can be safely overclocked 30% higher to provide extra grunt. Connectivity includes USB 3.0 and video output to drive two 4K 60Hz displays which, in combination with its comfortable backlit SteelSeries keyboard, lends it some unexpected productivity chops. If you need a big screen and plenty of power to drive it, MSI's beefy GS70 would make a Christmas cracker.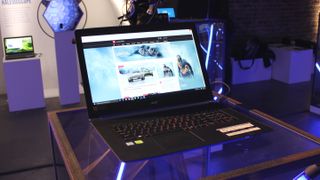 6. Acer Aspire V Nitro
Acer's gaming laptop may not be much of a looker (compared to, say, the GS70 Stealth), but it doesn't skimp on muscle. Decked out with sixth-gen Core i5 and Core i7 processors, it can be configured with up to an Nvidia GTX 960M with up to 4GB of RAM. Throw in 512GB of M.4 SSD storage (or a 2TB hard disk), up to 32GB of DDR4 RAM, USB Type-C and Thunderbolt 3 ports, and you have a gaming laptop that's as powerful as it is well-connected.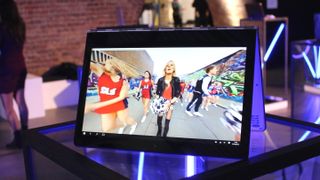 7. Lenovo Yoga 900
Called "the thinnest Core i-powered 2-in-1 in the world" by its maker, the Yoga 900 is one of the most stylish convertibles on the planet thanks to its watchband-styled hinge constructed with 813 pieces of aluminium steel. A switch from Intel's Core M processor to Skylake makes the Yoga 900 much more powerful than its predecessor, the Yoga 3 Pro, while only being a few millimetres and pounds heavier. Lenovo claims that it'll run for up to nine hours on a single battery charge, which isn't bad for what is effectively a massive tablet and laptop in one.