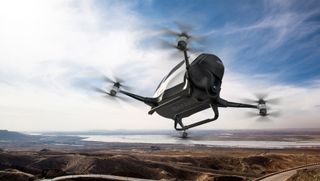 Introduction
Come on, admit it. Bigger is better. A bigger packet of French fries is better than a smaller one. A 55-inch TV is better than a 22-inch TV. A collection of 100 issues of T3 magazine is better than one with just six. It's just the way it is.
People may say less is more - and, in certain circumstances, they may be right - however here at T3 Towers we are of the belief that some of the most impressive technology on Earth today is HUGE, both in technical prowess and physical dimensions.
Here we have rounded up 10 of our favourite super-sized gadgets and pieces of technology that are instantly 27.5 per cent more awesome just because of their engorged proportions.
Enjoy!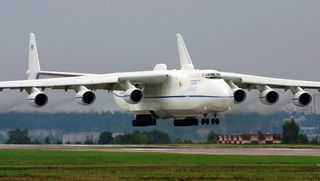 Antonov An-225 Mriya superplane
Big planes are big business, especially if you're looking at designing that next big carrier jet. So take the Russian-made Antonov An-225 Mriya superplane. It's 84 metres long with a take-off capacity of 600 tons. It's got a wingspan of 88.4 metres and a height of 18.1 metres. It's a beast of a machine and one that's got serious lifting power.
So far, the plane has lifted everything from entire trains to four Russian tanks all at once. The Antonov An-225 Mriya is currently being used to delivery special cargo around the world, such as a 117-tonne generator which touched down in Australia from Prague earlier this week.
You can watch it land at Zurich Airport in the video below: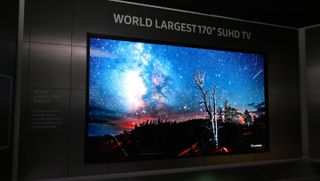 Samsung's 170-inch SUHD TV
Well, if we were going to do a list about giant tech and giant gadgets, we'd be remiss not to include one from an area that's all about size. Sure, there are some impressive cinema screens out there, but we're not interested in projectors, we want a screen of pure display excellence. And Samsung's terrifying 170-inch SUHD TV might just do the job.
Yes, we said one hundred and seventy inches. Game of Thrones would never be the same. Here's the catch: it's actually more than one screen. The modular design is easy to miss yet it makes for an incredibly impressive full-screen experience.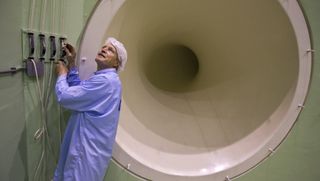 Large European Acoustic Facility
You'd think the world's biggest speaker would be in the hands of say, the Ministry of Sound, or perhaps fitted to the soundstage of AC/DC, but it's in fact used to test space rockets. No, really. Rather than blasting our pure bangers all day, the scientists at the Large European Acoustic Facility (LEAF) in the Netherlands instead use the 154 decibel system to simulate the environment of a rocket as it launches.
Of course, you wouldn't be able to pop into the giant chamber and just pop on a little Barry Manilow - the chamber is filled with large amounts of nitrogen so you'd probably be dead before you could say "Tune!"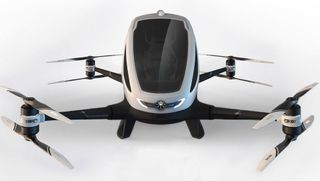 Ehang 184 personal quadcopter
With all these new drones and quadcopters growing in strength and capacity, it only seemed a matter of time before someone went and designed one big enough to carry a person. And here we are - the Ehang 184. The Personal Flying Vehicle (PFV) is designed to carry one person (up to 260 pounds) within a 10 mile/23 minute distance.
With four giant propellers on each corner aren't the only drone-like features either. You'll only have minimal controls - take off, pause flight and land - but the Ehang 184 itself will take care of most of the actual flying for you.
You can check out its promotional video below: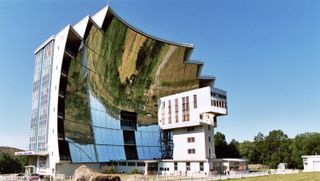 Solar Furnace
Located in Font-Romeu-Odeillo-Via, France, this super-sized mirror is actually part of a giant furnace that uses massive amounts of solar power to drive its metal-heating engines. Acting like a giant magnifying glass, hundreds of mirrors gather sunlight, which is then bounced as a beam onto a huge curved mirror which concentrates that natural heat into a focused point.
Solar furnaces such as this one have multiple uses including the melting of steel, converting CO2 into fuel and even generating electricity. Just don't try to use to light your cigarette while the boss is looking the other way.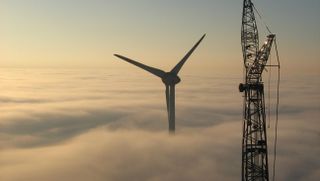 E-126 Wind Turbine
At a staggering 126 metres, the E-126 is the largest wind turbine on the face of the Earth. Not only is it ridiculously tall, it's also incredibly powerful - it can generate up to seven megawatts of pure electrical power. That's enough leccy to power 5,000 homes in mainland Europe.
Based at Emden, Germany, there are currently 34 of these super turbines in use today. Each one has a 127-metre rotor diameter, as well as boasting a tidy 12-metre diameter generator. Interestingly, most turbines of this size are located offshore, but this one is one of the few designs specifically made for onshore use.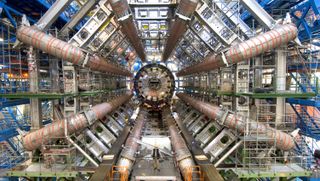 Large Hadron Collider
One of a number of gigantic bits of tech with the world 'Large' in its official title, the Large Hadron Collider isn't just the machine could potentially open up a black hole in Switzerland and France anytime soon (actually it can't, that rumour's been debunked, but people still believe it!) - it's also one of the biggest, most impressive bits of experimental machinery in the world.
The 17-mile long tunnel is the world's largest particle accelerator and is being used to smash particles at such high speeds they crack open and, luck purveying, reveal the mysteries of quantum physics and the universe.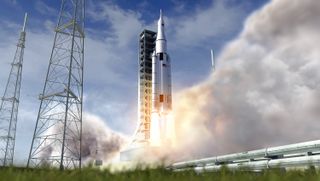 Space Launch System
When it comes to big, few things come bigger than space rockets. So what happens when NASA wants to take even bigger payloads even further into space? Like, say, a manned crew to Mars? It needs a launch system (the space engineering term for a launch rocket) that will will take a manned or unmanned vehicle beyond our atmosphere and out into the deep depths of space.
The SLS will actually have different variations depending on the series of planned missions for it in the next decade (it's planned to be ready for use no later than November 2018), but it'll still tower over every other rocket man has ever created at a titan-esque 117 metres.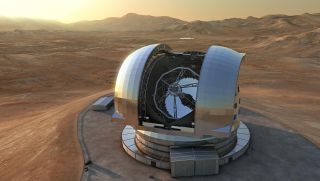 Extremely Large Telescope
Keeping things resolutely spacey, how about the world's largest and most impressive telescope? Rather than being a space telescope such as Hubble or Kepler, the Extremely Large Telescope (not to be confused with the Very Large Telescope) is a terrestrial lens that will study light emanating from some the earliest moment in the universe's history.
Currently under construction in the Atacama Desert in Northern Chile, when the E-ELT is finished its revolutionary 39.3 metre segmented primary mirror will form part of the largest astronomical observatory in the world, with the power to gather 13 times more light than any other telescope and gather images 16 times sharper than Hubble.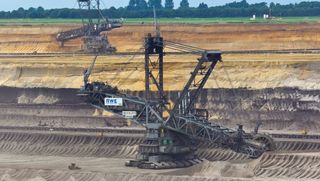 Bucket Wheel Excavator
Bagger 293 (or MAN TAKRAF RB293 as it was once known), is a colossal bucket wheel excavator used to huge amounts of earth and coal for German industrial firm TAKRAF. Towering 310 feet high and weighing 31.3 million pounds, the Bagger 293 holds a Guinness World Record as the largest and heaviest land vehicle in the world.
The vehicle has 18 giant buckets connected to a wheel, these revolve and scoop up large amounts of coal and earth then dump it all on a conveyer belt. Each bucket has a capacity of 1,452 gallons of dirt making it one efficient way to carve a hole in the world.
A short video from National Geographic covering the Bagger 293 can be viewed below: