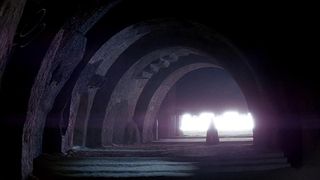 A Jedi Knight arrives at Jabba's palace
Here at T3 Towers this image of a robed Luke Skywalker walking alone through the cavernous door of Jabba the Hutt's palace is considered one of the coolest in all of the three films.
There's just something about it. Luke's isolation; his black, hooded robe; the nonchalance and confidence of just walking through the front door and into the belly of the beast, so to speak. It all just adds up to kind of embody what being a Jedi is supposed to be - heading off alone or in very small numbers on a dangerous mission with nothing but your lightsaber and mastery of the Force to help you.
The contrasting bright light of the exterior desert and the dark interior of the palace also visually reinforce the battle between the dark and light sides of the Force within Luke at this point.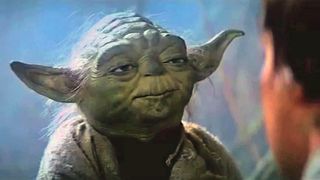 That is why you fail
This moment is just pure Star Wars gold. Luke Skywalker, who has been training on the jungle world of Dagobah, expresses his disenchantment with Jedi master Yoda's tuition and doubts that he can achieve any of his goals, including raising his crashed X-Wing out of a nearby swamp. Yoda, who is near death, gathers together the remnants of his power and, demonstrating his mastery of the Force, raises the stricken ship from its watery home and places it back on solid land. This interchange then proceeds:
Luke Skywalker: 'I don't, I don't believe it.'
Yoda: 'That is why you fail.'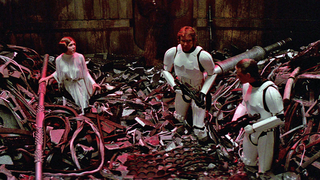 The garbage compactor
This moment comes relatively late-on in A New Hope and adds both a dose of lighthearted comedy and, suddenly, heightened tension. Luke, Leia and Han, escaping from a bunch of Empire stormtroopers, find themselves dumped out of garbage chute into a small, garbage and garbage water filled room.
At first it seems like it will be a simple process of opening a door to escape, however soon the gang are accosted by both a monster living in the garbage water's depths and a pair of slowly contracting walls.
The panic that ensues as the three heroes attempt to free Luke from the monster and then prevent the walls crushing them is well shot, well acted and highly entertaining.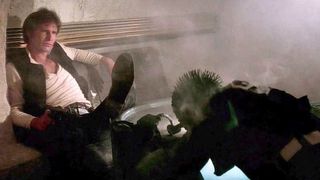 Han is the only one that shoots!
Everyone should search out the Star Wars Despecialized Edition of A New Hope as it returns this famous scene to its former glory. In the original release Han Solo, when pressed by bounty hunter Greedo, guns the mercenary down where he sits, establishing that Solo is himself a ruthless rogue who will do anything to forward his own aims.
George Lucas proceeded to then bungle this scene to death in re-releases, changing it first so that Greedo shoots first and misses and then secondly so both of them shoot almost simultaneously (Greedo still first though). The ruthlessness of the original scene however, when only Han shoots, is how it is supposed to be viewed.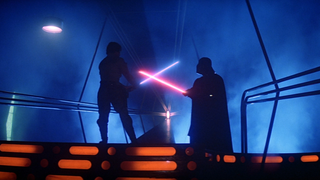 Luke confronts Vader on Cloud City
This is the best lightsaber duel in the entire original trilogy and one of the most visually impressive set pieces in any of the films. Luke, who is fresh out of training with Yoda - training that he did not complete - walks knowingly into a trap set by Darth Vader on Cloud City, Bespin. The pair meet in the carbonite freezing chamber where moments earlier Han has been frozen and, well, the rest is history so to speak.
The lightsaber fight is well choreographed (for the time) and very atmospheric, with all the vapour and low lighting conditions helping to create a unique, tense atmosphere. Of course, the finale of this duel ends with Luke losing a hand and receiving a shocking piece of information regarding his lineage. Classic!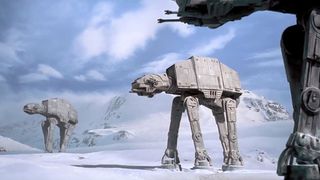 The Battle of Hoth
Here at T3 we really hope the producers of Rogue One have taken this scene for inspiration when creating the new, war-focused movie.
This is a cracking battle that combines fighters, walkers, soldiers, star ships and fixed gun emplacements. It is this variety, not just in what is involved but crucially where it is involved, with locations including Hoth's surface, sky and near-planet orbit, that makes it so engaging. With so much going on, it is testament to the film's director Irvin Kershner that a strong narrative remains at the forefront - allowing transport vessels to escape the Empire's attack - and that the action remains cohesive.
The action was clearly very well story boarded too, with the footage of rebel fighters flying through the legs of AT-ATs remaining thrilling. A great opening battle that is visually very distinctive.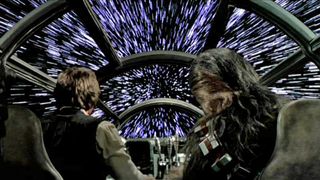 The Falcon jumps to lightspeed
Come on! We know that it looks a little dated now in 2016 - especially when placed side-by-side with the lightspeed effects in Star Wars: The Force Awakens - but when you first watched the Millennium Falcon jump to lightspeed can you seriously say you weren't impressed?
The best thing about this first jump is that because the Falcon is a 'hunk of junk', it can't just immediately hyperjump, requiring Han and Chewie to get busy while a very real and dangerous threat closes in. When the Falcon eventually jumps therefore, the tension has been built up, and it makes the resultant wizzy-streaky-boomy space-bending charge even more satisfying.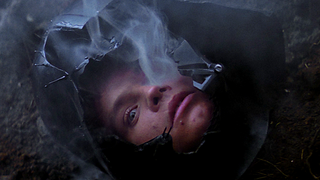 Luke gets trippy
Tonally this scene stands markedly out from anything else within the original trilogy of Star Wars films. Luke, who is training with Yoda on Dagobah, is sent into a particularly dark and dense part of the jungle by the Jedi Master. The film then shifts into suspense mode, with a series of tension building shots of Luke searching through the dark concluding with a sudden, slow-mo confrontation with what appears to be Darth Vader.
After duelling with the figure, Luke decapitates his adversary, with his head rolling over the forest floor. After a flash however, the front of the Vader's mask disappears to show Luke's own, lifeless face staring back at him. Trippy and a bit creepy, this imagery foreshadows the revelation about Luke's lineage that lands at the end of The Empire Strikes Back.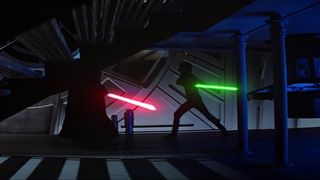 Luke takes down Vader with inelegant onslaught
The final fight in the original trilogy of Star Wars films is good not because it is long or particularly well-shot, but simply because it is so raw and crude. The feeling that Vader is old and so worn down by the years of fighting is apparent, as too Luke's anger and lack of discipline. Crucially though, in the wild and almost uncontrolled lightsaber swings by Luke, he shows just how far the Jedi have fallen. Far from the fluid, precise and varied fighting styles demonstrated in the prequels, here it is the brutality of Luke's assault on the old Vader, rather than lightsaber artistry and mastery of the Force, that sees him victorious. It's like you are watching echoes of a previous age, which in many ways you are.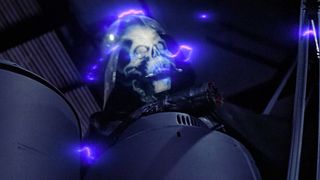 Vader is electrocuted
Got to say that this is damn cool way to go out. Vader, who is watching his son be electrocuted by Emperor Palpatine, has a last minute change of heart. Picking Palpatine up, with electricity still coursing from his fingers in every direction, Vader manages to withstand being electrocuted multiple times to throw the Dark Lord of the Sith down a massive shaft to his death. Vader then collapses to the floor, with one last blast of residual electricity lighting up his skull. This moment not only looks really cool but reminds you that despite looking like a machine for almost all of the films, Vader is actually still human at the core. The fact that Vader dies mere minutes later makes this scene even cooler.