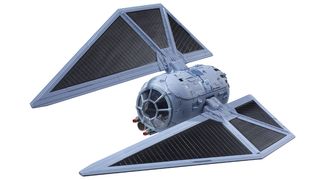 Introduction
Rogue One: A Star Wars Story is here! Woo hoo! To celebrate the film's release we've rounded up the best Rogue One-themed toys and games on the market right now.
Parents with Star Wars-mad children beware!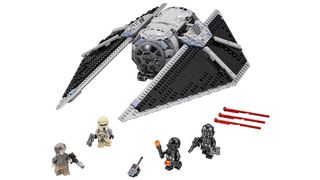 Lego Tie Striker
As the new film is set pre-Tie Fighter this is likely a machine that has a slightly lower 0-60 or offers less luxury on the interior. Either way it looks pretty sweet as a set to make some shelf space for, minifigures included, spring-loaded shooters and adjustable wings.
Price: £69.99| Buy Lego Tie Striker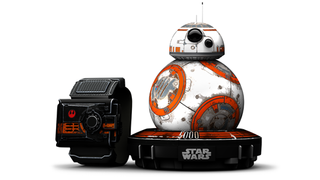 Battle worn BB-8 with Force Band
Wining the hearts and wallets of everyone from the last film was BB-8, offered up in a multitude of toy guises thus far and now in his "shabby chic". This Sphero creation has all the original appeal, control via an app, pre-programmable holographic video delivery and such but it is the wrist worn band that has us all hovering back over the buy button. Don this non-time-telling piece and use the "force" (aka, movement of your wrist) to shift the droid about your abode.
Price:£179.99 (69.99 Force Band Only) |Buy Battle worn BB-8 with Force Band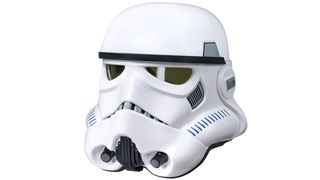 Imperial Stormtrooper Electronic Voice Changer Helmet
Stormtroopers should be playing a big part in the new war film. As such, why not invest in this helmet and simply push a button and become a part of the Galactic Empire? This is a splendid replica of an Imperial Stormtrooper's helmet from Star Wars: Rogue One. Set to stun.
Price:£69.99 |Buy Imperial Stormtrooper Electronic Voice Changer Helmet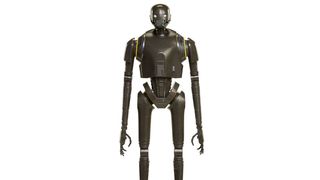 Star Wars Rogue One K-2SO 20-inch Figure
This reprogrammed Imperial security guard is one of the most interesting characters we've seen appear in the new trailers. Pretty blunt and unapologetic, this droid is amongst the Rebels now. Loving the detail in this 20-inch door-stopper.
Price:£19.99 |Buy Star Wars Rogue One K-2SO 20-inch Figure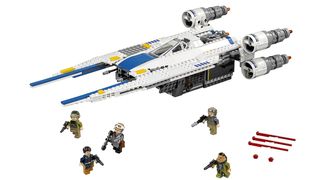 Lego U-Wing
The X-Wing was always going to be a hard act to follow but this model is whateveryone'sfavourite Rebel machine was based upon, so the story goes. More spring loaded shooters on this one and it offers the opportunity to fold the wings back – spoiler alert?
Price:£69.99 |BuyLego U-Wing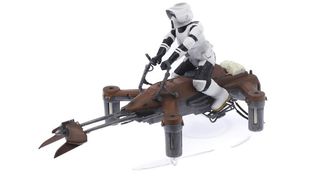 Propel Speeder Bike
Let us reflect back to Return of the Jedi for a moment and those iconic Endor Forest speeder bikes scenes. Here is one of those riders upon his steed. Technically this is a quadricopter and, as such, is able to travel airbourne at up to 35 mph. The supplied box also plays soundtracks from the film and Star Wars theme music.
But wait, there's more!
In this range are also an X-Wing, Tie Fighter and Millennium Falcon too, and each is laser equipped enabling the flight (and mid-air fight) of up to 30 simultaneously – we're going to need a bigger room.
Price:£199.99 |BuyPropel Speeder Bike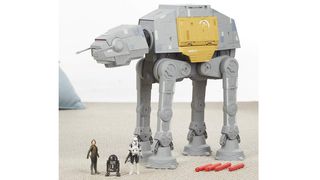 AT-ACT Remote Control
Deserving of a place on the list as one of the weightier items released this cargo carrying vehicle is quite the whopper. A serious dent in your wallet is accompanied by a light and sound emitting, remote control or smart device driven unit containing figures of Jyn Erso, an AT-ACT driver, and an Astromech droid. It also features Nerf dart blasting capabilities.
Price:£TBC | Buy AT-ACT Remote Control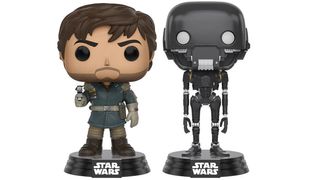 Funko Pop Vinyls
Adding a smile inducing element to the Rogue One toy line up are these shelf worthy characters from Funko. Available in every character from the new film, sometimes in multiple versions the brand are also releasing characters in their "wobble" head range. So, there it is, all your savings gone.
Price:£TBC | Buy Funko Pop Vinyls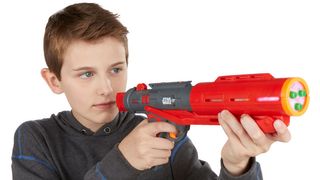 Death Trooper Nerf Blaster
A new Nerf glowstrike technology features in the Rogue One based blasters, the tips of the dart charged by the light at the end of the blaster and, upon release it'll leave a light trail in its wake. A sturdy piece of kit with a triple chamber for the darts, a manual air charge ahead of each blast and lights and sounds of a highly satisfying nature. These will we wager not hang around for long.
Price:£35.99 | Buy Death Trooper Nerf Blaster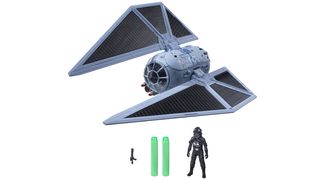 Star Wars: Rogue One TIE Striker
Could this Nerf dart firing Tie Striker have armament enough to defeat the pesky Rebels? Firing Nerf based projectiles never gets dull, just add your won sound effects and enjoy people parting way to let you pass as you enter your own 'Star Wars" zone.
Price:£39.99 |BuyStar Wars: Rogue One TIE Striker