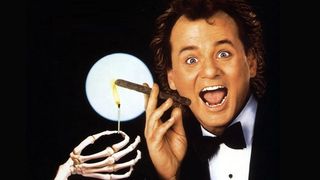 Introduction
What follows is a selection of films that, either directly or indirectly - i.e. they are set at Christmas - not only bring you the festive spirit but ram it down your throat. They unashamedly use and abuse Christmas in the best ways possible, be that in gunning down Santa in the street for laughs, trolling international terrorists with a red and white Xmas hat or stating that Charles Dickens would have wanted to see nipples in a theatrical rendition of A Christmas Carol. So, if you're tired of sickly sentimentality, magical elves and plots full of guff then read on and you too can have a very merry Christmas!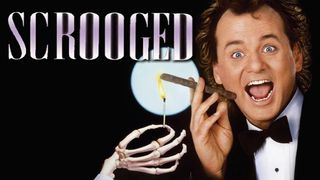 Scrooged
Bill Murray absolutely kills in this modern, 1980s edition of Charles Dickens' A Christmas Carol. Murray plays Frank Cross, a super cynical television programming executive, who cares not a jot for Christmas only for ratings and money, eagerly wishing to exploit the holiday in a tasteless Xmas special show that will only be made at the expense of his entire team working triple shifts on Christmas Eve.
Just as it looks like Frank's ratings-mad show is about to happen as planned however, he is visited by the ghosts of Christmas past, present and future to show him the error of his ways.
While the film does end with Murray and company in a feel-good musical number (which is pretty well done as they go), the majority of the film is a cutting satire loaded with a dump truck load of funny gags aimed at Christmas, business, America and the television industry. Murray excels as Cross, who smokes, fires and sleazes his way through the first two thirds of the film with a performance where you can see he is having fun in the role.
Best Christmas quote from the film:
Frank Cross: I want to see her nipples.
Censor Lady: But this is a CHRISTMAS show.
Frank Cross: Well, I'm sure Charles Dickens would have wanted to see her nipples.
Set Carpenter: You can barely see them nipples.
Frank Cross: See? And these guys are REALLY looking.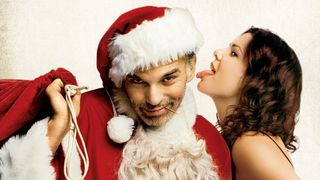 Bad Santa
Boy, oh boy! This is a real doozy of a Christmas film. Billy Bob Thornton stars as Willie T. Stokes, a drunken, sex addicted thief who operates with his assistant-come-brains-of-the-operation Marcus to turn over shopping malls each Christmas by acting as a hirable Santa Claus act. Due to Stokes' alcoholism and outrageously loose behaviour, chaos ensues, with Thornton swearing, drinking, smoking and sleeping around with wild abandon. What's particularly funny is how appalling Stokes treats the children he is supposed to be enchanting.
There is, of course, redemption built into the film for Stokes, however it comes only right at the end of the flick and is preceded by a series of shockingly funny set pieces that range from Stokes soiling himself, to sleeping with members of the public while dressed as Santa and onto him being shot repeatedly by the police in front of a bunch of distraught and crying children. The plot is flimsy and the supporting cast so so, however Billy Bob is just on fire and makes this one of the best black comedies you can watch this Christmas.
Best Christmas quote from the film:
Sue: I've always had a thing for Santa Claus. In case you didn't notice. It's like some deep-seeded childhood thing.
Willie: So is my thing for tits.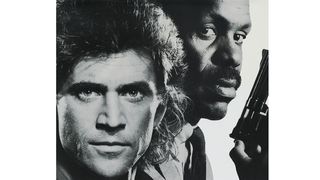 Lethal Weapon
Shane Black's original action fest is, and I bet you forgot this, actually set at Christmas. In fact, if you remember the start of the film then Riggs is seen busting some cocaine-pushing perps at a Christmas tree farm, while Murtaugh's house is bedecked with a large tree in his front window. In addition, while Riggs is contemplating suicide in the middle of the film, there is a Buggs Bunny Christmas special on the television and Riggs and Murtaugh end up eating a Christmas dinner together.
Yeh, so the film isn't about Christmas in the slightest, and we don't care. It doesn't matter one jot as the action, sharp dialogue, witty one-liners and performances by Mel Gibson and Danny Glover are all top draw. Watching Mel go crazy as ex-U.S. Army Special Forces assassin Riggs and killing literally everyone is very entertaining, as too the numerous comedic moments involving Murtaugh being bossed about by his family.
Also, Mel Gibson has just fabulous hair throughout!
Best Christmas quote from the film:
Roger Murtaugh: Riggs, if you think I'm gonna eat the world's lousiest Christmas turkey by myself, you're crazy.
Martin Riggs: Well, I got news for you, Rog: I'm not crazy.
Roger Murtaugh: I know.
Martin Riggs: Well, good. Let's eat.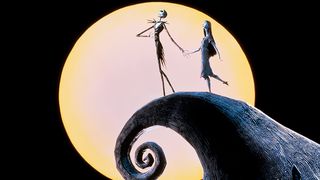 The Nightmare Before Christmas
Yep, the one good film from Tim Burton is still worth a Christmas viewing, especially on Blu-ray, as it manages to tap into the one thing many Xmas movies fail to deliver, that it's not just Halloween that should be a bit spooky but Christmas too. After all, Christmas today is rooted in the pagan, Germanic tradition of Yuletide and the Winter Solstice, an event that saw many ritual sacrifices and the supposed thinning of the veil between this world and the spirit world.
'Halloween Town' and 'Christmas Town' are as visually stunning as you remember, as too Danny Elfman's unique musical score and the hundreds of puppets used to create the film. The stop motion animation technique still stands up today too and delivers a welcome break from the typical poor CG beasts packed into typical Christmas fayre. Nightmare approaches Christmas from a totally different direction and that is simply top draw.
Also, Danny Elfman should be allowed to sing more in films.
Best Christmas quote from the film:
Kid: Santa?
Jack Skellington: Merry Christmas! And what is your name?
Kid: uh... uh...
Jack Skellington: That's all right. I have a present for you anyway. There ya go, sonny! Ho ho ho! Hee hee hee!
[slips out the chimney]
Mother: And what did Santa bring you, Honey?
[kid shows parents his present - a shrunken head; parents scream]
Jack Skellington: [flying away] Merry Christmas!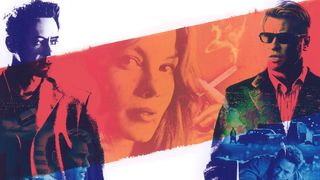 Kiss Kiss Bang Bang
Writer of Lethal Weapon Shane Black really likes setting his films at Christmas for some reason and does so again with Kiss Kiss Bang Bang, a sort of modern hardboiled / film noir involving lots of black comedy. The star of the show is Robert Downey, Jr in his comeback role as Harry Lockhart, a thief and conman on the run from a bungled burglary. Through a case of mistaken identity, Lockhart ends up being dragged into an apparent murder case that is being investigated by 'Gay' Perry, a private investigator played by a paunchy Val Kilmer.
The plot is a means-to-an-end white rabbit that is more interested in delivering an opportunity for Black's witty banter to shine and Downey, Jr chance to smoothly narrate his increasingly surreal predicaments than actually making too much sense. The fact that Black turns the woman in a red dress cliche into a woman wearing a revealing Santa-themed ensemble just adds to the off-beat tone this film takes throughout, never really settling on any definitive genre. It kind of peters out too right at the end, however by that point you've already got some serious value for money.
Best Christmas quote from the film:
Perry: Merry Christmas… sorry I f**ked you over.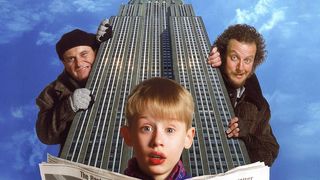 Home Alone 2: Lost in New York
Hang on! Don't scroll by thinking that Home Alone is for kids. Well, the franchise was made with a family audience in mind for sure, however what most people remember is the series' sickly sentimentality and annoying Macaulay Culkin protagonist. You probably also just remember the first film. It's the second film however that is where it is at.
Darker and, crucially, far more brutal in terms of damage dealt to the film's bad guys, Harry and Marv, Lost in New York is not only more bearable than the first film but far more entertaining too. Seriously, the damage that Joe Pesci and Daniel Stern are dealt is outrageous - doctors have since commentated that some of the worse 'accidents' would in real life kill a man instantly - and incredibly well shot, with excellent comic timing. You know what's going to happen before it does, however watching it remains both amazingly cringe-worthy and laugh out loud funny regardless.
It's worth sitting through the rest alone for the 20 minutes of painful, comedic gold.
Best Christmas quote from the film:
Kevin McCallister: You can mess with a lot of things, but you can't mess with kids on Christmas.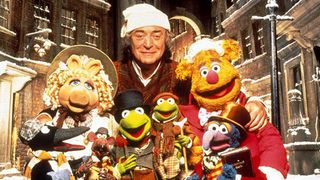 The Muppet Christmas Carol
How could we leave this comedy gold out of our list? That's right we, literally, couldn't. What a film! To this day the best film the Muppets have ever starred in (and they've made a hell of a lot) and maybe, just maybe, the best Christmas film ever made. This time Kermit and company turn out to retell Charles Dickens' spooky tale of Scrooge and the ghosts of Christmas past, present and future, with none other than Sir Michael Caine playing Ebenezer himself.
Honestly, I don't know how you make this film any better. The Great Gonzo plays Charles Dickens and, with Rizzo the rat, act as the story's narrators. Kermit plays the impoverished Bob Cratchit, Miss Piggy as Emily Cratchit and Waldorf and Statler play Scrooge's deceased business partners Jacob and Robert Marley. Almost all the songs are good - even if they are rather sickly - and the portrayal of the ghosts suitably chilling for a younger audience. Caine also does not just ring it in, putting a suitable amount of vehemence and disdain for his fellow men and Muppet, as well as Christmas itself, into his performance.
That bit with the chains and the Marley brothers is still as awesome as you remember!
Best Christmas quote from the film:
Fozziwig: My speech! Here's my Christmas speech. Ahem. "Thank you all, and Merry Christmas."
Jacob Marley: That was the speech?
Robert Marley: It was dumb!
Jacob Marley: It was obvious!
Robert Marley: It was pointless!
Jacob Marley: It was... short!
[turns to Robert]
Jacob Marley, Robert Marley: I loved it!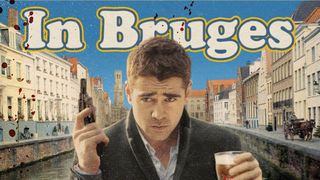 In Bruges
What is there not to like about this comedic gangster romp in one of the most Christmassy of all cities, Bruges? Exactly, nothing! Colin Farrell and Brendan Gleeson play two Irish hitmen who are ordered to hide in Bruges at Christmas time after an assassination goes horribly wrong. It is super dark in terms of its comedy, with the childlike Ray (Farrell) finding the city charming and the serious, weathered Ken (Gleeson) despising it. This odd couple-style double act works well and leads to some very funny banter between the pair.
Don't be in any doubt though, this is not your typical Christmas flick, with the plot containing drug use, sex jokes, a racist dwarf, murder, gunfights and suicide. It even has Ralph Fiennes playing a cockney gangster! Due to its small-scale, indie atmosphere and cracking performances from the cast, this film has become a cult classic and, as with Bad Santa, provides a very alternative Christmas viewing experience.
Best Christmas quote from the film:
Yuri: There are a lot of alcoves in the Astridpark. You use this word, alcoves?
Ken: Alcoves, yes. Sometimes.
Yuri: There are not many people around in these alcoves at Christmas time. If I were to murder a man I would murder him here. Are you sure this is the right word, alcoves?
Ken: Alcoves, yes. It's kind of like nooks and crannies.
Yuri: Nooks and crannies, yes! Perhaps this would be more accurate. Nooks and crannies rather than alcoves. Yes. You are going to do it aren't you? Mr. Waters would be very disappointed...
Ken: Of course I'm going to f**king do it. It's what I do.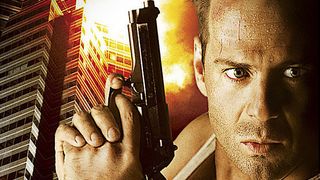 Die Hard
Everybody knows by now that Die Hard is one of the best Christmas films ever. Not only is it set at Christmas but it is also one of the best action films of all time. You're, literally, combining two awesome things and the result is super. Bruce Willis 'ho ho hos' himself about the Nakatomi Plaza gunning down international terrorists left, right and centre as New York cop trapped in the wrong place John McClane, dressing dead bad guys up in Santa hats and wishing others a merry Christmas in his own special, brutal way.
As usual with action films, the plot is wafer thin and involves said terrorists essentially attempting to steal a load of dosh, however when you've got a young Bruce Willis and Alan Rickman in fine form, a wintery, festive atmos and a series of well-shot bullet-filled set-pieces, that doesn't matter one jot as you're too busy enjoying another witty one-liner from McClane, or marvelling at how tight and focussed the whole film is. A Christmas cracker!
Best Christmas quote from the film:
John McClane: Just once, I'd like a regular, normal Christmas. Eggnog, a f**kin' Christmas tree, a little turkey. But, no! I gotta crawl around in this motherf**kin' tin can!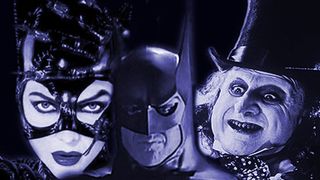 Batman Returns
Finally we have Tim Burton's other film of note, Batman Returns. This dark and warped take on Gotham City and its denizens is cheesy, but cheesy in a good way, with Christopher Walken, Michelle Pfeiffer and Danny DeVito hamming it up large. It's also set at Christmas time, with plenty of snow, Christmas trees, decorations and presents (even if the latter tend to explode).
Now we're not the biggest fans of superhero movies here at T3, however if you were to watch one this Christmas then Batman Returns is probably the best of the bunch in terms of riffing on the seasonal atmos. Burton brings his unique character and set design to the film and it is visually arresting, Keaton stonefaces himself to another victory in style and Pfeiffer, playing Catwoman, wears that ridiculously sexed-up and skin-tight suit.
Best Christmas quote from the film:
Selina Kyle: You killed me... The Penguin killed me... Batman killed me... that's... three lives down. You got enough in there to finish me off?
Maximillian 'Max' Shreck: One way to find out.
[Shreck fires two shots at Catwoman]
Selina Kyle: Four... Five...
[cracks her whip]
Selina Kyle: Still alive!
[Shreck fires two more]
Selina Kyle: Six... Seven... All good girls go to heaven...
[now within reach of Shreck; he pulls the trigger, but there are no bullets left; she laughs hysterically]
Selina Kyle: Two lives left. I think I'll save one for next Christmas. But in the meantime, how about a kiss, Santy Claus?
[grabs ahold of a power cable and moves towards Shreck with a stun gun and a kiss]